Biden VP Candidate Keisha Bottoms Tests Positive for Coronavirus
Atlanta Mayor Keisha Lance Bottoms announced Monday that she tested positive for coronavirus. Bottoms has been mentioned as a potential running mate for presumptive Democratic presidential nominee.
In May, Bottoms found herself at odds with Georgia Governor Brian Kemp about the speed with which reopening strategies should be implemented and encouraged Atalanta residents to continue staying at home. Bottoms has encouraged the residents of her city to get tested and wear face masks as the number of virus cases in Georgia has increased.
"COVID-19 has literally hit home," Bottoms tweeted. "I have had NO symptoms and have tested positive."
Newsweek reached out to Biden's campaign for comment.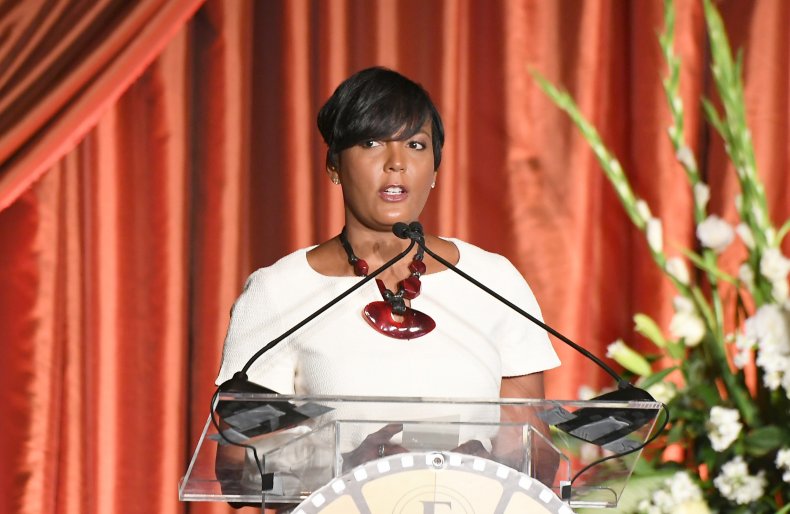 Georgia reported 1,548 new positive cases of coronavirus on Monday raising the state's cumulative total to 97,064. In Fulton County, of which Atlanta is the county seat, more than 8,700 positive cases of COVID-19 have been reported.
Bottoms was suggested as Biden's running mate by South Carolina Representative Jim Clyburn in April. Clyburn said in an interview that he thought Bottoms "would make a tremendous VP candidate."
Bottoms endorsed Biden's presidency in June, calling him "the best choice to take back the White House and restore the soul of America."
In a June statement, Biden's campaign said it was "grateful for Mayor Bottom's support and counsel since the earliest days of our campaign."
During an interview on The View in June, Bottoms said she trusted Biden would "make the choice of the person who is going to be able to best help him lead our country."
"There's a lot of healing that has to happen in our country and I think it's going to be important, whomever that person is, who may be able to govern alongside Vice President Biden that they be able to bring some integrity and compassion and empathy for our communities who are hurting in so many ways," Bottoms continued.
As protests over the deaths of George Floyd occurred in Atlanta in June, Bottoms called out protesters for causing "chaos."
"What I see happening on the streets of Atlanta is not Atlanta," Bottoms told reporters. "This is not a protest. This is not in the spirit of Martin Luther King, Jr."
After 8-year-old Secoriah Turner was killed during a demonstration in Atlanta on Saturday, Bottoms called for violent protests to stop. "You shot and killed a baby," Bottoms said during a news conference on Sunday. "If you want people to take us seriously, and you don't want us to lose this movement, then we can't lose each other in this."
Protests against racism and police brutality have been occurring in the U.S. since Floyd's death while in the custody of Minneapolis police officers in May.