Biden Wants Another Crack at 'Comprehensive Immigration Reform' But Activists Are Wary of Past Failures
President-elect Joe Biden wants to hit the ground running, undoing President Donald Trump's hardline immigration executive orders on day one, and producing "comprehensive immigration reform" legislation, to be worked on with Congress during his first 100 days.
But while weary and wary immigration activists count down the days until Biden can erase Trump's administrative orders, they do not see a large-scale legislative overhaul contained within one bill as a workable strategy any longer.
Previously the gold standard, a bipartisan comprehensive approach to reforming the nation's immigration laws—essentially one bill to rule them all—has been the Democratic strategy for the better part of the past two decades.
But as Biden again backs trying to negotiate with Republicans, veterans of past immigration battles in the advocacy world said the time has come to move on from a "failed" strategy, they told Newsweek.
"Comprehensive immigration reform is an idea whose time has come and gone," said Frank Sharry, who worked on the strategy when George W. Bush was engaged and pushing it as president in 2004, along with former Senators Ted Kennedy and John McCain who introduced the bill in 2005.
Activists stressed that they would be foolish to rule out anything more than two months before Biden's inauguration but cited the number of Republican senators they would need to negotiate in good faith in the post-Trump era as a factor in why they believe the prospects of comprehensive immigration reform (CIR) have dimmed.
Their main beef with CIR, they said, is that Republicans increasingly call for more border militarization and more interior enforcement against immigrants, and the negotiation eventually no longer benefits activists and the community.
"When activists hear comprehensive immigration reform, it's like PTSD," said Cristina Jimenez, an immigrant leader and co-founder of United We Dream, who informally advised the Biden campaign on immigration.
"It's a package with harmful provisions for our community in exchange for a pathway to citizenship. It does not work for us and we need to break away from the old framework."
Beyond CIR, there is much overlap between what the incoming Biden administration wants to accomplish on immigration and what activists are looking for.
Biden wants to make the DACA program that Trump assailed permanent, and end family separation and create a task force to reunite children with their parents. The Biden campaign told Newsweek that the issue would be marked by the return of "due process" in dealing with these families.
The president-elect also wants to immediately do away with the Muslim ban, as well as begin to reform the asylum system, and end border wall construction, which will not include taking down any sections of border wall but would stop further building or refurbishing.
In her conversations with the Biden campaign, Jimenez stressed that the Trump administration "did not wait long to make it clear they were coming in with a white nationalist agenda on his first day," by making all undocumented immigrants deportable in a change from Obama-era priorities and in enacting the Muslim ban.
"President Biden needs to be as bold and aggressive in reversing through executive order all the harm the community has experienced," she said.
One area some activists will be watching for boldness is in the COVID-relief packages expected to come early in Biden's presidency, which beyond addressing health and financial issues should include legalization efforts for essential workers, advocates said.
"We can't at the same time keep applauding all these essential workers who we are relying on and not recognize them legally," Marielena Hincapié, the executive director of the National Immigration Law Center and a Biden-Bernie Sanders task force member, told CBS News.
"Providing them with some kind of protection and work authorization so that they can do the work without the fear of detention or deportation, and to actually be able to work within the law, is also really critical."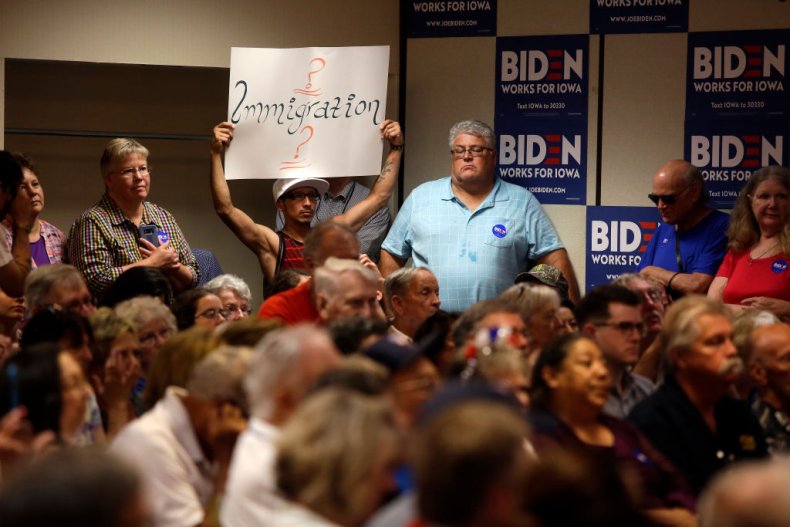 Advocacy organizations also have replaced past calls for comprehensive immigration reform with guidelines and goalposts like the "Here to Stay" platform backed by United We Dream, the Sunrise Movement, Indivisible, and the Center for Popular Democracy, which included halting deportations, a pathway to citizenship, ending detention, and "calling for the end of ICE as we know it."
Perhaps foreshadowing the inside-outside game activists can be expected to engage in with the Biden White House, the campaign acquiesced to public, as well as private, pressure from advocates like Jimenez during the primary in announcing support for a moratorium on deportations during the first 100 days of the administration.
Vice President-elect Kamala Harris also told Univision's Al Punto in September that the Biden administration would end private detention centers.
"We will shut down the private detention centers and facilities," Harris said, adding that private detention center business model is for somebody to make money off of the detention and incarceration of other human beings. "And it's just wrong."
Come January 20, the Biden White House will begin its push to banish Trump's immigration orders and put in place its own, with activists hoping different parts of their agenda are addressed in a piecemeal but efficient manner. But they said they will be relieved if CIR isn't part of the efforts.
"The process of pushing for CIR has been akin to negotiating with terrorists," said Chris Newman, general counsel for the National Day Laborer Organizing Network (NDLON). "The idea of trading all kinds of awful stuff from border militarization to interior and workplace enforcement in exchange for legalization has not only failed to materialize the fruit of the bargain but has contributed to normalizing the arguments of the opposition."
Still, Jimenez voiced the uncomfortable truth for the incoming Biden administration, Democrats, and activists, around the allure of sweeping legislation, amid enduring Republican opposition.
"Our movement is going to need permanent legislation to protect people permanently," she acknowledged.