The world is waking up to a new geopolitical dividing line that pits the world's democracies, led by the United States and Western Europe, against a rising cartel of kleptocratic states, led by Russia and China. The latter now offer the world a masterclass in how to steal from your own citizens and exploit aging financial enforcement structures, complicit banks and professional "enablers" in the West to hide your loot.
The damage done by this dynamic isn't isolated to the people of the countries directly involved. Corrupt money is funding attacks against democracy and the rule of law around the world, with Russia's invasion of Ukraine as the most recent and horrific example.
President Joe Biden's State of the Union remarks indicated that the U.S. is ready to crack down on runaway foreign corruption. "I say to the Russian oligarchs and the corrupt leaders who bilked billions of dollars off this violent regime: no more," Biden said. "We are coming for your ill-begotten gains."
As Congress moves quickly to craft a supplemental funding bill for Ukraine, and with pressure rising to hold Russian President Vladimir Putin accountable, lawmakers must remember that arms shipments are not a long-term solution. To truly protect against military aggression by corrupt governments, America must modernize and strengthen a financial system that Putin and his patronage network have been exploiting with shocking ease and terrible consequences.
It is frighteningly easy for Russian kleptocrats, including those who amassed their fortunes by pillaging state resources after the fall of the Soviet Union, to move huge sums of stolen money through the American economy without notice. They can invest in real estate, purchase luxury assets and hide funds in the $13-trillion private equity market. Sometimes this transnational corruption is flagrant, as when the oligarch Ihor Kolomoisky, who is now sanctioned by the United States for stealing billions of dollars from one of Ukraine's largest banks, was able to launder millions of dollars through real estate across the United States—from Cleveland to Dallas to Louisville—with the help of U.S. service providers.
These loopholes aren't just an American problem. As British MP Tom Tugendhat wrote at The Atlantic Council, Moscow's state corruption and foreign shakedown schemes represent Russia's other European invasion. In late February, my organization reported on a German state foundation that was secretly controlled by the Russian gas company Gazprom and acting in support of the Nord Stream 2 pipeline. And while Russia was meddling in European elections, including Ukraine's 2014 parliamentary elections, the explosive Suisse Secrets investigation exposed how one of Switzerland's largest banks happily enabled autocrats, war criminals and crooked government officials by stashing over $273 million in stolen assets.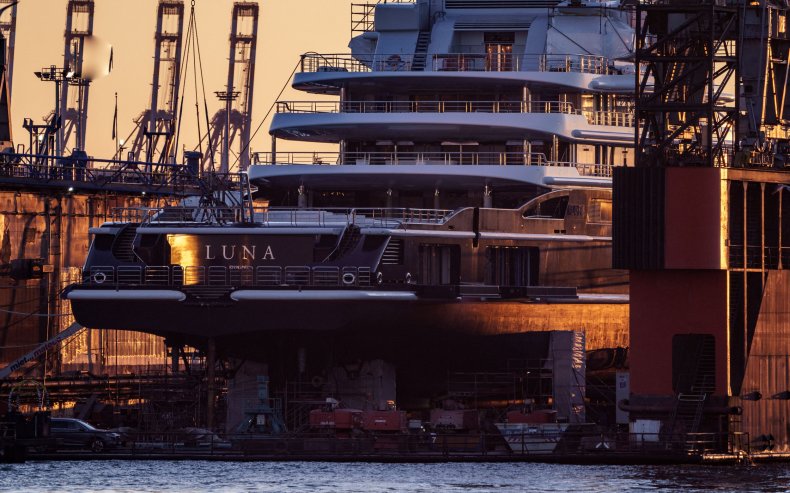 There are two measures that Congress should include in any supplemental funding bill for Ukraine. The ENABLERS Act would modernize our anti-money laundering laws to require those who serve as gatekeepers to the U.S. financial system—including American lawyers, accountants and others who form, buy, or sell companies, manage others' money and other assets and act as trustees—to help detect and prevent the laundering of corrupt and other criminal funds into the U.S. Congress should also adequately fund the agency that monitors and enforces these and other anti-money laundering laws. The Financial Crimes Enforcement Network (FinCEN) within Treasury is woefully under-resourced given its mission to monitor the U.S. and global financial systems. An immediate boost in funding would help them more comprehensively analyze the financial intelligence they have collected and potentially find where Russian money is invested in the U.S.
Finally, the House of Representatives took a major step toward modernizing our anticorruption toolkit by including a package of anticorruption bills in the America COMPETES Act it passed last month. America COMPETES may have drawn headlines for its aim of building a domestic semiconductor industry to combat growing supply friction with China, but it would also strengthen the U.S.' ability to police the types of state corruption that Russia uses to fund its antidemocratic goals. Included in the package was the bipartisan Countering Russian and Other Overseas Kleptocracy Act, which would inject tens of millions of dollars in new spending into novel and existing anticorruption programs around the world.
President Biden also has options available. He can direct the Treasury Department to quickly finalize the financial accountability rules being written by FinCEN that would block the creation of anonymous shell companies, which have been exploited notoriously by corrupt regimes. He can also direct the Treasury to move forward on rules to crack down on money laundering in the U.S. real estate market and private investment sector—estimated to be worth $50 trillion and $13 trillion, respectively.
The world is witnessing how corruption kills. But with strongman regimes in Latin America, Asia, Africa and elsewhere financing their operations through the manipulation of Western economies, Ukraine is but the most recent and dangerous example. The U.S. government, and democracies around the world, must act now to fill the cracks in our financial infrastructures, and prevent the fault lines between democracy and kleptocracy from hardening into greater conflict.
Scott Greytak is the director of advocacy for Transparency International U.S., the world's oldest and largest anticorruption network.
The views expressed in this article are the writer's own.