Biden Wants Virtual Debates So He Can Have Offstage Help, Trump Campaign Claims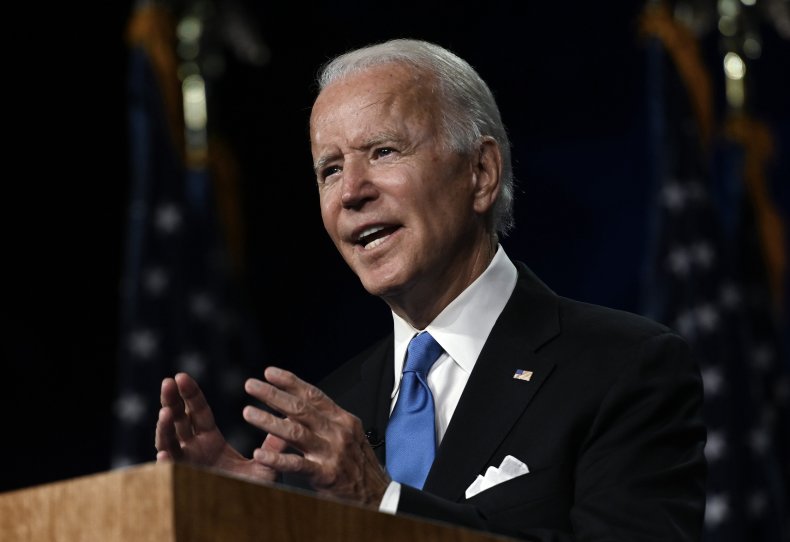 Insiders in President Donald Trump's campaign claim they are afraid that Democratic rival Joe Biden wants to thwart the normal presidential debate schedule, citing concerns about the coronavirus.
"We have every reason to believe that Joe Biden, if he agrees to go forward with debates in the first place, will want to retreat to his remote video link and the Skype-call campaign he's been running and do the debate from his basement," Trump campaign spokesman Tim Murtaugh told reporters Wednesday, "where he can rely on notes, a teleprompter or a handler off camera."
The Biden campaign didn't immediately respond to Newsweek's request for comment, but speculation about the debate schedule has run rampant as the campaigns have adjusted to efforts to curb the spread of the coronavirus.
Biden has mostly shied away from the traditional campaign trail, citing the coronavirus risks. The Democratic National Convention to formally nominate him was largely held online, but he has restarted speeches without an audience in key battleground states and announced last week that he would resume campaign events after Labor Day.
According to the most recent schedule, Trump and Biden are set to first share the debate stage on September 29 at Case Western Reserve University in Cleveland, Ohio.
Then, Vice President Mike Pence and Biden's running mate U.S. Sen. Kamala Harris will face off on October 7 at the University of Utah in Salt Lake City.
Two additional debates between Biden and Trump are scheduled for October 15 in Miami, Florida, and October 22 in Nashville, Tennessee.
The first debate was scheduled to take place at the University of Notre Dame in Indiana, but was moved because coronavirus concerns. Murtaugh said the Trump campaign has sought in writing information about other potential alternative locations if future debates have to be moved, but have only received assurances that accommodations will be made.
The non-partisan Commission on Presidential Debates didn't immediately respond to Newsweek's request for comment.
Biden and his campaign continue to say that he will take part in the debates scheduled, but House Speaker Nancy Pelosi, a California Democrat, ramped up debate speculation when she suggested last week that Biden not take part.
"The chatter about Joe Biden withdrawing from debates is not something the Trump campaign made up," Murtaugh said. "I think Joe Biden has to step up and reaffirm in writing that he will, in fact, participate in the debates."
The Trump campaign has drawn increasing attention to the debates as they draw near. President Trump has requested that both he and Biden be drug tested prior to the debates, and his campaign has asked for an earlier debate, in addition to seeking reaffirmation from Biden that he will attend, given Pelosi's remarks.
"We do not think it's too much to ask that Americans see the two candidates on the debate stage before they start voting," Murtaugh said.