Biden Warns Amazon to Keep Hands Off Union Drive, Draws Cheers From Workers
President Joe Biden spoke to workers in America on Sunday who will soon vote on whether to join a union. Though the message was for all of the nation, it was really meant for a faction of Amazon workers in Alabama.
Employees at an Amazon facility in Bessemer, Alabama, have begun mail-in voting to join a union, and it's the largest such attempt in three decades of Amazon's existence.
Biden's speech was met by applause from workers Sunday night.
First, here was Biden's video message.
"I have long said America wasn't built by Wall Street, it was built by the middle class. And unions built the middle class," the president said. "Unions put power in the hands of the workers. They level the playing field. They give you a stronger voice for your health, your safety, higher wages, protections from racial discrimination and sexual harassment."
About 6,000 workers at the facility began voting a couple of weeks ago, and it will conclude at the end of March. Biden listed unions as a priority on his platform last year during his presidential campaign.
On Sunday, Biden said workers should not feel threatened on whether they should join a union, nor which ones they should choose. He cited the National Labor Relations Act, saying "we should encourage unions."
"So let me be really clear: it's not up to me to decide whether anyone should join a union," Biden said. "But let me be even more clear: it's not up to an employer to decide that either. The choice to join a union is up to the workers—full stop.
"Today, and over the next few days and weeks, workers in Alabama and all across America are voting on whether to organize a union in their workplace. This is vitally important—a vitally important choice as America grapples with the deadly pandemic, the economic crisis and the reckoning on race—what it reveals the deep disparities that still exist in our country."
Biden added that there should be "no intimidation, no coercion, no threats, no anti-union propaganda. No supervisor should confront employees about their union preferences."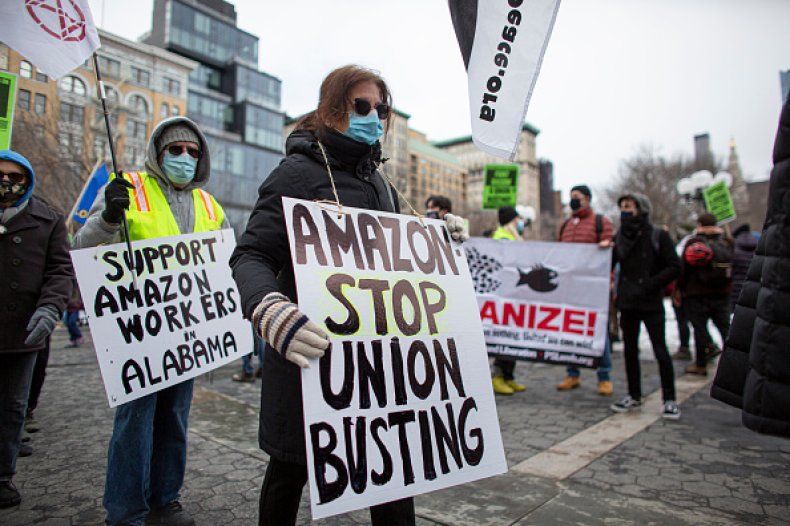 Stuart Appelbaum is the president of a group that could represent the Alabama workers, the Retail, Wholesale and Department Store Union (RWDSU). He issued a statement Sunday night after Biden's statement.
"As President Biden points out, the best way for working people to protect themselves and their families is by organizing into unions," Appelbaum stated. "And that is why so many working women and men are fighting for a union at the Amazon facility in Bessemer, Alabama."
Alabama is a "right to work" state, which prohibits employers and unions from requiring union membership to obtain certain job benefits. Alabama's law has been on the books since 1953.
Despite that, workers showed their excitement and enjoyment Sunday night as well. Here are some of those.