Biden Warns Inflation Is Rising, Drawing Backlash Over His Massive Spending Plans
Democratic President Joe Biden has said that inflation is rising, drawing backlash from conservatives and others over his massive spending plans.
Biden made his comments during a CNN Town Hall on Wednesday night. During the event, a Republican attendee asked him what he would do to address recent increases in gasoline, automotive and food prices.
Biden said that the price increases were due to increased demand due to lifted COVID-19 restrictions.
"There will be near-term inflation because everything is now trying to be picked back up," Biden said. "It's rational when you think about it—the cost of an automobile is kind of back to what it was before the pandemic... They are up there up because, in fact, there was not much call for, for example, for automobiles.... All of a sudden now it's coming back."
However, he added, "The vast majority of the experts including Wall Street are suggesting that it's highly unlikely that it's going to be long term inflation is going to get out of hand."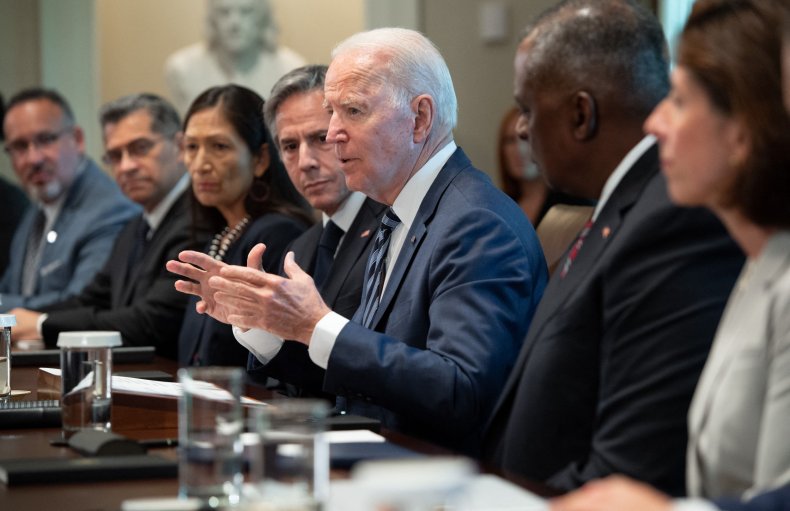 Biden's comments about inflation come against the backdrop of his efforts to pass a $3.5 trillion infrastructure plan. The plan seeks to fund transportation repairs as well as efforts for climate change and healthcare, among others.
While government spending during a recession will usually help economic recovery, government spending during an economic expansion tends to drive up inflation. Supply shortages created by the pandemic and labor shortages have also been blamed for rising inflation risks.
U.S. consumer prices rose 5.4 percent for the 12-month period ending June. Meanwhile, the core inflation index, which excludes volatile food and energy prices, jumped 4.5 percent—the biggest increase in 30 years. When Biden took office in January, consumer prices were growing at about 1.4 percent a year.
Biden said during the town hall that his critics believe that enhanced unemployment benefits paid during the pandemic-induced economic collapse may be to blame for making people reluctant to work. However, he encouraged a questioner, a restaurant owner, to raise his workers' pay to at least a $15 minimum wage.
Biden's discussion of inflation at the town hall quickly gained conservative criticism on Twitter. Many argued that his trillion-dollar spending plans will increase inflation.
@RNCResearch wrote, "Biden's 'plan' is to inflate his way out of inflation with MORE inflationary spending. His polices are a hidden tax on ALL Americans!"
Former Republican Ohio Lieutenant Governor Jon Husted wrote, "President Biden says his trillion$ in new spending won't create inflation, it has and it will."
In a follow-up tweet, he added, "Federal policy allows some people to earn more than $15hr by NOT working—so logically they don't. Many restaurants are paying $15hr and still can't find enough people to go to work. And, when wages rise without corresponding productivity then price inflation will follow."
Republican Arkansas Senator Tom Cotton wrote, "Every time Americans go to the grocery store or fill up their tank with gas, they see the cost of Biden's reckless tax and spend policies. The Biden inflation is a hidden tax on working-class Americans."
House Republicans quoted Biden's statement from the town hall, in which he said, "I don't know anybody including Larry Summers... who's worried about inflation."
@HouseGOP wrote, "That is FALSE! Even Larry Summers is worried about inflation." They then cited a July 13 quote from Summers which read, "I think most factors point to more cause for concern now than in 1966 when inflation accelerated..."
Newsweek contacted the White House for comment.