Biden Was Right About MAGA | Opinion
The following is a lightly edited transcript of remarks made by Jason Nichols during a Newsweek episode of The Debate about President Biden's latest address on the 'soul of the nation'. You can listen to the podcast here:
I thought it was a really good speech. Just from a political standpoint, Biden looks strong. That's one of the few times honestly, since Biden's presidency — everybody on the right makes fun of him. They say he falls off bikes, he stumbles over his words, but yet [in this speech] he looked really strong and in command.
One thing that I'll say that Democrats are downplaying, and that Republicans are actually making a good point about, was the setting. He didn't fumble over his words, having the Marines and the flag behind him... he looked really, really strong. And I think that whenever a president looks strong, it's good politically.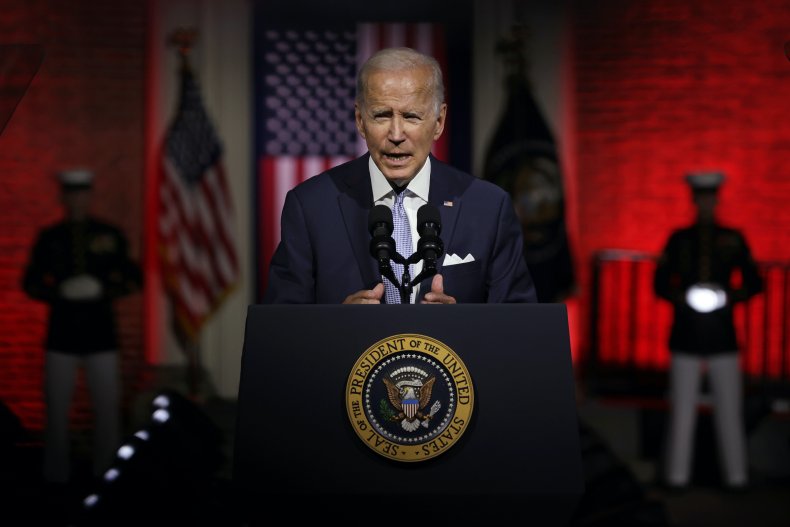 Now, of course, he knew that this was going to anger Republicans. This is not a shock that Republicans, particularly the ones who are anti-democracy and trying to overturn elections, and take away votes — by the way, largely from black and brown people, which, if you're trying to take votes from Fulton County, or Philadelphia, or Detroit, or Milwaukee, that's what you're doing — I think those people who are who are anti-democracy, we know that they were going to be offended.
I don't even think he was necessarily talking about all of those people. I think a lot of what he was talking about are some of the most dangerous elements. And it's not normal. We're talking about the Oathkeepers, the people who tried to kidnap Gretchen Whitmer, and wanted to bring a grenade launcher?
This is not normal behavior. And as a society, the President's number one objective is to protect the American people and protect American democracy. And in order to do that, he has to call out threats. And this was a major threat to the American people, and we need to call it out. I think he did a good thing, even if it's not a political win in terms of votes. That was the right thing to do.
Dr. Jason Nichols is an award winning senior lecturer in the African American Studies Department at the University of Maryland College Park and was the longtime editor-in-chief of Words Beats & Life: The Global Journal of Hip-Hop Culture. He cohosts the "Vince and Jason Save the Nation" podcast.
The views expressed in this article are the writer's own.