Biden Widens Lead to 21 Points After Trump's Coronavirus Diagnosis: Poll
Dramatically fewer voters said they intend to cast ballots for President Donald Trump after he was diagnosed with COVID-19, according to a new poll.
A poll released Tuesday by Franklin Pierce University and The Boston Herald shows Democratic presidential nominee Joe Biden's lead grew from 5 percent before the positive test result to 21 percent after Trump's diagnosis was announced.
Biden was supported by 46 percent of likely voters compared to 41 percent for Trump during the two days before his infection was revealed, while 55 percent said they would vote for Biden and only 34 percent stuck with Trump in the three days after the diagnosis.
The poll was conducted nationally among 1,003 likely voters over the phone and online between September 30 and October 4, with a 3.1 percent margin of error. When results from all five days of the survey are included, Biden holds an overall 51 percent to 37 percent lead over Trump.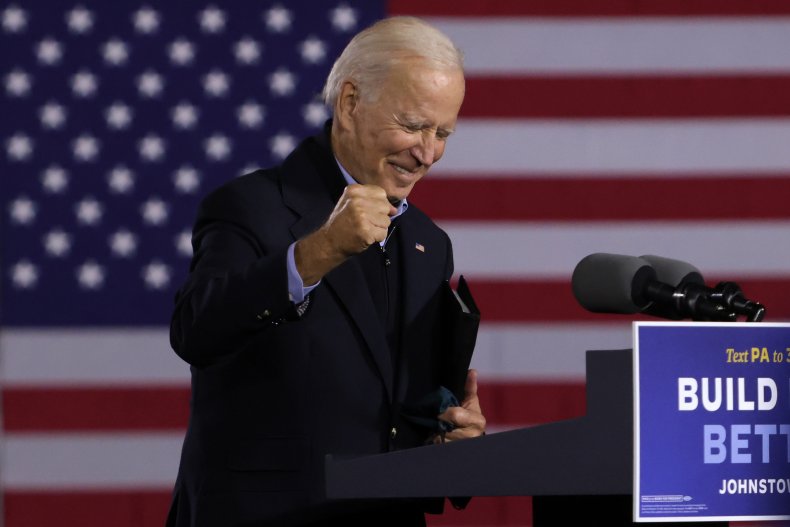 Trump's standing in the polls was not favorable before the diagnosis. An average of recent national polls from polling analysis site FiveThirtyEight shows Biden leading by 9 percent as of Tuesday night, while Trump was behind by 7.1 percent one week earlier. In addition, polls continue to show Trump in trouble in several key swing states.
Polls have also indicated that most voters do not approve of Trump's handling of the pandemic and suggest that many believe that the president's own behavior is at least somewhat responsible for him contracting the virus.
A Reuters/Ipsos survey conducted in the two days following the positive test result found that 65 percent of Americans believe that Trump "probably would not have been infected" with COVID-19 if he taken the health threat "more seriously," while only 27 percent disagreed.
Trump announced that he and First Lady Melania Trump had tested positive for the virus in a tweet early on Friday morning. The White House has not said when the president last tested negative.
Trump and a host of prominent Republicans mingled without face masks while failing to socially distance during a September 26 White House event announcing Trump's pick for the Supreme Court, Amy Coney Barrett. Many of those in attendance have since tested positive for the virus.
The president has faced criticism for his behavior since being diagnosed. During his stay at Walter Reed Medical Center on Sunday, he potentially exposed members of the Secret Service to the virus while being taken for a short drive to be photographed waving at supporters gathered outside.
The still-infectious president removed his mask while arriving at the White House following his hospital discharge on Monday night, posing for pictures before a camera crew filmed him for a campaign-style video message in which he encouraged Americans to "not be afraid" of COVID-19 and "get out there."
Newsweek reached out to the Trump campaign for comment.