Biden Widens Lead Over Trump to 11 Points As Concerns Over President's Handling of Economy Grows in New Poll
Former Vice President Joe Biden has widened an 11 point lead over President Donald Trump in the presidential race, according to the latest national poll.
In a survey released Tuesday from Firehouse Strategies-Optimus, new poll numbers show Biden's lead has opened up by three points since March with 54 percent support from responders. Support for Trump has remained at 43 percent.
Biden was also ahead by 11 points in another survey from Quinnipiac University, which showed a 50 to 39 percent matchup. However, other national polls show a closer race between the presumptive Democratic nominee and the current president. In the RealClearPolitics average, Biden is ahead by 5.3 points and only 3 points in YouGov's latest poll.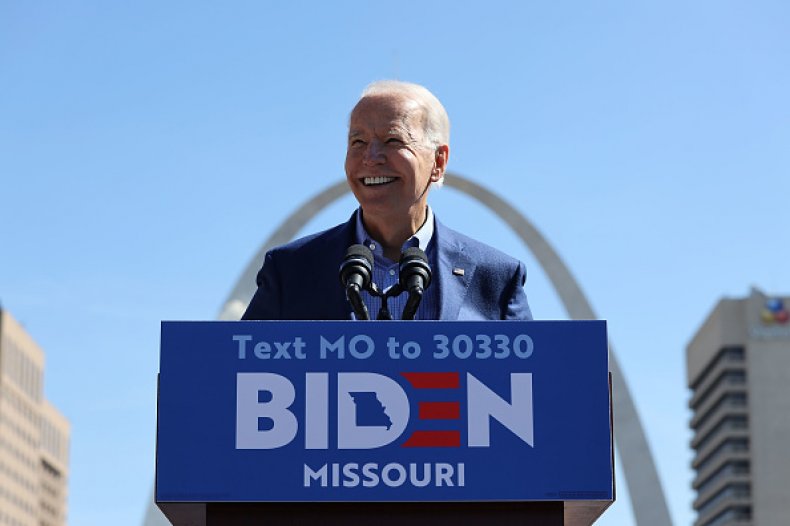 Trump's response to the global health care crisis has been at the forefront of voters' political concerns.
"What does the 11 point Biden lead tell us? At best for Team Trump, it says voter confidence in President Trump is shaky," Quinnipiac University polling analyst Tim Malloy said in the release, "At worst for them, as coronavirus cases rise, Trump's judgement is questioned—and November looms."
As the coronavirus pandemic progresses, Americans have shifted their focus away from health care to the economy. Of those surveyed, 31 percent said the economy is the most important political issue in the country and health care is second at 22 percent. Jobs and unemployment is the third most prominent issue at 16 percent.
Among 1,802 adults, the majority expect the U.S. economy to get worse over the next month and nearly 55 percent said things in the country are generally headed off on the wrong track.
"As the economic toll of coronavirus grows, Americans' concerns are shifting from healthcare to economics," Alex Conant, the founder of Firehouse Strategies, said.
Back in March, a plurality of Americans (33 percent) viewed health care as being the most important issue the nation faced.
As businesses begin to reopen, governors have maintained high ratings over their handling of the outbreak. Across the country, governors collectively have a 72 percent approval rating, while congress and Trump fall at 47 percent and 48 percent, respectively.
"Governors have consistently held the highest approval ratings throughout the past few months while Trump and Congress remain neck and neck," Optimus Analytics CEO Scott Tranter said.
Fifty-three percent of those surveyed said coronavirus related restrictions in their area were just about right, while 19 percent found them too strict and 27 percent found them not strict enough.
The Firehouse-Optimus poll of 1,557 likely voters was conducted from May 16 to May 23 and has a margin of error of 5.6 percent.
Newsweek reached out to the campaigns for Biden and Trump about this poll but did not receive a response in time for publication.