Biden Widens Lead Over Trump to Double Digits in Florida and Pennsylvania: Poll
Democratic nominee Joe Biden has widened his lead over President Donald Trump to double digits in two battleground states: Pennsylvania and Florida, according to a new national poll.
A new Quinnipiac poll, released Wednesday, showed Biden leading Trump by 11 points in Florida, with 51 percent of likely voters supporting the Democrat and 40 percent supporting the Republican. A previous September 3 poll showed Biden ahead by 3 points in the state with 48 percent of support compared to Trump's 45 percent.
Trump trailed behind Biden by an even larger margin—13 points—in Pennsylvania. The former vice president pulled 54 percent of support among likely voters, compared to the president's 41 percent. The last Quinnipiac poll showed Biden leading by 8 percent in the state with 52 percent support, compared to Trump's 44 percent.
Biden also led the president in Iowa, with 50 percent of support compared to Trump's 45 percent. In 2016, Trump won the state with 51.15 percent of the vote.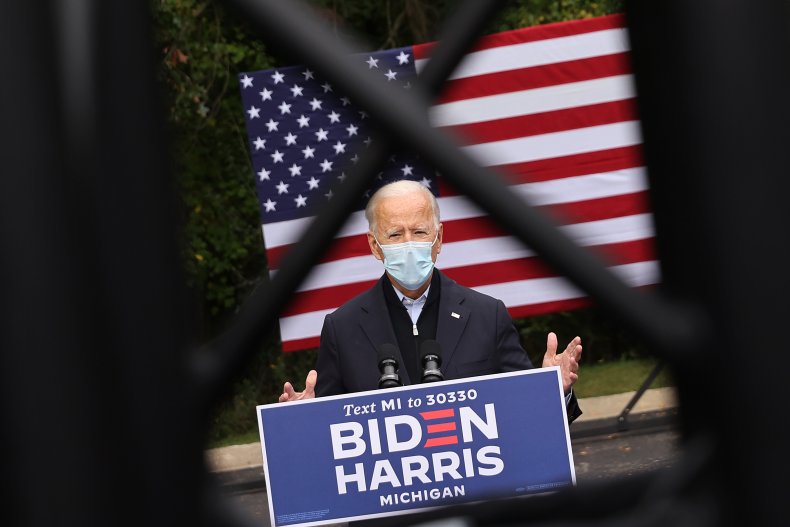 The Quinnipiac poll surveyed 1,256 likely voters in Florida, 1,205 likely voters in Iowa and 1,211 likely voters in Pennsylvania between October 1 and 5. The margin or error is 2.8 percentage points for all three states.
"In varying degrees, three critical states in three very different parts of the country come to the same ominous conclusion. The president's hopes for reelection are growing dimmer by the day," said Tim Malloy, a Quinnipiac University polling analyst.
Fifty-six percent of likely voters in Florida disapproved of Trump's handling of the coronavirus pandemic and 40 percent approved. The president's COVID rating was even worse in Pennsylvania, where 58 percent disapproved and 40 percent approved. In Iowa, 51 percent of likely voters disapproved of Trump's coronavirus response and 45 percent approved.
The president's overall job rating was also underwater in all three states. Fifty-two percent of Floridians disapproved of his performance in the White House, compared to just 42 percent that approved. In Pennsylvania, 56 percent of likely voters disapproved and 41 percent approved. In Iowa, 52 percent disapproved of Trump's job performance and 46 percent approved.
While Biden has been ahead of Trump in an overwhelming majority of national and swing state polls, the latest Quinnipiac results are among his biggest leads yet in Florida and Pennsylvania. His 11-point lead in Florida is particularly notable as presidential elections are often decided by just a few points in the Sunshine State.
Another survey released Wednesday showed a tighter race. The latest Reuters-Ipsos poll had Biden with 49 percent support, four points ahead of Trump's 45 percent. The poll's margin of error is plus or minus 4 percentage points.