Biden Widens Lead Over Trump to Double Digits as Increasing Number of Americans See COVID as Real Threat: Poll
Presumptive Democratic nominee Joe Biden has expanded his lead over President Donald Trump in the presidential election as more Americans see COVID-19 as a threat, a new national poll found.
An NPR/PBS NewsHour/Marist poll conducted August 3 through 11 found that Biden is leading Trump 53 percent to 42 percent. Biden now leads by double digits, an increase from June's poll that had put him at an 8-point advantage over Trump.
The number of Americans who believe the coronavirus is a real threat has significantly risen over the past few months, the survey found. A total of 71 percent of respondents said they feared the virus—a statistic which comes as Trump continues to downplay its severity.
During an appearance Thursday on the Fox Business Network, Trump said that "nobody blames me" for the pandemic, which has caused over 166,000 deaths in the U.S. While touting America's "tremendous" stock market, Trump insisted the virus would go away soon.
"And we're still in the pandemic, which will be going away, as I say. It'll be going away and they scream, 'How can you say that?'" Trump said, referring to his political opponents. "I said, 'Because it's going to be going away.'"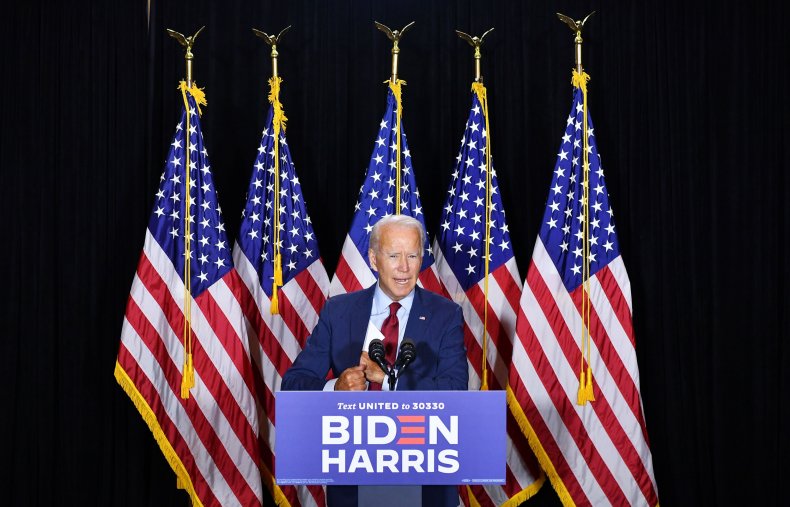 The survey did find that most Americans have found ways to reinstate aspects of their normal life during the pandemic. The majority of respondents, 80 percent, thought it was a good idea to eat outside at restaurants, while 58 percent answered that physically returning to work was acceptable.
On other key issues, like returning children to school or attending religious services, Americans were more hesitant. Just 27 percent of people answered it was a good idea to allow large groups to attend religious, social or sporting events, and only 40 percent said it's a good idea to have students go back to school for in-person learning, according to the survey.
The survey results come amid the two presidential candidates' differing views on handling the pandemic, particularly over the issue of face coverings.
Biden insisted on Thursday that every American should be wearing a mask when they are outside for at least the next three months.
"Let's institute a mask mandate nationwide starting immediately, and we will save lives," he said.
Trump criticized such a proposal, asserting that a mandate wouldn't make sense because "different states are much different, both in terms of the atmosphere itself and also in terms of the corona problem."
While Trump has encouraged mask use in recent weeks, even moving to call masks "patriotic," he said he would not legally enforce them.
"We will continue to urge Americans to wear masks when they cannot socially distance, but we do not need to bring the full weight of the federal government down on law-abiding Americans to accomplish this goal," he said. "Americans must have their freedoms."
But the recent survey saw Trump's approval rating fall to 39 percent, and public trust in the president dipped even lower. Only 31 percent of respondents said they trusted information coming from Trump, compared with 75 percent of Americans who answered they trusted information from health experts like Dr. Anthony Fauci, the nation's leading infectious diseases expert.