Biden to 'Impose Substantial Costs' on Those Behind SolarWinds Hack
President-elect Joe Biden has vowed retaliation against those who conduct cyberattacks against the United States in the wake of a massive, months-long supply chain attack that has shaken the federal government and top private sector institutions.
The hack, uncovered Sunday — just weeks before Biden is set to take office, is known to have affected several U.S. agencies including the Treasury Department and the Department of Commerce, with far more clients of compromised software company SolarWinds believed hit as well.
In his first public comments on the matter, Biden promised he "will make cybersecurity a top priority at every level of government, and we will make dealing with this breach a top priority from the moment we take office."
This includes shoring up U.S. cyber defenses and investing in digital infrastructure and empowering private sector partnerships. He noted that active measures were also necessary.
"But a good defense isn't enough; we need to disrupt and deter our adversaries from undertaking significant cyber attacks in the first place," a statement sent to Newsweek by the president-elect's transition team said. "We will do that by, among other things, imposing substantial costs on those responsible for such malicious attacks, including in coordination with our allies and partners."
He issued a stark warning to U.S. foes.
"Our adversaries should know that, as President, I will not stand idly by in the face of cyber assaults on our nation," the statement said.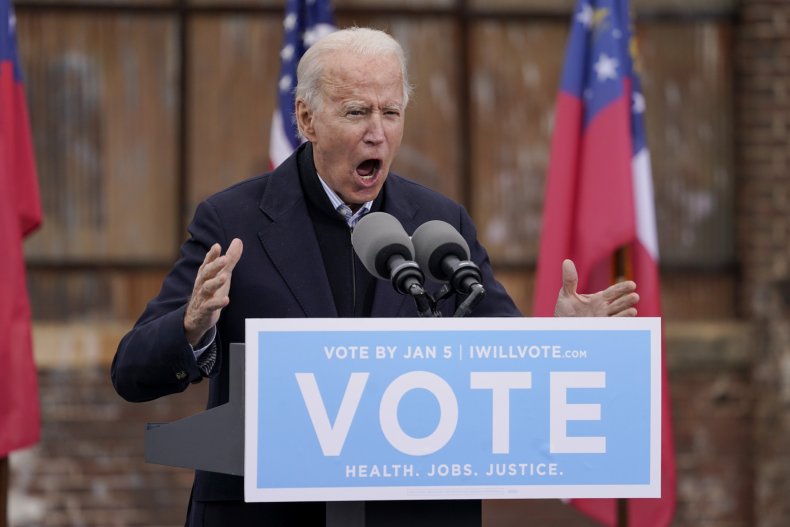 President Donald Trump has yet to weigh in on the incident, instead delegating other administration officials to investigate and mitigate the burgeoning crisis, which could see up to 18,000 customers infected.
The Department of Homeland Security's Cybersecurity and Infrastructure Security Agency (CISA) issued an announcement Tuesday updating on a threat it said "poses a grave risk to the Federal Government and state, local, tribal, and territorial governments as well as critical infrastructure entities and other private sector organizations."
The release did not identify who was behind the attack, blaming only "an advanced persistent threat (APT) actor" that "has demonstrated patience, operational security, and complex tradecraft in these intrusions," which appear to have dated back to March of this year.
Biden, for his, part said his team too was being briefed on what he called "a massive cybersecurity breach affecting potentially thousands of victims, including U.S. companies and federal government entities."
"There's a lot we don't yet know, but what we do know is a matter of great concern," he said.
Unnamed U.S. officials cited in major media outlets have pointed to Russia as the top suspect, but Moscow's embassy in Washington has denied responsibility.
"We paid attention to another unfounded attempt of the U.S. media to blame Russia for hacker attacks on U.S. governmental bodies," the embassy said in a statement recently reiterated to Newsweek. "We declare responsibly: malicious activities in the information space contradict the principles of the Russian foreign policy, national interests and our understanding of interstate relations. Russia does not conduct offensive operations in the cyber domain."
The embassy also provided prior proposals regarding U.S.-Russia cybersecurity cooperation, offers the embassy said had not been reciprocated.
Biden has frequently accused the current U.S. president of not being tough enough on Moscow and Russian President Vladimir Putin, who recently broke with his counterpart in Washington by recognizing Biden's victory in last month's election.
The Russian leader "wished the President-elect every success and expressed confidence that Russia and the United States, which bear special responsibility for global security and stability, can, despite their differences, effectively contribute to solving many problems and meeting challenges that the world is facing today" in a Kremlin readout released Tuesday, the same day the vote was certified the U.S. electoral college.
"The President of Russia noted that with this in mind, Russian-American cooperation, based on the principles of equality and mutual respect, would meet the interests of both nations and the entire international community," the statement said.
In a direct quote, Putin said: "For my part, I am ready for interaction and contacts with you."
This is a developing news story. More information will be added as it becomes available.