Biden Will Not Apologize for Linking Rittenhouse to White Supremacy: Psaki
President Joe Biden is standing by his previous remarks linking Kyle Rittenhouse to white supremacy, White House press secretary Jen Psaki said Tuesday.
During Psaki's daily press briefing at the White House on Tuesday, Fox News White House correspondent Peter Doocy asked if Biden was planning on apologizing to Rittenhouse, who was acquitted Friday on charges of first-degree intentional homicide and more after fatally shooting two people and wounding a third during protests in Wisconsin last summer.
"Would the president ever apologize to the acquitted Kenosha shooter Kyle Rittenhouse for suggesting online and on TV that he is a white supremacist?" Doocy asked.
The online and TV ads in question were part of the president's 2020 campaign, in which he decried former President Donald Trump's refusal to condemn white supremacy.
"[That campaign] used President Trump's own words...as he refused to condemn white supremacists and militia groups," Psaki said. "[Trump] didn't just refuse to condemn militia groups on the debate stage, he actively encouraged them throughout his presidency."
"[President Biden] believes in condemning hatred, division, and violence. That's exactly what was done in that video," the press secretary added.
Doocy pressed on, asking the press secretary about statements made by Biden that Rittenhouse was "part of a militia coming out of Illinois," and questioned Biden's claim that he'd never heard Trump say anything negative about white supremacists.
"The president spoke to the verdict last week, he has obviously condemned the hatred and division and violence that we've seen around the country by groups like the Proud Boys, and groups that [Rittenhouse] has posed in photos with," Psaki shot back.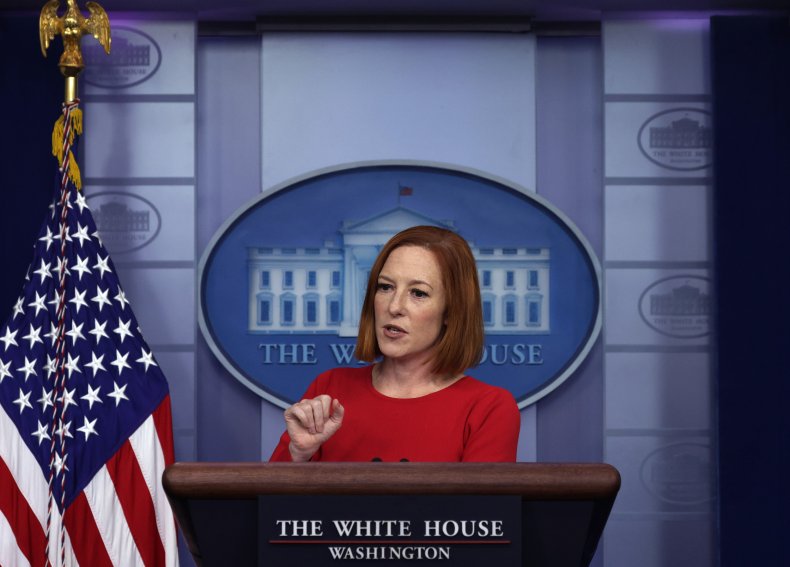 The Biden administration has stood by the stance that the actions of former President Trump fueled the white supremacist movement, causing violence to break out in cases such as Kenosha.
"What we've seen are the tragic consequences of [Trump's rhetoric]," Psaki added. "When people think it's okay to take the law into their own hands instead of allowing law enforcement to do its job."
Rittenhouse, then 17, had traveled to Kenosha, Wisconsin on August 25, 2020, with an AR-15 rifle after protests broke out after the police shooting of Jacob Blake. A series of scuffles with demonstrators led to Rittenhouse fatally shooting two people and injuring a third.
Rittenhouse has stated that he is a supporter of the Black Lives Matter movement and is not racist.
Despite this, photographs were uncovered earlier this year that showed him posing with known members of the white supremacist Proud Boys group. In the photos, taken at a Wisconsin pub, Rittenhouse can be seen drinking, hanging out with the Proud Boys members, and wearing a shirt that says "free as f**k".
Rittenhouse can also be seen flashing what appears to be an 'OK' sign, which prosecutors have stated has been adopted by white supremacist groups as a symbolic gesture.
However, Rittenhouse's attorney stated that the teenager himself was not affiliated with the Proud Boys or any other white supremacist group.
"Upon information and belief, no information linking Mr. Rittenhouse to the listed organizations has been found," defense attorney Mark Richards said at the time.
Newsweek has contacted the White House for comment.