President Biden plans to defend his stewardship of the economy in a speech Thursday aimed at cooling concerns over rising inflation and a potential government shutdown later this month that would roil U.S. markets.
Inflation rose for the second straight month in August, increasing to 3.7 percent from 3.2 percent in July, according to Labor Department data released Wednesday. The increase was driven by rising gas prices, with the national average now at $3.85 per gallon, according to the American Automobile Association.
Biden tried to look for bright spots in the latest economic news, pointing out that unemployment remains below 4 percent and core inflation—which strips out gas and food prices—has slowed over the past year.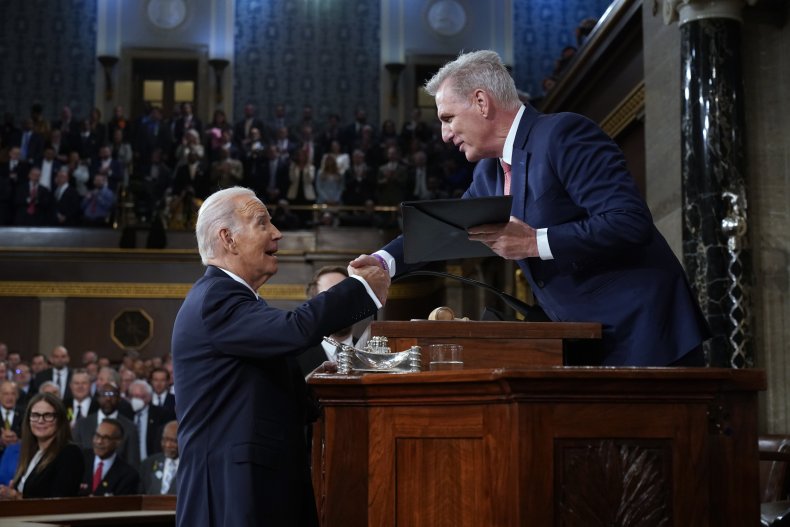 "Core inflation is trending down toward pre-pandemic levels at a time when employment remains strong," Biden said in a statement in response to the recent inflation data.
The president will also use the speech to warn of the consequences of a shutdown if Congress can't reach a deal to fund the government by the Sept. 30 deadline, White House aides said.
The White House and Democrats have argued the public will blame a shutdown on House Republicans, hurting the GOP going into the 2024 election.
Biden took a shot at Congressional Republicans ahead of his speech, previewing the remarks he plans to give Thursday at a community college in Largo, Maryland.
"We're continuing to build an economy from the middle out and bottom up, with better jobs and lower costs—even as Republicans in Congress push for tax cuts for the wealthy and large corporations and devastating cuts to programs hard-working Americans count on," Biden said in a statement Wednesday.
The White House is billing Biden's address Thursday as a follow-up to the speech he gave in June in Chicago. In that address, Biden formally adopted the term "Bidenomics" to describe his efforts to spur manufacturing growth, transition the United States to clean energy and invest in infrastructure.
The president has frequently invoked the term since then, as a way to draw a contrast between his vision for growing the American economy and the Republican Party. Biden often argues that Republicans remain committed to Reagan-era "trickle-down economics" that benefit the wealthy.
Republicans offered a different view on the economy, using the rise in inflation to hammer Biden on an issue that has vexed the White House for the better part of two years.
"Everything this Administration has told you about inflation has been a lie," House Majority Leader Steve Scalise said in a statement on X, formerly known as Twitter. "High inflation isn't "transitory." It's Bidenomics."
Biden's speech Thursday comes one day after House Speaker Kevin McCarthy launched an impeachment inquiry into the Biden family's business dealings, and as the United Auto Workers union threatens to launch a strike that could have ripple effects across the economy.
The UAW is negotiating for higher wages with Ford, General Motors and Stellantis, the country's three largest automakers. The union has said it plans to strike if a deal isn't reached Thursday.