Biden Will Unveil 5-part Plan to Combat Violent Crime Spike—Here's What It Does
President Joe Biden is set to unveil a multi-part strategy for combating gun violence in the United States as several major cities across the country have seen significant crime surges during the pandemic and are bracing for an increasingly violent summer.
The plan Biden will unveil Wednesday afternoon has five major focuses: giving local law enforcement federal resources to curb summer violent crime; investing in community violence programs; stemming the flow of illegal firearms; expanding summer programming, employment opportunities and other support services for teens and young adults; and helping formerly incarcerated people re-enter communities, multiple senior administration officials told Newsweek in a preview of Biden's plan ahead of the president's formal announcement.
"We know that the secondary consequences of the pandemic and a proliferation of illegal guns have led to increased violence over this past year and a half," one official said. "[Biden] has talked about the gun violence that makes national headlines but also the gun violence that doesn't make national headlines and tears apart families every day in this country."
The National Commission on COVID-19 and Criminal Justice released a study last month that found homicides had increased 30 percent during the pandemic, while assaults with firearms rose eight percent in large cities. There were 24 more homicides in the first quarter of 2021 than the first quarter of 2020 and 49 percent more than the first quarter of 2019, the report found.
"Where we're seeing the increase in crime is in gun violence, and that's why it is going to be the centerpiece—the focus of the president's strategy," a second senior administration official said of the plan.
The president and Attorney General Merrick Garland will meet with a group of stakeholders Wednesday afternoon, including several law enforcement and city officials from around the country. Biden will then give a public address on his plan.
White House press secretary Jen Psaki told reporters Tuesday that the Biden administration is focusing heavily on gun violence and cited the "use of guns" in crime.
"There are major cities across the country where gun violence is absolutely the driver, where it is absolutely increasing, and that will be a central part of what he'll talk about when he delivers his remarks," she said. "He also believes that we need to ensure that state and local governments keep cops on the beat, that we're supporting community policing, and that's a key part of it as well."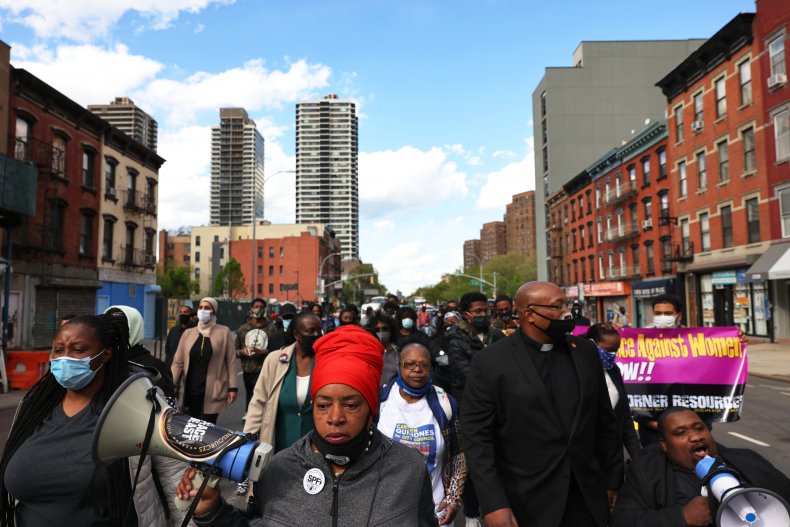 Here are the five efforts that Biden will outline in his crime plan and some of their key components:
Give local law enforcement more federal resources to combat violent crime this summer
The Biden administration is encouraging communities that have seen a surge in gun violence linked to the pandemic to tap into $350 billion in state and local funding provided through the American Rescue Plan (ARP), a coronavirus relief package Congress passed earlier this year.
The money can be used to hire more law enforcement officers, update equipment and start new programs, the official said.
The Justice Department also has opened up applications for $267 million that has been set aside for community violence intervention programs.
Invest in community violence intervention programs
The ARP funding for local communities also can be used to fund evidence-based community violence intervention programs, according to the Biden administration.
Biden is expected to announce the creation of a community violence intervention collaborative of 14 jurisdictions—Atlanta; Austin, Texas; Baltimore; Baton Rouge, Louisiana; Chicago; Detroit; King County, Washington; Los Angeles; Memphis; Minneapolis-St. Paul; Newark, New Jersey; Rapid City, South Dakota; St. Louis and Washington, D.C.—that will use COVID relief funding or other public funding to prepare for and respond to any rise in violence through the summer.
The Biden administration will join meetings with officials from the collaborating communities, facilitate peer-to-peer learning and provide technical assistance.
Stem the flow of illegal firearms to prevent them from being used in crimes
Gun dealers across the country are subject to laws enforced by the federal Bureau of Alcohol, Tobacco, Firearms and Explosives (ATF).
The Justice Department will adopt a new policy "to underscore zero tolerance" for willful violations from federally-licensed firearms dealers, according to the Biden officials who spoke to Newsweek.
That means the ATF will move to revoke the licenses of dealers the first time that they are caught knowingly providing a firearm to a prohibited person, failing to run a required background check, falsifying records, failing to respond to a federal tracing request or refusing an ATF inspection. The ATF also will notify every firearms dealer whose license is revoked about how to transfer their remaining inventory, as well as the potential criminal consequences of operating without a license. That practice had ended under the Trump administration, according to the Biden official.
Additionally, the Justice Department is launching five new firearms trafficking
strike forces focused on corridors that are known to have diverted guns to New York, Chicago, Los Angeles, California's Bay Area and Washington, D.C.
Expand summer programming, employment opportunities and other support services for teens and young adults
The Biden administration will urge state and local governments to use ARP funding and money available through the Youth Workforce Development funds to create more opportunities for kids during their summer break.
"Young people are less likely to commit crime when they're productively engaged in the summer, and that is true for gun violence, as well," one official said.
Help formerly incarcerated people re-enter communities
The Department of Labor will put more resources toward helping people transition from their time incarcerated—helping them with job hunting, occupational training and other opportunities, and the federal government is going to evaluate barriers that people face when seeking government jobs.
"Helping formerly incarcerated individuals is a public safety strategy, we know that finding a good job, makes a person, much less likely to recidivate," the administration official said.
Labor and the Treasury Department also will evaluate ways to help employers leverage the Work Opportunity Tax Credit that provides financial incentives to companies that hire formerly incarcerated people.