A Biden Win Has 'No Mathematical Possibility' in NC, State's GOP Chairman Says
A win for Democratic candidate Joe Biden in North Carolina has "no mathematical possibility" in the state, the chairman for its Republican Party insisted during a press conference Thursday.
Trump Victory—which includes the Republican National Committee, Trump campaign and North Carolina Republican Party (NCGOP)—put together the 8-minute event held outside the Mecklenburg County Board of Elections. NCGOP Chairman Michael Whatley projected confidence, assuring supporters that President Donald Trump continues to carry the state.
Trump is leading Biden by approximately 77,000 votes in North Carolina, according to the Associated Press. But the race has not yet been called, and isn't likely to be finalized until November 12 or 13. There are an estimated 110,000 to 112,000 absentee ballots and about 40,000 provisional ballots left to be counted.
Whatley voiced his frustrations with the North Carolina State Board of Elections (NCSBE) on Thursday, but remained certain that once the outstanding votes are counted, Trump will be declared North Carolina's winner.
"We know right now...given these numbers and the 77,000 vote margin that Donald Trump has, that there's no mathematical possibility for that lead to be overcome and for the state to get declared for Joe Biden, absent massive voter fraud," Whatley said.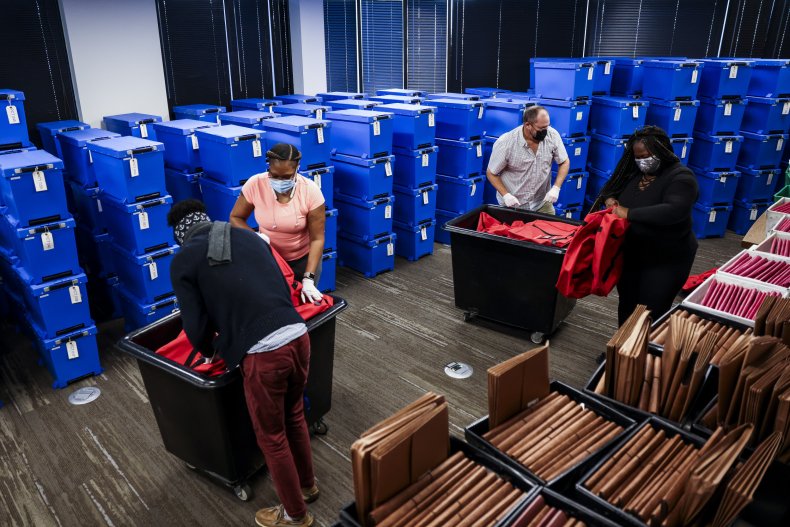 The speech echoed a familiar one put forth by the Trump campaign in the days following the November 3 election. The presidency still hangs in the balance, with neither Biden nor Trump having secured the necessary 270 electoral votes to win the White House. Other states where margins remain too tight to be called include Georgia, Nevada and Pennsylvania.
Whatley criticized the NCSBE for allegedly "refusing" to put out the numbers of outstanding provisional and absentee ballots that would confirm the president's win. The board is run by Democratic Governor Roy Cooper's administration, and officials "want to make sure that they keep North Carolina in the undecided column for the national press and their national narrative," Whatley said.
Members of Trump's team have filed lawsuits in Georgia, Michigan, Nevada and Pennsylvania, claiming voter fraud and other irregularities. While the campaign hasn't yet filed any suit in North Carolina, Whatley assured the president's supporters that the Republican Party would send observers to witness "all of the openings" of provisional and absentee ballots left in the state.
"We have lawyers that are on ground in all 100 of our counties," Whatley said. "We're going to make sure the Board of Elections operates in a transparent manner, and we are 100 percent confident that when they do...they're going to declare Donald Trump carried the state."
There an estimated 110,000 to 112,000 absentee ballots left to be counted, but Whatley alleged that "a big chunk of those voted on Election Day." If true, those absentee ballots would be nullified. The NCSBE knows this number, Whatley insisted, and should be able to deduct those out of the total to report a "real number" of votes.
The NCSBE has also said that about 40,000 provisional ballots will need to be counted. Elections officials have released 26,000 of those names, and over 16,000 of those "were not even registered to vote," Whatley said, prompting a collective gasp from the crowd largely made up of Trump supporters.
There have been no widespread reports of fraud in North Carolina. Newsweek contacted the NCSBE for comment but did not hear back in time for publication.
Ninety-four percent of North Carolina has already reported its votes, according to the AP. Whatley said that the Republican Party wants elections officials to continue counting the remaining votes, but insisted again that the NCSBE has more information right now that should be made available to voters, like the number of people who submitted absentee ballots but ended up voting on Election Day.
Official results might not be known in the state until November 12 or 13 when all mail-in ballots are received and counted by each county, NCSBE Director Karen Brinson Bell said.
But when the board does give an "accurate number," the outstanding votes will be less than the margin Trump leads Biden by, Whatley predicted.