White House Press Secretary Jen Psaki on Saturday refuted a Kremlin spokesperson who said that jailed dissident Alexey Navalny won't be discussed during the upcoming meeting between Russian President Vladimir Putin and U.S. President Joe Biden.
On January 17, Moscow officials arrested Navalny, a Russia critic and prominent organizer of protests against Kremlin corruption, as he returned from Germany, where he spent time recovering from a poison attack. He claims that Putin was involved in the August attack but Russian officials have denied any involvement. In February, a Moscow court sentenced Navalny to three and a half years in a penal colony after he was found guilty of violating the probation terms of a 2014 money laundering conviction.
Kremlin spokesperson Dmitry Peskov told CNN on Friday that Putin doesn't plan on discussing Navalny with Biden during their summit in Geneva, Switzerland next Wednesday. "Well, there is nothing to discuss about it. There is nothing to discuss about this gentleman. He's in prison, and he is not a subject for the agenda of our bilateral relations," Peskov said.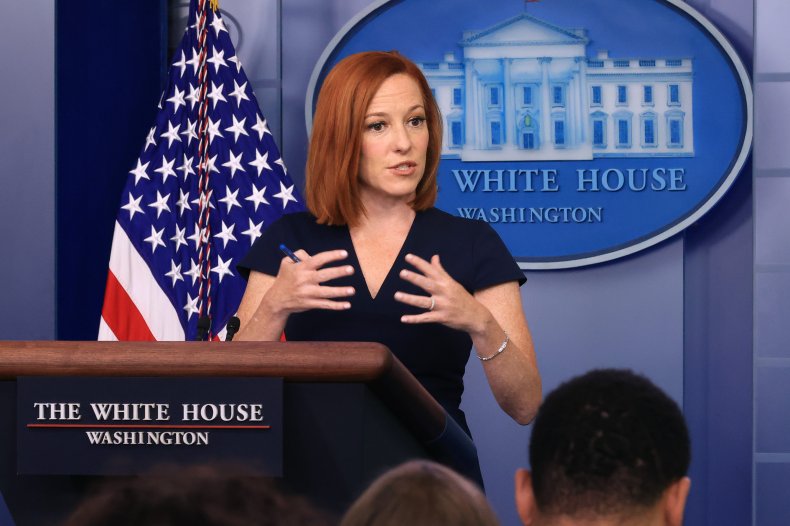 In an appearance on CNN Saturday, Psaki dismissed Peskov's remarks and made clear that Biden won't "hold back on raising" Navalny during the high-stakes meeting.
"It may not be on his agenda, and that's not a surprise, but certainly the president has every intention to raise human rights abuses, the jailing of dissidents and activists, which is a violation of what we feel should be norms around the world," she told host Jake Tapper.
Asked about Trevor Reed and Paul Whelan—two "Americans in Russian jail right now on very fishy charges"—Psaki said the White House has "raised their jailing at many levels."
"Certainly, again, human rights abuses, the jailing of individuals, of course, of Americans, will all be part of the discussion," she added. "The president is not going to hold back in raising issues where he has concern and he'll be straightforward and direct with President Putin. That's the benefit of meeting in person. That's different than a phone call."
Earlier today, the Biden administration announced that Biden will conclude his meeting with Putin with a full solo press conference, without the Russian leader present.
"While we are still finalizing the format for the meeting with President Putin and his delegation, we can confirm a few details, including the plan for both a working session and a smaller session, as well as a solo press conference by President Biden following the meeting," said a White House official.
The official added: "We expect this meeting to be candid and straightforward and a solo press conference is the appropriate format to clearly communicate with the free press the topics that were raised in the meeting—both in terms of areas where we may agree and in areas where we have significant concerns."
Newsweek reached out to the Russian Ministry of Foreign Affairs for comment. This story will be updated with any response.