Biden, Xi Ignore One of Biggest Threats to U.S. Economy
President Joe Biden and his Chinese counterpart Xi Jinping met for their first face-to-face encounter this week, promising to improve one of the world's most important bilateral relations from its increasingly hostile state of affairs.
But as talks about the increasingly tense standoff over Taiwan, the war in Ukraine and a return to climate negotiations dominated their conversation, Biden and Xi left the COVID pandemic unaddressed, even as Beijing's zero-COVID policy continues to take an economic toll on global markets.
On Monday, the two leaders met for three hours at the G20 summit in Bali, Indonesia. Because COVID had prompted the Chinese government to impose strict lockdowns and travel restrictions, journeys abroad had been severely limited for Xi.
As much of the world has begun a return to normalcy, Beijing has continued to impose draconian policies that have threatened the global economy and continued to strain global supply chains. Some measures had finally softened last week but a new uptick in infections has sparked fears those restrictions face tightening again.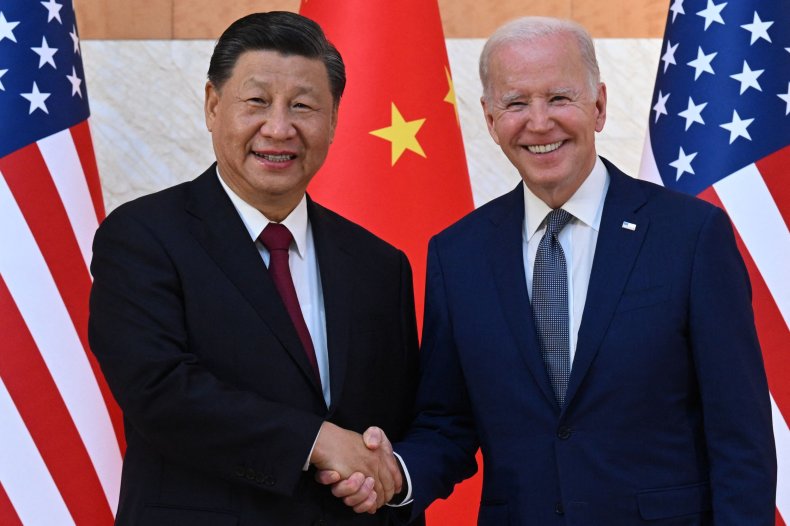 On Monday, Treasury Secretary Janet Yellen implored China to roll out a more effective vaccination program, potentially by taking up the U.S. on its offer of American-made mNRA shots, to help combat the spread of the virus in China and help the country dodge a recession that could trickle out to the rest of the world. Thus far, China has refused to import foreignly-produced vaccines, despite the fact that its existing shots produce a weaker immune response.
Yellen told reporters at the G20 summit that the U.S. stands "ready to be of assistance" to Beijing, adding that "we want to see them be able to deal effectively with the pandemic, both for their own sake and the sake of the entire world."
Economist Doug Holtz-Eakin, who formerly headed the Congressional Budget Office and who currently leads the American Action Network, told Newsweek that Yellen's concerns are not misplaced given that China is relying on large-scale quarantines and lockdowns instead of developing a better vaccine campaign.
Holtz-Eakin said because Beijing's COVID approach not only slows China's economy—which in turn slows the U.S. economy—but also generates new supply chain kinks that make production much costlier, it is "a source of an enormous amount of uncertainty right now."
Speaking to reporters a day before his meeting with Xi, Biden said he hoped to discuss "the Chinese economy, global macroeconomic outcomes, and how policies both in the US and China are impacting those outcomes."
However, Monday's readout from the White House only included "ongoing concerns about China's non-market economic practices" and debt relief among the economic issues that Biden raised to Xi during their meeting in Bali.
"The number one issue is COVID-19," Holtz-Eakin said. "And China is unwilling to accept the U.S. vaccines—the mNRA vaccines—or any other vaccines for that matter. In the absence of that, there's really not much you can do."
He explained, "If you're going to do the lockdowns, you're going to have economic consequences. If they ease the lockdowns, the economy will grow way more rapidly but that's at risk of more deaths."
Although it remains difficult to travel internationally into China, Biden announced on Monday that his Secretary of State Antony Blinken would make a future visit to China.
Newsweek reached out to the White House for comment.