Biden's $1B Investment in Rapid COVID Tests Will Quadruple Supply as Demand Increases Nationally
The Biden administration is investing $1 billion in rapid COVID-19 tests in an effort to quadruple supply across the nation as demand dramatically increases.
"Today's billion-dollar investment to further expand testing production puts us on track to quadruple the amount of at-home rapid tests available for Americans by December," White House COVID-19 Response Coordinator Jeff Zients announced on Wednesday.
"That means we'll have available supply of 200 million rapid at-home tests per month starting in December, with supply of tens of millions of additional tests coming on the market across the next few weeks," Zients said.
The announcement comes as demand for the convenient at-home testing option has continued to increase since the product came to market earlier this year, especially with the new school year, fewer restrictions on travel and the return to the workplace for many across the country.
Back in September, President Joe Biden ordered the federal government to invest $2 billion to ensure that tests would be available and to incentivize manufacturers to ramp up production.
On Wednesday, the White House also announced that it would repeat a commitment it made in September and increase access to free testing by adding 10,000 local pharmacies to the government's testing program.
"Today we're doubling our commitment to a total of 20,000 local pharmacies. That's 20,000 local pharmacies that will offer free testing through the federal government's pharmacy program," Zeints said at the press briefing. "This represents an eightfold increase from when the president entered office."
The expansion will be in addition to the 30,000 community-based testing sites across the country.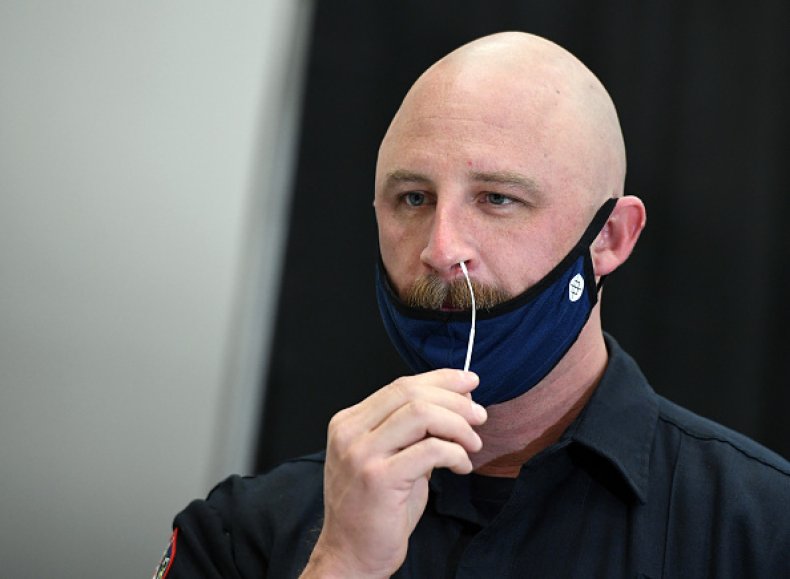 Despite the efforts to ramp up the availability of rapid at-home tests, which could deter COVID-positive individuals from reporting their diagnosis, the Centers for Disease Control and Prevention (CDC) said it remains steadfast that those new tests won't impact public tracking.
"We continue to track PCRs as well as PCR positivity and many of these [rapid] tests allow for the tracking of rapid test positivity, point of care positivity—some of these tests do so through an app. Many of the people who test through a rapid test will confirm by PCR positivity so we continue to track those cases and in some cases, we are relying on people to report their positivity," CDC Director Rochelle Walensky said on Wednesday.
Rapid tests are not as sensitive as PCR tests when it comes to detecting the virus, but experts say they are still accurate at diagnosing someone who is in the first weeks of being symptomatic, when viral load is typically highest.
"The bottom line is there has been and there continues to be enough testing capacity in America," Zeints said. "We'll continue to pull every lever to expand manufacturing and production of tests, which will have the impact of driving down the costs of tests and making sure the tests are widely available."