Biden's 49% Approval Rating Is 10% Higher Than Trump's at Same Point in Presidency
President Joe Biden's 49 percent approval rating is 10 percent higher than former President Donald Trump's at the same point in his presidency, according to a new poll.
The poll, which was conducted by Marist College, noted that in February 2017, Trump received a 39 percent approval rating.
While 49 percent said they approved of the job Biden is doing as president, 35 percent said they disapproved and 16 percent said they were unsure.
Along political party lines, Biden's approval rating remains divided, with 91 percent of Democrats saying they approve of his job in office compared with 78 percent of Republicans that said the opposite. Forty-six percent of independents said they approve of Biden's job in office, 32 percent said they disapprove and 22 percent said they were unsure.
Biden's 49 percent approval rating in early February is equivalent to the highest approval rating Trump received throughout his four years as president, according to Gallup's presidential approval tracker. During his four years in office, Trump had an average approval rating of 41 percent, with a high of 49 percent and a low of 35 percent.
While the Marist poll found Biden receiving a 49 percent approval rating, some other polls have found this rating slightly higher. According to a presidential approval tracker from Five Thirty Eight, the president currently has a 53.4 percent approval rating and a 34.4 percent disapproval rating.
Additionally, the poll found more Americans saying that Biden is uniting the country and moving it in the right direction as compared with Trump in 2017.
According to the poll, 55 percent of Americans said Biden is doing more to unite the country than divide it. Thirty-five percent said the president is doing more to divide the country.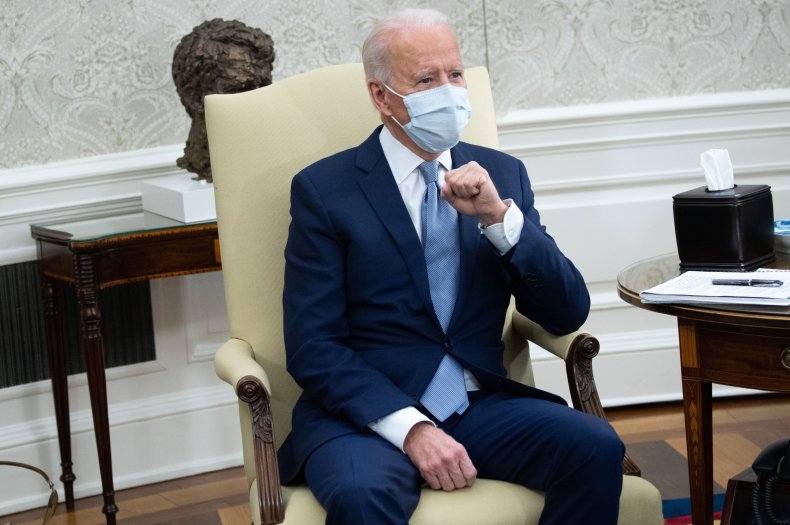 Among party lines, 91 percent of Democrats said Biden is doing more to unite the nation, as well as 54 percent of independents and 17 percent of Republicans.
Forty-seven percent of Americans also said that Biden is changing the direction of the country for the better, while 32 percent said he is making it worse.
Comparatively, Marist polls in 2017 found 36 percent of Americans saying that Trump was uniting the nation and 57 percent said he was dividing it. Additionally, Marist polls conducted at the beginning of Trump's presidency found 38 percent of Americans saying that he was a positive force for the nation, compared with 43 percent that said he was a negative force.
The Marist poll surveyed 1,313 U.S. adults from January 24 to January 27 and reported a margin of error of plus or minus 3.3 percentage points.
Newsweek reached out to the White House for comment but did not receive a response in time for publication.