Biden's American Rescue Plan Will Help Adult Dependents Like Me | Opinion
Last week the House Committee on Ways and Means approved $1,400 stimulus checks for Americans as part of President Joe Biden's $1.9 trillion American Rescue Plan. Congress will likely approve the package in the coming weeks. Those in need can look forward to receiving a check by next month.
For first time adult dependents, who the IRS identify as either "a full-time student under the age of 24 at the end of the year, permanently and totally disabled at any time during the year," or "under the age 19 at the end of the tax year," Biden's pandemic relief aid will apply. After being excluded from the $1,200 and $600 checks last year, this inclusive aid will greatly benefit adult dependents, particularly college students who have been directly impacted by COVID-19.
As a senior broadcast journalism student at Florida A&M University who is a dependent on my parents' taxes, I understand firsthand the frustration the exclusion from the last two stimulus checks caused about 15 million adult dependents.
As someone who works hard in school to maintain my high GPA, is involved with on-campus student media to gain experience in my field and was a recent editorial intern for a magazine, I feel like my hard work was largely overlooked.
The last two stimulus checks ignored not only my hard work but the hard work of millions. This time around, I will be grateful for the $1,400 check. I will use it for rent and save as much as I can before graduating this summer.
After working a part-time retail job last May where I was only scheduled three times before ultimately quitting, I had to recalibrate my income and make freelancing my sole source of income, separate from my parents' help.
Many other college students have had to recalibrate their income as well as balance full-time enrollment hours at universities and work part-time or full-time.
Jacksonville University senior nursing student Kendall Weidamoyer faced disappointment when she didn't receive the last two stimulus checks. Her costly private school tuition is a financial strain.
"When it comes time to pay tuition it's always a struggle financially," Weidamoyer said. "That doesn't include books and supplies. The two checks no doubt would have taken that stress off of me."
Weidamoyer works multiple jobs as a babysitter and tutors nursing students in between her studies to help pay off her student loans and other expenses.
"Since I'm in my last semester of school I've already paid my last out of pocket tuition expense for school," Weidamoyer said. "I do still however have about $25,000 in government student loans hanging over my head, as well as a car [bill] and the $1,400 would go straight to paying those off."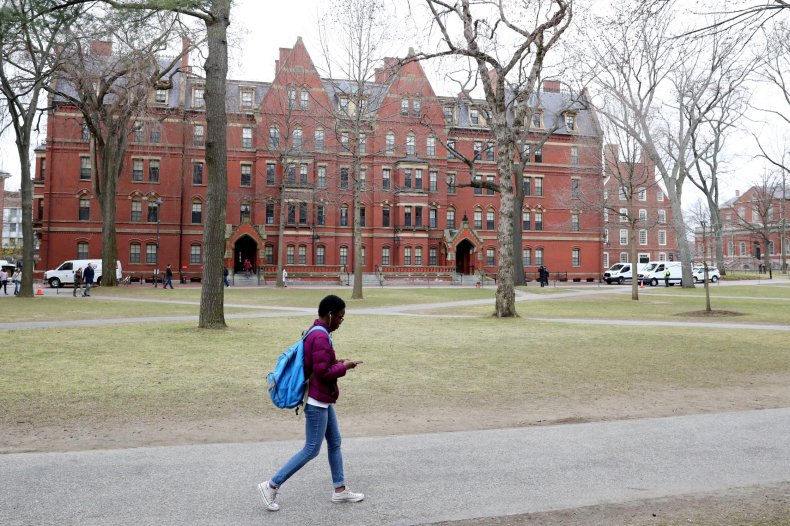 Millions of Americans feel the same emotional and financial weight Weidamoyer feels having student loans debilitating their finances. Student loans are another hot-button issue that millions are hoping the Biden administration addresses, but for now inclusive stimulus packages are a start for day-to-day financial help.
Khaaliq Crowder is a recent graduate from the University of New Haven and current resident of Long Island, New York. In December 2019, he completed a paid internship with SiriusXM and didn't have another internship or job lined up going into the new year. Facing a season of unemployment compounded his binge eating disorder and depression but he eventually decided to reapply to the local grocery store he once worked at.
"Due to my weight, I don't have the physical bandwidth to work an essential job where I'm going to have to use a face mask for several hours," Crowder said.
Because of concerns about his weight and wanting to leave the job available to someone who needed the essential job more than him, he turned down the work. Now he is working more closely to his field of study as a full-time contracted community curator for Snapchat.
Although his scholastic days are behind him, he still has financial burdens from it.
"I have an outstanding tuition balance of $2,192.64 that I have to pay before being awarded my diploma and given access to my transcript," Crowder said. "So the $1,400 would go toward that."
Crowder expressed his contempt for the government making assumptions about the lifestyle of college students.
"I don't understand why the government thinks that just because we're college students, we're financially stable or that our parents will give us some of the stimulus money," he said.
As adult dependents, we can only hope that the comprehensive stimulus checks will set a precedent for future pandemic aid, creating more inclusivity for adult dependents and other demographics traditionally excluded from previous aid.
Sierra Lyons is a multimedia journalist that focuses primarily on the intersection of social justice and religion. Find her on Twitter @sierra_298 and Instagram @sierra_elisabeth_.
The views expressed in this article are the writer's own.