Biden's Approach to Turkey has Washington Treading Water | Opinion
Turkey's slide toward authoritarian rule, support for jihadists and warming relationship with Russia have been a source of bipartisan concern for the better part of the last decade. Under the leadership of President Recep Tayyip Erdogan, Turkey has undermined its relationship with the U.S. and the strength of NATO, earned U.S. sanctions for procuring the Russian S-400 surface-to-air missile system and scuttled its reputation as a Western democracy. The concern and negative attention toward Turkey is warranted, but its continued behavior shows that U.S. efforts have been insufficient. More needs to be done. Unfortunately, President Joe Biden's approach to Turkey and general laissez-faire outlook to the region has Washington treading water.
By contrast, Congress is clear-eyed and focused on the threats emanating from Turkey. A bipartisan majority of the Senate signed a letter to President Biden earlier this year urging him to confront President Erdogan over his domestic crackdown against political opponents and civil society at large. This was followed by a bipartisan effort led by Senators Chris Van Hollen (D-Md.) and James Lankford (R-Okla.) last month to warn President Biden of the dire consequences associated with allowing President Erdogan to kneecap his political opposition ahead of Turkey's 2023 general election.
Congress' concerns on Turkey extend well beyond anti-democratic policies. There are real threats to U.S. national security interests that are originating in Ankara. Turkey, as a bipartisan group of House members wrote this summer to Secretary of State Antony Blinken, "has destabilized multiple regions of the globe and threatens U.S. interests, allies, and partners" through its armed unmanned aerial vehicle (UAV) program. The authors of the letter go on to question whether Turkey is developing their UAVs with U.S. origin materials and technologies. Canada for instance has halted its exports of parts for Turkish drones. The Biden administration should follow suit and make sure that the U.S. defense industrial base is not in the business of assisting President Erdogan in making his adventurism deadlier.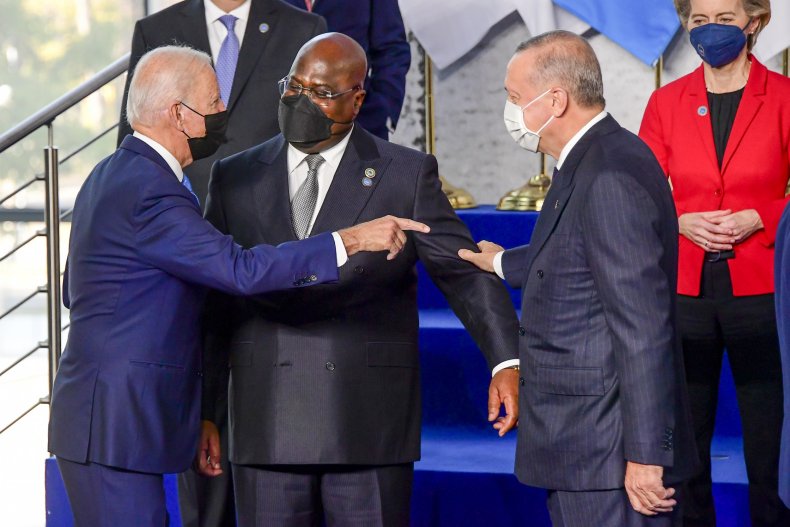 The Biden administration should make use of the tools afforded by Congress. It should target Ankara's UAV sector, heavily condition any potential sale of U.S. F-16s and heed the counsel of Senate Foreign Relations Committee Chair Robert Menendez (D-N.J.) to expand existing U.S. sanctions as punishment if Ankara moves forward with a second-round of deliveries of S-400s. If the White House does not respond, bipartisan and bicameral pressure on the administration will mount, just as it did in 2020 when the Trump administration was dragging its feet.
To its credit, the Treasury Department under President Biden has done an admirable job of keeping up a steady stream of designations which highlight Turkey as a permissive jurisdiction for an array of terror financing. The Financial Action Task Force (FATF), a global financial integrity agency, announced recently that Turkey was added to its "grey list" of nations over terror financing, money laundering and corruption concerns. The Biden administration should build on these actions by warning President Erdogan that if Turkey continues to serve as a key terror finance node that it will move beyond its whack-a-mole enforcement and take more significant and targeted action against its struggling financial sector—which Turkey can ill afford.
Former Senator Jeff Flake recently appeared before the Senate Foreign Relations Committee for his nomination hearing to become America's ambassador to Turkey. Flake was confirmed by the Senate on Oct. 26, but his characterization of President Erdogan's Turkey as an "indispensable ally" raises concerns. His position is grossly outdated and possibly out of alignment with President Biden, who sees President Erdogan for what he is—an "autocrat."
Indispensable allies don't behave like President Erdogan. Ankara's antagonism far outweighs its pseudo-friendship. If the Biden administration wants to improve relations with Turkey, Flake will need to recognize Turkey as it is today, not as he wishes it to be, Congress will have to keep pushing back on Turkey's bad behavior and President Biden will have to take personal ownership of a strategy to address the threats and challenges the so-called indispensable ally presents.
Boris Zilberman is the director of public policy and strategy at the Christians United for Israel Action Fund.
The views expressed in this article are the writer's own.