Biden's Approval Rating Hits New Low as Most Disapprove of His Handling of COVID, Economy
President Joe Biden's approval rating has hit a new low, according to the latest poll from Quinnipiac University.
The survey, which was released Thursday found just 36 percent of Americans approve of Biden's job performance while 53 percent of respondents disapproved of the president's performance—the lowest rating he's received in a Quinnipiac national poll so far.
Republicans and independents largely disapproved of Biden, 94 percent and 56 percent, respectively. Over eight of 10 Democrats who responded to the poll, on the other hand, backed the job the president's done so far.
Biden's new low comes as most Americans disliked his handling of key issues: the coronavirus pandemic, the economy, foreign policy and climate change. According to the polling institute, Biden received his lowest marks in all four areas this week.
Half of U.S. adults surveyed said they disapproved of Biden's response to COVID-19, while just 45 percent approved. His approval rating on the situation dropped 3 percentage points since mid-October.
Just 45 percent of respondents think the pandemic in the United States is getting better.
The findings come as the administration faces criticism and legal challenges to its new vaccine rules ordering larger businesses to either require that their workers get vaccinated or undergo weekly testing.
The agency in charge of implementing those guidelines, the Labor Department's Occupational Safety and Health Administration (OSHA), announced Wednesday it was suspending enforcement after a federal appeals court temporarily halted the vaccine rules.
OSHA said it "remains confident in its authority to protect workers in emergencies."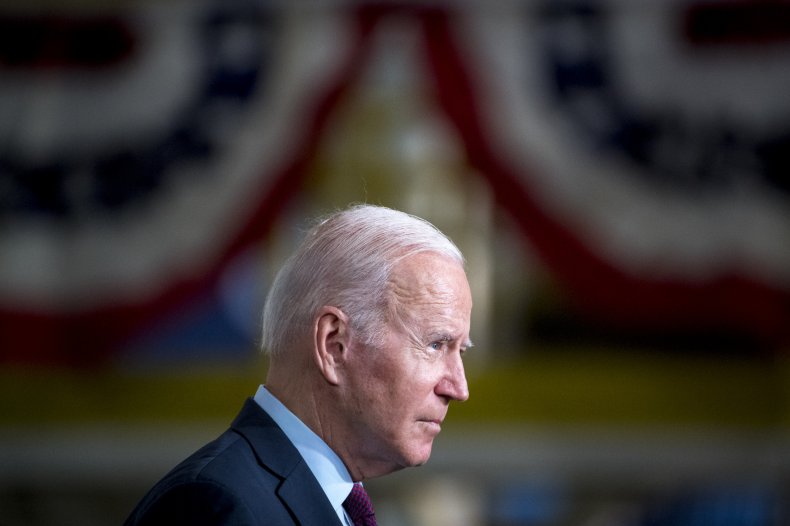 Biden received the most disapproval on his approach to the economy, with nearly six in 10 Americans disapproving of his handling of the matter.
His approval rating on the economy dropped 4 percentage points in roughly a month as rising food and gas prices grip the nation.
Prices jumped 6.2 percent in October from a year earlier, the largest increase in 31 years. Today, the average price for a gallon of regular unleaded gas is $3.414—more than a dollar higher than the average price one year ago.
Biden addressed rising consumer prices last week, describing it as "one of the most pressing economic concerns of the American people."
"Everything from a gallon of gas to a loaf of bread costs more. And it's worrisome, even though wages are going up," the president said.
Seven in 10 Americans said rising prices are causing them to change their spending habits. More than half of respondents said they're not finding the grocery items or retail goods they want to purchase.
The Quinnipiac University poll surveyed 1,378 U.S. adults nationwide between November 11 and November 15. The poll has a margin of error of plus or minus 2.6 percentage points.