Biden's Approval Ratings Bounce Back As Summer COVID Surge Slows: Poll
President Joe Biden's approval rating has improved slightly as a recent surge in new COVID-19 cases has diminished, according to the results of a new poll.
A Reuters/Ipsos poll released Monday showed the president with an approval rating of 48 percent, an improvement of four points when compared to a similar poll taken in mid-September. Nearly the same proportion of respondents—47 percent—disapproved of Biden, although 3 percent more disapproved of the president in last month's poll.
New COVID-19 cases and deaths have dipped during the same period after experiencing a significant surge over the summer as the highly contagious Delta variant became the dominant strain of the virus and new vaccinations slowed. Previous polls have suggested that Biden's strategy on the pandemic was a key reason for his defeat of former President Donald Trump in the 2020 election.
Although an average of around 95,000 new COVID-19 cases per day are still being reported nationally, the rate of new infections has sharply declined since early September, when new cases average over 160,000 per day, according to the Centers for Disease Control and Prevention.
Meanwhile, a little more than 1,400 COVID-19 deaths are being reported daily, down from over 2,000 deaths per day in mid-September. Hospitalizations have also dropped. New vaccinations have also slowly continued to increase, although third-dose boosters of the Pfizer/BioNTech vaccine have been outpacing first or second doses.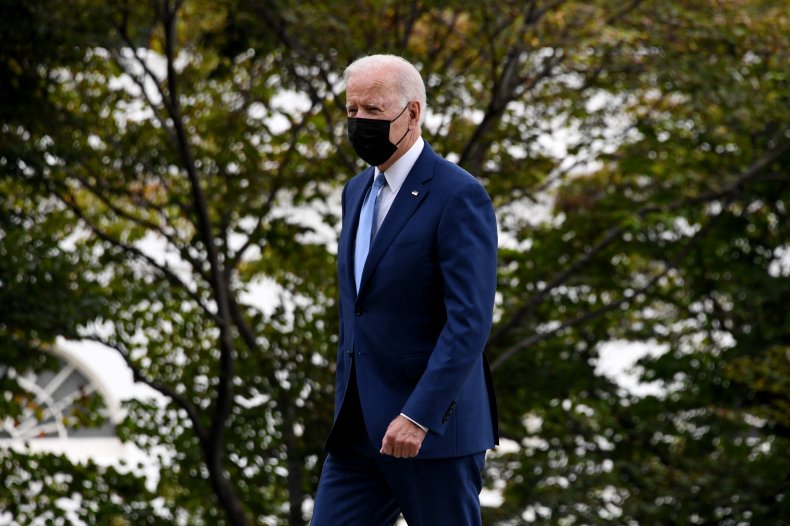 Some experts have expressed optimism that the pandemic could be in the waning stages of its final big surge. Others have suggested caution, noting that the virus is unlikely to disappear while a significant percentage of the population remains vaccine-hesitant.
"We may be over the worst but there will be surges because there are still 65m Americans who are unvaccinated — so that's a lot of human wood out there for this coronavirus forest fire," University of Minnesota epidemiologist Michael Osterholm told The Financial Times. "What the Delta variant has shown is that if you are unvaccinated this virus will find you."
Regardless of the course of the pandemic and its potential role in Biden's approval ratings, a clear majority approved of the president when he took office in January. His ratings slowly dropped over the summer before nosediving in late August amid the COVID-19 summer surge and public fallout over the chaotic withdrawal of U.S. troops from Afghanistan.
Biden's ratings have continued to deteriorate since then, although the decline may be slowing somewhat, according to an average of recent polls from polling analysis site FiveThirtyEight. Biden had an average approval rating of 44.6 percent and a disapproval rating of 49.2 percent as of Monday.
Despite the president's approval ratings remaining low, he is still polling significantly better than Trump, who had an approval rating of only 37.9 percent and a disapproval rating of 56 percent at the same point in his presidency.
Newsweek reached out to the White House for comment.