David Chipman, who was tapped by President Joe Biden to lead the Bureau of Alcohol, Tobacco, Firearms and Explosives (ATF), told lawmakers Wednesday that he supports a ban on AR-15 assault rifles.
Appearing before a Senate panel for his confirmation hearing, Chipman faced criticism from Republican senators about his previous remarks advocating for gun control.
"The AR-15 is one of, if not the most popular rifle in America. It's not a machine gun, it's a rifle," Senator Ted Cruz (R-Texas) said. "Your public position is that you want to ban AR-15s, is that correct?"
Chipman first responded by thanking Cruz for "offering me a Dr. Pepper" during a private meeting the day before. He then went on to address the assault weapon.
"With respect to the AR-15, I support a ban as has been presented in a Senate bill and supported by the president," the nominee said. "The AR-15 is a gun I was issued on ATF's SWAT team and it is a particularly lethal weapon, and regulating it as other particularly lethal weapons I have advocated for."
Chipman added: "As ATF director, if I'm confirmed, I would simply enforce the laws on the books and right now there is no such ban on those guns."
Chipman worked at ATF for over two decades as a special agent. During his time at the bureau, he responded to the bombing of the World Trade Center in New York City in 1993, and the Oklahoma City bombing in 1995 that killed 168 people.
After he retired from the bureau in 2012, Chipman became an advocate for gun violence prevention. He's voiced support for limiting high-capacity magazines and bans on assault weapons.
In an editorial he wrote for The Roanoke Times last year, Chipman said he was a "proud gun owner" who is sometimes mischaracterized as a "gun grabber." He also noted that he supports gun reforms that would help "save lives," but wouldn't take guns away from people who follow the law.
As his confirmation hearing began, it was reported that multiple people were killed in a shooting in San Jose, California.
"If I'm confirmed as ATF director, one of our priorities at ATF will be focusing on gun trafficking, the unlawful of legal guns to criminals, and perhaps in this case a crime like this can be prevented," he said. "So as ATF tries to solve crimes, we'll have to strive just as hard to prevent them from ever happening in the first place."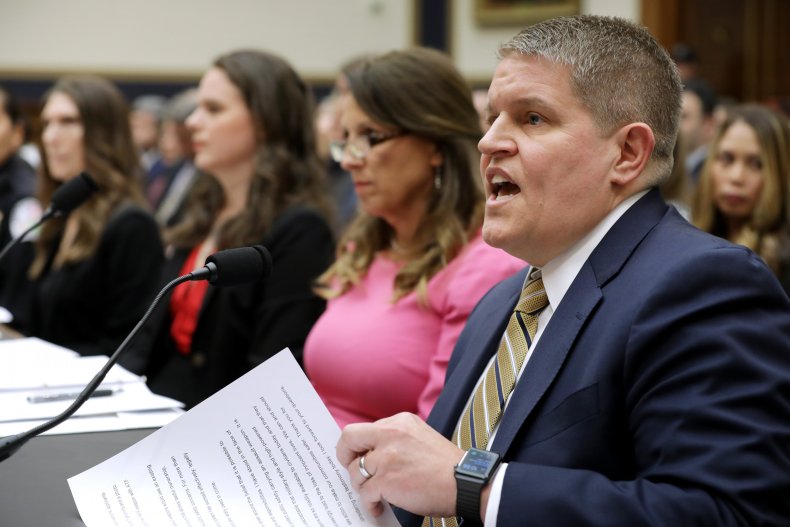 His nomination has drawn fierce opposition from gun rights groups. The National Rifle Association's (NRA) Institute for Legislative Action publicly condemned Chipman's potential appointment, describing him as an "extremist" who wants to take away "America's rifle"—meaning the AR-15.
"It's hard to imagine choosing a nominee who is more hostile to the rights of American gun owners than Chipman," the NRA-ILA said. "Chipman is a Gun Control Extremist."