From the Bidens to Bolton, Here's What Senators Will Ask in Trump's Impeachment Trial
With the question-and-answer session of President Donald Trump's impeachment trial to occur over the next two days, some senators have already previewed what their questions will be for the House impeachment managers and Trump's legal defense team.
Democrats and Republicans will submit—unsurprisingly—diametrically opposing questions to Chief Justice John Roberts, with most senators likely already decided what their final vote on removing the president from office will be.
"I think Q&A is going to be most essential to the people that are really on the edge that cannot make their mind up," Sen. Mike Braun (R-Ind.) said, a defender of the president. "I see it fairly clearly."
The Q&A session will play out for a total of 16 hours, commencing at 1 p.m. Wednesday and concluding Thursday evening. Eight hours are allotted each day for alternating questions from Democrats and Republicans. Whichever side the question is intended for will have five minutes to respond.
From Republicans, it's about the Bidens and offenses that aren't impeachable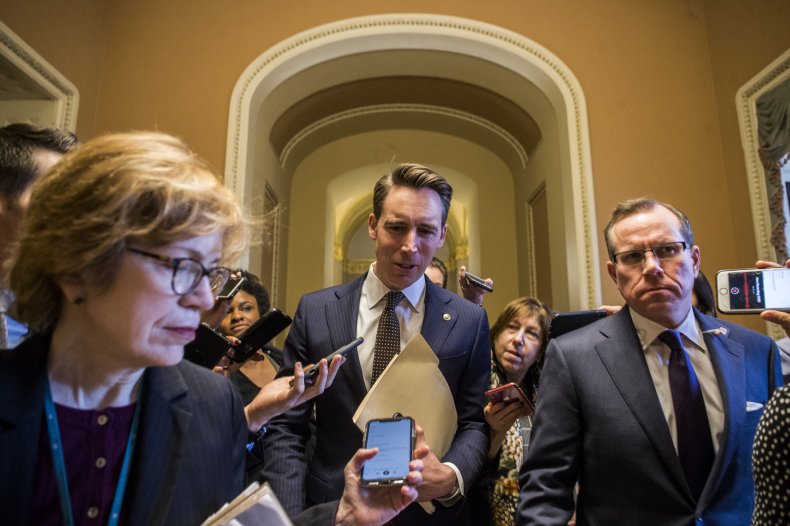 Republicans will focus on the Bidens, the anonymous whistleblower that jumpstarted the House impeachment inquiry and why Trump's actions—withholding aid from Ukraine while pressuring the foreign country to investigate a domestic political rival—are not an impeachable offense.
Sen. Josh Hawley (R-Mo.) unveiled a list of nine questions, the majority of which are for the managers. They focus on the whistleblower and their contact with lead impeachment manager Rep. Adam Schiff's (D-Calif.) office.
They also center on the involvement that former Vice President Joe Biden and his son, Hunter, had in Ukraine. This includes the Burisma gas company, where Hunter obtained a board position while his father was in office, and Joe Biden's effort to push out the former prosecutor general, a move that, at the time, was supported by the international community.
Braun's main question, he said, is that although Trump may have withheld military assistance while pushing for political investigations, "Is that impeachable?"
"Even if that were, which [Trump lawyer Alan] Dershowitz says it wouldn't be impeachable, it's still the rest of the case doesn't have anything to it because it's built on a flimsy circumstantial platform," Braun said.
Sen. Kevin Cramer (R-N.D.) wondered why "the House let up so easily" on securing former National Security Adviser John Bolton's testimony, which the White House blocked. Democrats forwent taking Bolton to court because they said it would still be ongoing and take too long.
Kramer also said he was "a little bit curious" about Rudy Giuliani, Trump's personal attorney involved in a shadowy scheme to dig up dirt on the Bidens and helped to oust former U.S. Ambassador to Ukraine Marie Yovanovitch.
"I know there's been so much talk about him, but they really never pursued Rudy Giuliani," he said. "Maybe it's because... they wanted to honor attorney-client privilege. I'd like a little more clarity on that."
For Democrats, it's about witnesses and Trump's attempt to subvert an election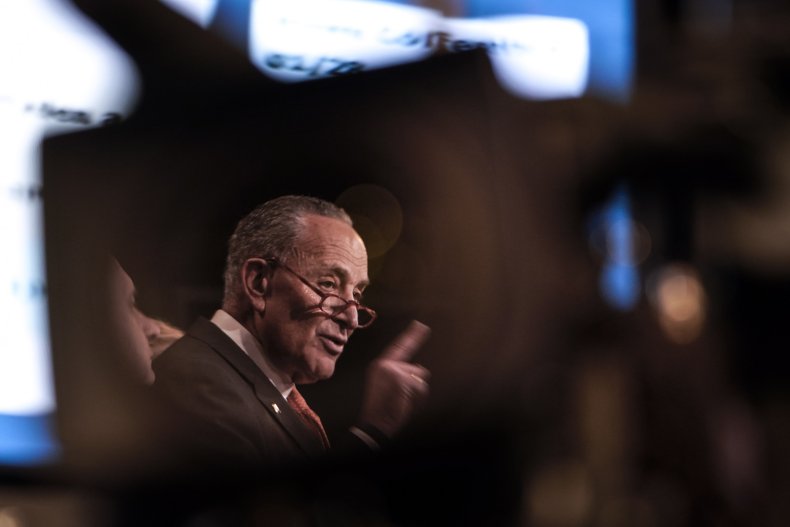 Democrats' questions will allow the House impeachment managers their first opportunity to rebut the defense team's arguments it's made in recent days and will touch on the subjects of witnesses, Trump's infamous July 25 phone call with his Ukrainian counterpart and what Democrats classify as an attempt to meddle in an American election.
"Interfering in elections is one of the most serious things that a president can be charged with," said Senate Minority Leader Chuck Schumer (D-N.Y.). "It gets to the whole basis, core, root of America. And when you try to interfere with that and get a foreign power to interfere with that, you risk despoiling our democracy."
Schumer added that Democrats will seek to compile and organize their questions to avoid duplicates and to better prioritize the order in which they are asked.
"I am sure that a good number of the questions will give the House managers time to rebut all the holes in the president's lawyers' arguments, which they didn't have in the course of the trial," he said.
Sen. Chris Coons (D-Del.) chided the defense's claim that Trump offered extraordinary transparency in releasing the transcript of his phone conversation with Ukrainian Volodymyr Zelensky. He noted the footnotes specify the document is a "memorandum"—or a rough transcript that at several points includes ellipses, suggesting some portions were excluded.
"I have a simple, obvious question—I think—that I'm assuming all of you are asking too," Coon said. "Is that actually a full transcript of the call?"
What's after the Q&A?
After this period of the trial is complete, Friday will mark the beginning of heated partisan debate over whether to subpoena what—if any—witnesses and documents. Democrats want four former or current administration officials to testify, especially Bolton and acting White House Chief of Staff Mick Mulvaney.
Republicans, on the other hand, are largely opposed to any witnesses.
In the wake of a New York Times report that a manuscript of Bolton's forthcoming book contradicts Trump by stating the president tied a hold on foreign military aid to Ukraine in exchange for investigations into the Bidens, Sens. Mitt Romney of Utah and Susan Collins of Maine have been the lone Republicans to signal they'll side with Democrats for witnesses. That means Democrats still need two more GOP defectors, turning all eyes to Sens. Lamar Alexander (R-Tenn.) and Lisa Murkowski (R-Alaska), who have so far held their cards close to the chest.
Should any efforts for witnesses prove successful, Hawley has said he'll issue motions that would compel the testimonies of Schiff, Intelligence Community Inspector General Michael Atkinson, the whistleblower and the Bidens.