'Biden's Border Crisis': N.Y. Rep. Elise Stefanik Slammed for Denouncing Fentanyl Seizure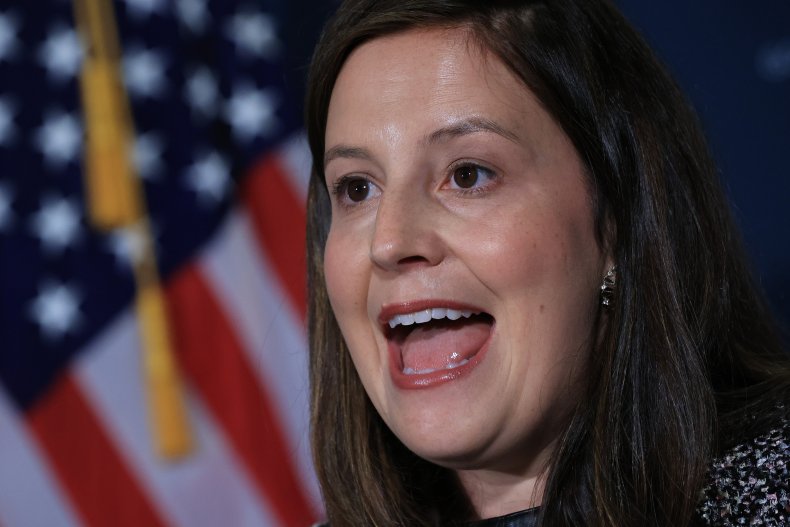 Representative Elise Stefanik (R-N.Y.) was ripped on Twitter after describing the successful seizure of fentanyl at the U.S.-Mexico border as an example of "Biden's Border Crisis."
"Over 800 pounds of fentanyl were seized at our Southern Border in October," Stefanik tweeted on Monday morning. "This is Biden's Border Crisis."
Stefanik was quickly mocked for blaming President Joe Biden's supposed crisis on the seizure. Most argued that a successful seizure was not a "crisis," while at least one pointed out that former President Donald Trump—who Stefanik staunchly supports and has not accused of shepherding a border crisis—took to Twitter in 2019 to praise border agents for "a job well done" after they made "the biggest Fentanyl bust in our Country's history."
"Sounds like Biden is doing a great job," tweeted user @jolefson50.
"Oh my G-d, Elise! You seized ALL OF THIS yourself? Are you OK? I see why you're upset," Representative Eric Swalwell (D-Calif.) tweeted. "***Because if Border Patrol was seizing this I'm sure you'd be praising Biden for a job well done."
"Great job, Brandon," actor Bob Clendenin tweeted, referring to the "Let's Go, Brandon" meme that has recently becoming a popular anti-Biden rallying cry for some. "Nice self-owning face plant, Trashy Stefanik."
"Fentanyl seized under Trump: 'job well done!'" podcast host Sawyer Hackett tweeted. "Fentanyl seized under Biden: 'This is Biden's Border Crisis.'"
"Do you want him to stop it or let in in?" former pro basketball player Rex Chapman asked Stefanik. "Serious question."
"Now the fentanyl shelves at Target are bare, and our kids will rush downstairs on Christmas morning to find no opioids in their stockings," writer Liz Dye joked. "Thanks for nothing, Joe!"
"In other news, Congresswoman suggests fentanyl should have been let in at border rather than seized," tweeted Michael Li, senior counsel for the Brennan Center's democracy program.
"You had plans for the fentanyl or what?" asked actor Jeffrey Wright.
"So....@RepStefanik supports fentanyl entering the US illegally?" writer Laura Anne Gilman tweeted. "Her own words, folks. Her own words."
"Republicans keep bringing up how much fentanyl the Biden administration is stopping from entering the US," blogger and musician Charles Johnson tweeted. "I guess they think it shouldn't have been seized?"
Successful seizures of the highly addictive and deadly opioid did increase by 42 percent in October, according to U.S. Customs and Border Protection (CBP). Seizures of other illegal drugs like cocaine, heroin and methamphetamine were down, with overall drug seizures up by a modest 4 percent.
CBP statistics indicate that a total of 1,044 pounds of fentanyl were seized during October. That was down from the 1,212 pounds that were seized in October 2020, while Trump was still in office.
Newsweek reached out to the House Republican Conference, which Stefanik chairs, for comment.