Biden's Border Policy Echoes Trump's
As a candidate, immigration—particularly, running against his opponent's immigration policy—was a central plank of President Joe Biden's appeal to the American public.
He denounced then-President Donald Trump's border wall, decried his administration's policy of separating families at the border and pledged to "reassert America's commitment to asylum-seekers and refugees" through a system that was humane, fair and just to all seeking a life in the United States.
Facing an unprecedented surge in undocumented migrants at the U.S. southern border midway through his first term, however, Biden's immigration policies have already begun to draw comparisons to those of the man he sought to replace.
On Monday, The New York Times and others reported Biden was considering reviving a Trump-era policy to detain migrants at the border for processing, then deportation, reversing a key policy promise from earlier in his term.
Last month, his administration proposed a policy crackdown some believe could disqualify a vast majority of migrants from being able to seek asylum at the southern border, allowing for the rapid deportation of anyone who had failed to request asylum via proper channels on their way into the United States.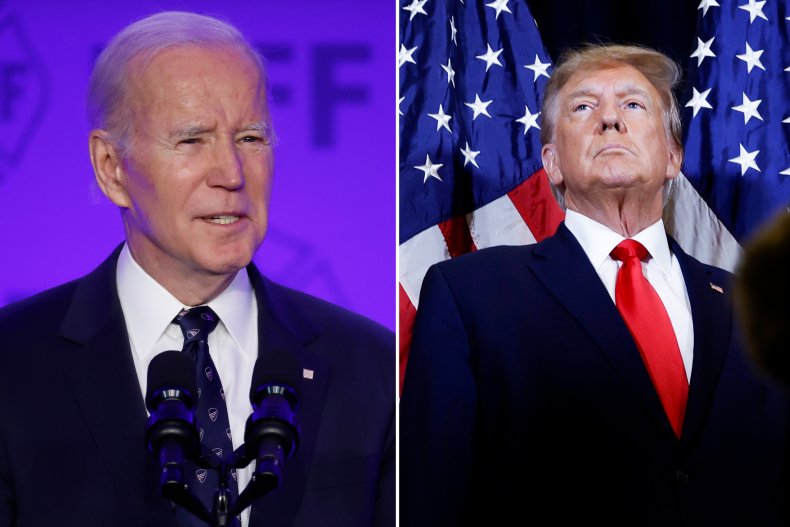 And where Biden once denounced Trump's border wall—and planned to abandon work on it entirely—reporting by outlets like the The Texas Tribune found so-called levee improvement projects appeared to be concrete barriers designed to halt crossing into the United States illegally, raising questions of whether his administration truly meant what it said.
"This is alarming news," Save The Children, an international humanitarian organization, said in a statement following headlines the Biden administration was considering reviving its migrant detention policy. "Detaining families with children is still child detention. It causes trauma and long-term harm to their physical and mental well-being. The Biden administration must turn away from inhumane practices and find child-centered alternatives."
Meanwhile, Republicans in the House of Representatives are refusing to let up their attacks—holding hearings critical of Biden's border policies and calling for the resignation of his head of Department of Homeland Security, Alejandro Mayorkas—while some members of Biden's own party are beginning to question whether they're getting what they were promised.
"This administration ended family detention. They were right then and they'd be wrong to go back to it now," Democratic Senator Bob Menendez of New Jersey, chair of the Foreign Relation Committee, told Newsweek in a Tuesday interview. "As the president said in the past, it's inhumane, and it is a relic of the Trump administration's policies."
Part of it is a natural evolution of warnings Biden and Democrats have been receiving for some time. Shortly after Biden's election, Andrew Levison—author of The White Working Class Today and contributing editor for The Democratic Strategist—wrote a white paper claiming Democrats would likely lose their next elections and return control of government to the GOP if they failed to offer a coherent strategy to reduce the surge of immigrants at the border that extended beyond what he described as "the ambivalent, and contradictory set of policies that Biden and the administration have been offering since the election."
"Many Americans do genuinely sympathize with immigrants and recognize that violence, disastrous crop failures and depressed economic conditions are the fundamental forces driving the vast migration to the border," he wrote at the time. "But this does not lead them to support the call for 'open borders' or make them willing to passively accept a major, constant increase in the flow of migrants in the coming months and years."
Newsweek has reached out to the White House for comment.
Biden's policies, while unpopular with some members of his own party, acknowledge that reality. However, one Democratic strategist told Newsweek that Biden's policy rollouts and, particularly, his ongoing approach to immigration policy, has left a gaping hole in his ability to effectively communicate his policy goals as he navigates an anti-immigrant GOP in Congress and a Democratic Party still divided over the correct approach.
And in that void, Republicans are dominating the conversation.
"There is a void right now in any sort of positive narrative around the southern border," Kristian Ramos, founder of D.C.-based strategic communications firm Autonomy Strategies and former communications staffer for the United States Senate Majority Leadership Communications Center and the Congressional Hispanic Caucus, told Newsweek. "I see Democrats talking about the border as a war zone. I don't see anybody saying, 'hey, people are coming to America because America is the greatest country in the world and they need help.' This is all being framed, super negative."
To improve its approach, Ramos suggested the administration explore a policy similar to one deployed by President Barack Obama's administration, which featured regular trips to the border to build local partnerships in an effort to address the migrant influx with policies developed via some sort of consensus—an approach some believe is currently lacking in the Biden White House, as well as in the current Republican Party.
In failing to do so, he said, the administration is missing out on a golden opportunity to win the debate on immigration.
"Republicans, Democrats, independents ... people are OK with immigrants coming into America," he told Newsweek. "There is a smaller segment that doesn't want anyone to come in—and it's a small segment of the electorate."
"We have to be pro-immigrant," he added. "A legal, orderly pathway to help people to come into the country is very popular politically. We should never veer from that."