Biden's Call to 'Finish the Job' Ignites Enthusiasm for 2024 Run
Throughout the State of the Union Tuesday night, President Joe Biden repeated one phrase as he touted his administration's achievements over the past two years: "Let's finish the job."
The call—which Biden used while highlighting his promises to cap the cost of insulin, expand Medicare benefits and pass a tax minimum for the wealthy—has sparked encouragement that the 80-year-old Democrat will be looking to run for reelection in 2024, where he could face off against former President Donald Trump in a rematch of the 2020 general election.
"Though President Biden didn't formally announce his intention to seek reelection, several hints indicated this is extremely likely in the coming months," Aaron Kall, director of debate at the University of Michigan, told Newsweek Tuesday evening.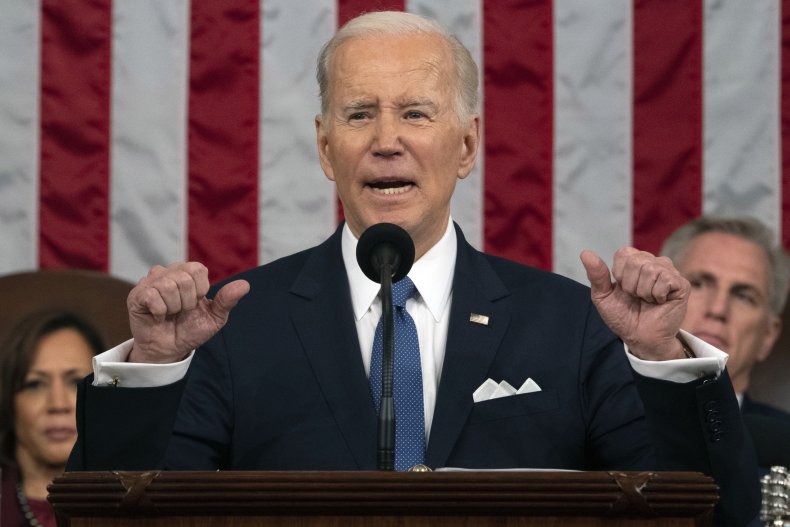 Kall noted that much of Biden's speech was focused on the theme of bipartisanship, a nod to the president's 2020 campaign when he promised to be a leader "for all Americans."
Among the hundreds of bipartisan bills passed by Congress during Biden's first two years in office, the president particularly bragged about the CHIPS and Science Act, as well as the Bipartisan Infrastructure Law, both of which invest into manufacturing jobs within the United States.
"That's always been my vision of our country, and I know it's many of yours," Biden said during his address. "To restore the soul of this nation, to rebuild the backbone of America, America's middle class, and unite the country. We've been sent here to finish the job."
Democrats also quickly latched onto Biden's slogan, "finish the job," on Twitter following the address, which NPR called a likely "unofficial pitch for reelection" by the president.
"Our country is so much stronger when we work together to do what's needed. Let's finish the job," tweeted Delaware Senator Chris Coons.
"[Biden] set forth a clear goal for us tonight: let's finish the job," California Representative Linda Sánchez tweeted Tuesday evening.
"Last Congress we made strides to reduce costs, bring good-paying jobs back home, rebuild our economy from the middle out, and more. But our work is far from over," Sanchez added.
Kall also told Newsweek that Biden's promise to "finish the job" was likely "implying that there would be more hard work to be done in a second term."
Other users also speculated that Biden's State of the Union was likely a prelude to his 2024 campaign, including Max Burns, founder of the progressive public relations firm Third Degree Strategies.
"One thing is clear: anyone still entertaining the fantasy that Joe Biden is not running in 2024 got a wake-up call tonight," Burns tweeted. "Not only is he running, Biden used the State of the Union to remind skeptics that he's still sharp."
Matt O'Malley, former president of the Boston City Council, also praised Biden's performance Tuesday, tweeting, "Is there anyone in modern political life who's as underestimated as President [Biden]?"
"Once again he delivers. And proves to be a master communicator," O'Malley wrote, adding the hashtag "#Biden2024."
Former Speaker of the House Nancy Pelosi joined CNN Tuesday night, lauding Biden's address, telling the outlet that she was thankful "for the opportunity to say how great I think the president was tonight."
"What do we want in a president? We want judgment, we want values, we want knowledge ... and we want connection to the American people," Pelosi continued. "We want a hopeful message, and that's what he gave us."
While the president has not confirmed if he plans to run for reelection, polling conducted prior to the State of the Union shows that Biden could face an uphill battle. A Washington Post/ABC News poll released last week found that 62 percent of voters overall say that Biden has accomplished "not much" or "little or nothing" since he took office, putting his polling numbers almost on par with Trump's ratings prior to him losing his reelection campaign in 2020.
FiveThirtyEight also assessed that Biden's approval rating had declined to 43.2 percent as of February 6, which put the president's rating slightly above Trump's 39.8 percent when the former president addressed Congress in his second State of the Union in February 2019.