Biden's Campaign Launches Flywillvote.com, Sells Swatters After Fly Lands on Pence's Head During Debate
Democratic presidential nominee Joe Biden's campaign created the URL Flywillvote.com on Wednesday evening after the internet erupted over a fly landing on Vice President Mike Pence's head during his debate against Senator Kamala Harris in Salt Lake City, Utah.
The Flywillvote.com domain link redirects to a Democratic National Committee website that helps Americans register to vote.
As Harris and Pence debated whether justice was served in Breonna Taylor's case, viewers at home saw a fly land on the left side of the vice president's head. The black insect was particularly noticeable against Pence's white hair. The internet immediately exploded in response with memes, pictures, videos and jokes.
Biden quickly seized on the moment to further his campaign's fundraising efforts. The Democrat shared an image of himself holding a fly swatter to Twitter. "Pitch in $5 to help this campaign fly," he wrote.
Biden campaign's official store also began selling "Truth Over Flies Fly Swatters" for $10 less than an hour after the vice presidential debate wrapped.
Harris and Pence disagreed on police violence and whether justice was served in Taylor's death during their debate.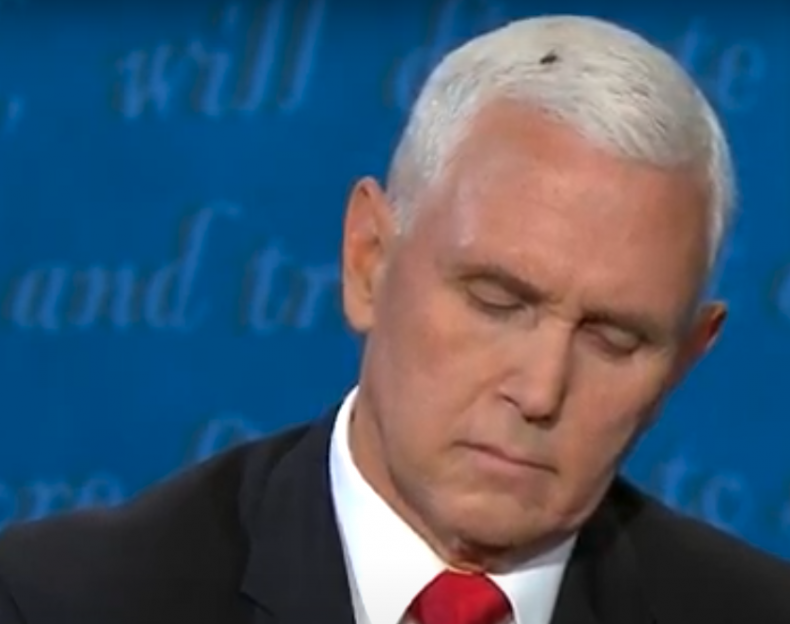 "I've talked with Breonna's mother and her family, and her family deserves justice. She was a beautiful young woman," Harris said. "Bad cops are bad for good cops. We need reform of policing in America and our criminal justice system. That's why Joe and I will immediately ban chokeholds and carotid holds."
"Breonna Taylor's family has our sympathies. But I trust our justice system," Pence said. "This presumption that you hear from Joe Biden and Kamala Harris that America is systemically racist, and as Joe Biden said, he believes that law enforcement has an implicit bias against minorities, it's a great insult to the men and women who serve in law enforcement."
In their closing remarks, both vice presidential candidates called for unity despite spending the preceding 90 minutes in disagreement.
"Here in America, we can disagree, we can debate vigorously as Sen. Harris and I have on this stage tonight but when the debate is over we come together as Americans," Pence said.
"Joe has a long standing reputation of working across the aisle and working in a bipartisan way and that's what he is going to do as President," Harris said. "Joe Biden has a history of lifting people up and fighting for their dignity."
Newsweek reached out to the Trump/Pence campaign for comment.