Biden's Commerce Secretary Praises Trump's China Tariffs as 'Effective'
President Joe Biden's Commerce Secretary Gina Raimondo praised former President Donald Trump's tariffs targeting China as "effective," despite Biden previously criticizing his predecessor's levies targeting Chinese imports.
Raimondo, the former governor of Rhode Island, was confirmed to her Cabinet role in the Biden administration by an 84 to 15 Senate vote on Tuesday. In an interview with MSNBC broadcast Thursday morning, Raimondo raised concerns about China and reiterated that the Biden administration plans to take a tough stance against the East Asian nation.
"First, we have to be honest which is to say China's behavior is anti-competitive, coercive—their human rights abuses are horrific. And they need to be held to account for that," Raimondo said. She asserted that Biden would be "tough on China in a whole of government response." The new commerce secretary highlighted that in her role she plans to use the Entity List—a trade black list published and updated by the Commerce Department—to hold China accountable.
"Chinese telecommunication companies, their behavior is a threat to American economic and national security. We are going to use the entities list to its full effect," Raimondo said. Although the Biden administration official attempted to draw a distinction between the new president's approach compared to that of Trump, she said that tariffs had worked when it comes to China.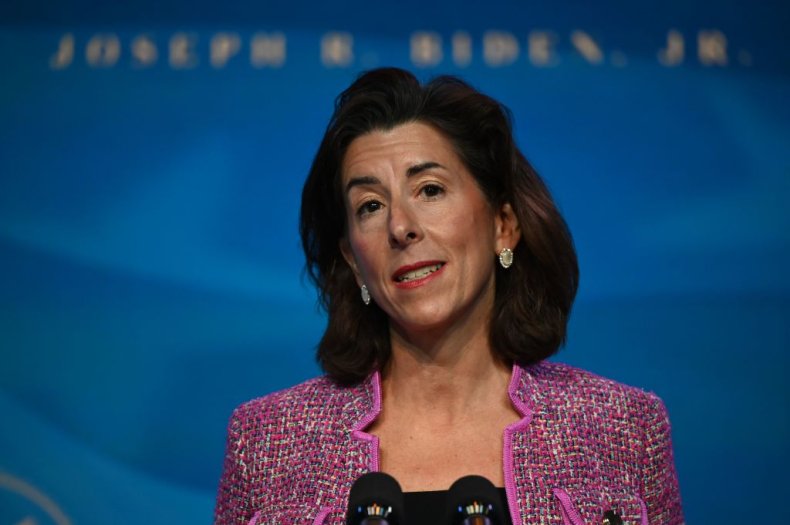 "Let me say, those tariffs have been effective. The data show that those tariffs have been effective, and I think what President Biden has said is we're going to have a whole of government review of all of these policies and decide what it makes sense to maintain," Raimondo explained.
Newsweek reached out to the Chinese embassy in Washington, D.C., and the Chinese foreign ministry for comment but did not immediately receive a response.
Notably, Biden strongly criticized Trump's trade policies targeting China during his presidential campaign in 2019 and 2020.
"President Trump may think he's being tough on China. All that he's delivered as a consequence of that is American farmers, manufacturers and consumers losing and paying more," Biden said during a speech in New York about his foreign policy plans back in July 2019. "His economic decision-making is so shortsighted and as shortsighted as the rest of his foreign policy."
The then-presidential candidate in August 2020 suggested he planned to remove Trump's tariffs targeting Chinese products. "Hey, look, who said Trump's idea's a good one [on China]?" Biden said in an interview with NPR. "Manufacturing has gone into a recession. Agriculture lost billions of dollars that taxpayers had to pay."
"We're going after China in the wrong way," Biden added.
Secretary of State Antony Blinken also spoke somewhat favorably of Trump's approach to China during his Senate confirmation hearing in January.
"I also believe President Trump was right in taking a tougher approach to China. I disagree very much with the way he went about it in a number of ways, but the basic principle was the right one and I think that's very helpful to our foreign policy," Blinken said.
During the president's first phone call with Chinese President Xi Jinping, Biden "underscored his fundamental concerns about Beijing's coercive and unfair economic practices, crackdown in Hong Kong, human rights abuses in Xinjiang, and increasingly assertive actions in the region, including toward Taiwan," the White House said after the February 10 conversation. A few days before that call, Biden told CBS News: "We need not have a conflict, but there's going to be extreme competition [with China]."
Biden also touted his personal relationship with the Chinese president. "I probably spent more time with Xi Jinping, I'm told, than any world leader has, because I had 24, 25 hours of private meetings with him when I was vice president. Traveled 17,000 miles with him. I know him pretty well," he said.