Biden's Deadly Border Crisis | Opinion
At the end of last month, Americans were horrified by the shocking headlines out of San Antonio, Texas: 53 migrants dead in an abandoned tractor trailer and more than a dozen hospitalized, including four children. Authorities say more than 60 people were crammed into the trailer with no air conditioning, ventilation, food, or water. Homeland Security Secretary Alejandro Mayorkas has vowed to find those responsible for the tragedy, but Americans already know who's at fault: Joe Biden and his administration's deadly border policies.
The heartbreaking news from Texas is the bloodiest instance of human trafficking on the U.S.-Mexico border in modern history, but it's hardly unique. In late June near Laredo, Texas, a human smuggler evading law enforcement crashed his vehicle into a semi truck, killing himself and four illegal immigrants. In Kinney County, Texas, one migrant was killed and six others hurt in a rollover accident. And in Brooks County, Texas, illegal immigrants fled a vehicle as police arrested the smuggler behind the wheel. One migrant ran onto the highway and was struck and killed by oncoming traffic.
Data show more than 239,000 illegal immigrants attempted to cross the U.S.-Mexico border in May. That's only counting those who were apprehended, with many more slipping in unnoticed. Border agents also encountered 14,699 unaccompanied children. May's numbers are the highest one-month total in DHS history and a 300 percent increase from the average number of May apprehensions during the Trump administration.
A glance at some of the people being apprehended makes the situation even more alarming. Last week, border agents in Texas' Rio Grande Valley arrested nine MS-13 gang members and two sex offenders convicted of assaulting underage children. And since October, 50 individuals on the terror watchlist have been apprehended trying to enter through our porous border. Agents are overwhelmed and under-supported. Americans living along the border face thousands of strangers wandering through their communities every day. Last month, a migrant died on a Texas resident's property.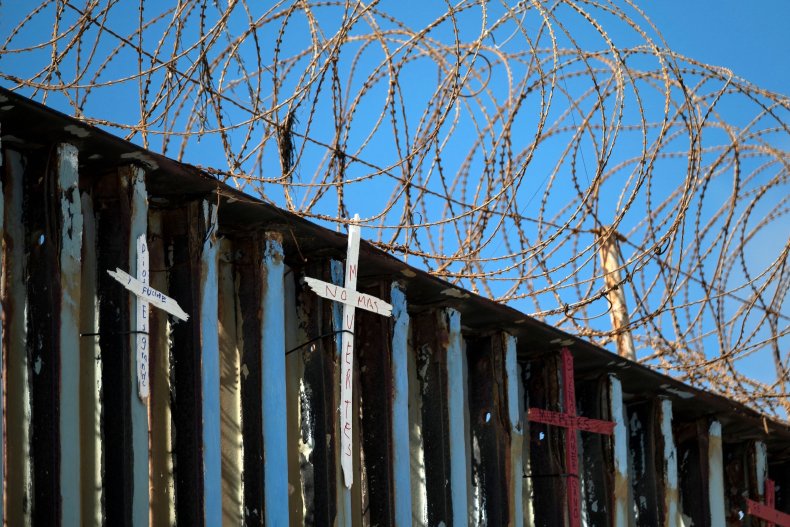 It's not just people making the journey. Lethal drugs are flowing into our country at an alarming rate, with only a fraction being intercepted. In May alone, 1,100 pounds of deadly fentanyl—more than 249 million deadly doses—and more than 10,000 pounds of methamphetamine were seized at the southern border. Thanks in part to the Biden border crisis, drug overdoses in America reached an all-time high in 2021 and fentanyl overdoses are now the leading cause of death for Americans 18-45 years old. Even when drug traffickers are caught, they're not always held accountable. In June, soft-on-crime Democrats released two men in California just days after they were arrested for possessing 150,000 fentanyl pills, enough to kill millions of people.
Still, Mayorkas insists he has "operational control" of the border and White House Press Secretary Karine Jean-Pierre claims the "border is closed."
But as anyone can see, the border is not closed, and it's certainly not under control. If Democrats actually wanted to secure the border, they would have done it long ago. Instead, the Biden administration is doing the opposite. It's fighting to end Title 42, the last remaining piece of President Trump's border policy. They've signed a five-year lease on an expansive, posh school campus in Greensboro, North Carolina, to house unaccompanied migrant children—despite saying there were no such plans just a year ago. They're flying migrants deep into the U.S. under the cover of darkness. They fought in court to end President Trump's "Remain in Mexico" policy. And most recently, leaked information shows that a Biden political appointee ordered immigration attorneys to throw out tens of thousands of pending migrant cases, resulting in "de facto amnesty."
This is irresponsible and it puts Americans in danger.
Democrats like to pretend that open borders are welcoming and humane. That couldn't be further from reality. The Biden administration's refusal to secure the border has a human cost. Fifty-three migrants in San Antonio have just paid it.
Ronna McDaniel is Chair of the Republican National Committee.
The views expressed in this article are the writer's own.