Biden's Director of Rapid Response Laughs Hysterically at SCOTUS Decision Against Trump
When Biden's Director of Rapid Response Andrew Bates found out about the Supreme Court's 7-2 decision against President Donald Trump, Bates responded to the announcement on Twitter with laughter.
On Thursday, the Supreme Court ruled in favor of Manhattan District Attorney Cy Vance, allowing Vance to access Trump's taxes. Trump had asked the court to block subpoenas served to his accountant and bankers. His lawyers argued he was immune to criminal investigations as long as he held office.
Trump's two nominees, Neil M. Gorsuch and Brett M. Kavanaugh joined the majority ruling against Trump.
Vance is investigating whether Trump concealed hush-money payments to two women prior to the 2016 presidential election.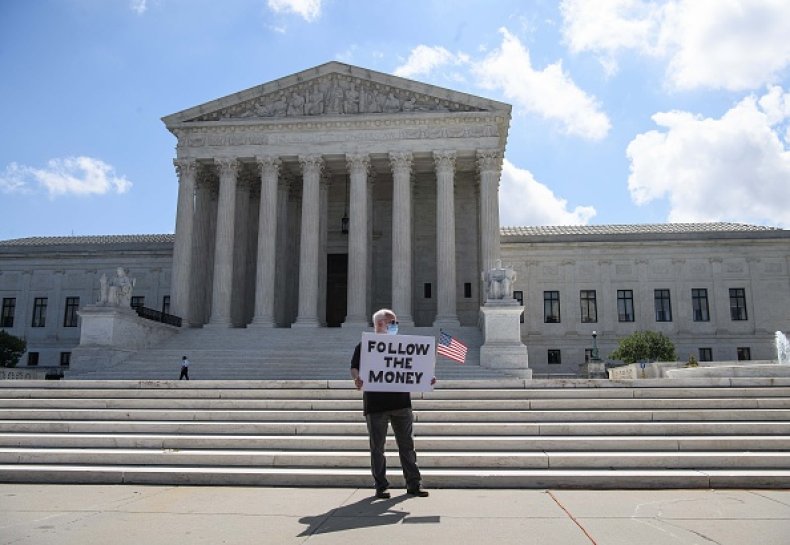 Former vice president and the presumptive Democratic nominee Joe Biden also took to Twitter to respond to the court's decision. Biden retweeted an old tweet of his that called on Trump to release his tax returns. In the video, Biden says he himself has released 21 years of his tax returns and that he "made no money in [Congress] other than [his] salary."
Bates took a different approach in his response. The Director of Rapid Response, who has previously worked on the campaigns of former President Barack Obama and 2016 Democratic nominee Hilary Clinton, replied to two tweets breaking the news. In one, Bates replied laughing and in the other, he tweeted a GIF reaction of Leonardo DiCaprio as Jay Gatsby holding up a celebratory glass.
In the past, Bates has openly criticized the Trump campaign both on his personal social media accounts and as one of Biden's spokespeople.
When asked about his response, Bates told Newsweek, "The same thing happened in-person."
In Trump's first public reaction to the news, he said the Supreme Court ruling would not have been given to another president and called it "a political prosecution."
"I won the Mueller Witch Hunt, and others, and now I have to keep fighting in a politically corrupt New York," he said on Twitter. "Not fair to this Presidency or Administration!"
However, Trump's personal attorney, Jay Sekulow, was "pleased" with the Supreme Court's decision.
"We are pleased that in the decisions issued today, the Supreme Court has temporarily blocked both Congress and New York prosecutors from obtaining the President's financial records," Sekulow said in a statement on Twitter. "We will now proceed to raise additional Constitutional and legal issues in the lower courts."
Newsweek reached out to the Trump campaign for comment on Bates' reaction but did not hear back in time for publication.