The U.S. response to the recent crises in Haiti and Cuba offered a glimpse of President Joe Biden's emergent foreign policy doctrine, so far characterized by its active support for democracy around the world and a marked resistance to foreign intervention, except if aligned with a narrowly defined interpretation of our national security interests. President Biden expressed U.S. support for the protesters demanding freedom in Cuba and called for the resumption of peace and democracy in Haiti following President Jovenel Moïse's murder, resisting pressure for a more direct intervention. What will President Biden do about the crisis in Syria?
As president of Citizens for a Secure and Safe America, an organization of Syrian Americans dedicated to restoring Syria to the Syrian people, I know that President Biden's foreign policy will be severely tested when it comes to Syria. President Biden must respond to the worst humanitarian crisis since World War II, pressuring Bashar al-Assad to step down and supporting a peaceful, democratic, Syrian-led political transition. The U.S. cannot accept the narrative sanctioned by pro-Assad countries, namely Russia and Iran, according to which the war in Syria is over and Assad has won. Instead, the Biden administration must insist that Assad relinquish power and open the way for a Syrian-led and Syrian-owned peaceful, political transition. This entails engaging with our partners, allies and Syrian civil society to support democratic institutions that support free constitutional elections in Syria.
Cooperation between the U.S. and its partners with influence on the ground in Syria, chiefly Turkey, has been hampered before by disagreements on sensitive foreign policy issues; however, closer cooperation between the U.S. and Turkey on Syria is needed. Turkey administers a long stretch of Syrian territory along its southern border that hosts an estimated 4 million people, and there are credible reports that Turkish officials have been unable to facilitate democratic governance in these areas. The U.S. has an opportunity to work with Turkey to support democratic institution building in these "safe-zones," with the ultimate goal of returning control to the Syrian people in the form of democratic, constitutional, self-governance in all of Syria. Furthermore, the U.S. could work with Turkey to create a centralized structure around which to organize the various anti-Assad militias operating in northwest Syria, unifying these militias under a single, independent Syrian chain of command. This would contribute to professionalize anti-Assad militias, deter the regime's devastating attacks against civilians, dissolve extremist elements, combat human rights abuses and build the basis for a new national Syrian army.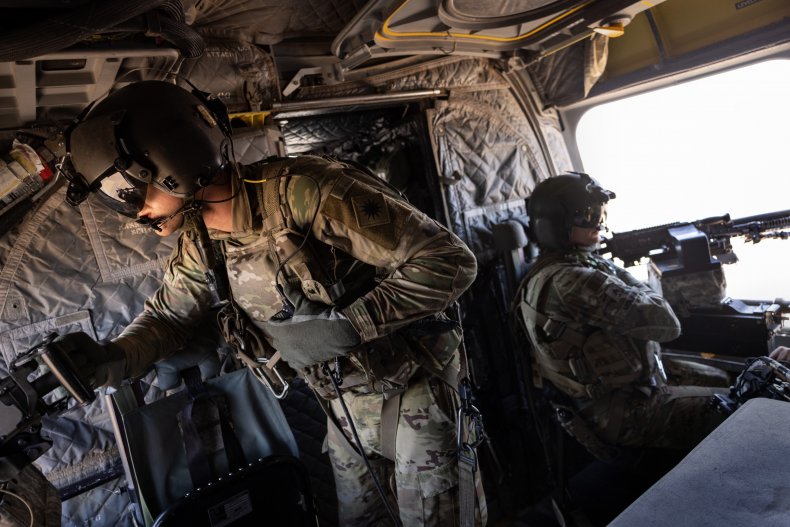 Despite our differences, the U.S. also needs to work proactively with Russia to recover control of areas in Syria ruled by Iranian and Hezbollah militias. Reducing the scale of Iranian-backed militias is a necessary element of any U.S. strategy to counter Iran's harmful influence. Recent U.S. airstrikes against Iran-backed militias in Syria indicate that the Biden administration understands the risks that they pose to U.S. interests in the Middle East and is willing to take limited action to curtail them. The U.S. can maximize the impact of any action it takes in Syria by coordinating with other powers with influence on the ground. Russia is one of the few countries operating militarily inside Syria, with the ability and influence to command a change that can stem Iranian-backed groups in Syria.
It is sensible for the Biden administration to tread carefully to avoid entangling the U.S. in protracted and costly conflicts far from home. But the U.S. must still protect and advance its national interest in the world, especially when our adversaries are working to undermine it, as Russia, Iran and ISIS are in Syria. Every minute of U.S. inaction gives Russia, Iran and ISIS an opportunity to advance their own interests in Syria and shape regional dynamics in the Middle East to the detriment of the U.S.
President Biden is justly focused on overcoming the worst effects of the pandemic and rebuilding the American economy. But the recent crises in Cuba and Haiti are a reminder that the U.S. cannot afford to isolate itself from global events. A U.S. retreat from the world would leave a vacuum that our adversaries are eager to fill.
If America is truly back on the world stage, it needs to show it in Syria. The Biden administration must make it clear that Syria does not belong to Bashar al-Assad, Russia, Iran, ISIS, or any other terrorist organization. Syria belongs to us, the Syrian people. We can build a democratic, free, secular and prosperous Syria with support from the free world.
Dr. Muhammad Bakr Ghbeis is president of Citizens for a Secure and Safe America.
The views expressed in this article are the writer's own.