Biden's Infrastructure Plan Would Be a Godsend to the Struggling Midwest | Opinion
President Biden is looking to follow up his massive, historic American Rescue Plan with a second, go-big-or-go-home play: a $2 trillion infrastructure plan. But success would extend beyond the bridges and roads the plan seeks to upgrade. Should a large-scale infrastructure program be passed, it would go a long way towards helping angry and alienated Americans left behind in communities like many in my home state of Michigan. And in so doing, President Biden's infrastructure plan would help heal the deep divisions that have polarized American society.
You can find evidence for the social impact Biden's infrastructure plan could have in Europe, where leaders of the European Union and individual European governments look across the continent and seek to "balance" growth. For example, on a trip to the EU 20 years ago, I learned about plans to accelerate development along the Barcelona-to-Kiev axis as a way to balance the highly developed and wealthy London-to-Milan corridor. The plan was to lay high-speed rail lines along the developing East-West arc, to accelerate economic growth and integration.
This was just one example of something the European community has for some years implemented: a robust program focused on regional economic "integration," in which lagging communities are pulled forward both to ensure equitable economic opportunity and to improve social cohesion.
In recent decades, many of the EU and member country efforts in this arena have focused on developing their older industrial regions, historic coal, steel and manufacturing hubs—Europe's "Rust Belt." Many of these plans went towards creating new good jobs and finding new economic footing through leadership in clean energy and the sustainable economy of the future.
Here in the U.S., we find ourselves in need of similar ambition to accelerate economic recovery in a post-COVID-19 world. We, too, must pull into full participation left-behind communities and marginalized populations.
Nowhere is the need greater than in the hard-hit industrial Midwest. With a potential big infrastructure agenda being teed up, the time could not be more right to think big, and bold, and "green" once again. New infrastructures can drive economic recovery, including desperately needed broadband internet in every home and community and new sustainable infrastructures and green energy technologies and systems, as I chronicled in a recent report from the Chicago Council on Global Affairs.
Like our sister industrial regions in Europe and elsewhere, the Midwest has unique infrastructure-related needs and challenges. Home to some of the nation's oldest, most battered and, per capita, most expensive to repair infrastructure, the Midwest also has the greatest concentration of industrial relics like brownfields, and the most segregated cities suffering from a legacy of environmental racism, pollution, and contamination.
Since his first day in office, President Biden has prioritized economic recovery and racial inclusion, and both can be accomplished with his $2 trillion green infrastructure agenda to create good jobs and radically transform our infrastructure to lead the sustainability and clean energy revolutions.
This program would be particularly potent for the American Midwest, a region with a unique demography, including poor rural hinterlands and highly segregated communities of color in cities living in concentrated poverty. It also has an industry profile that made it among the hardest first hit by the pandemic-induced recession. In addition to creating needed good-paying new jobs, infrastructure building can stitch heretofore marginalized Midwestern rural communities and communities of color in our cities into full participation in a changed economy.
New economic opportunities afforded by a robust infrastructure rebuild can also contribute to renewed social cohesion, a goal of European economic development efforts. In the U.S., strategic infrastructure investments can help close the yawning economic divide between coastal economic hothouses and those struggling to make ends meet in the Heartland, a divide that informs our polarized politics.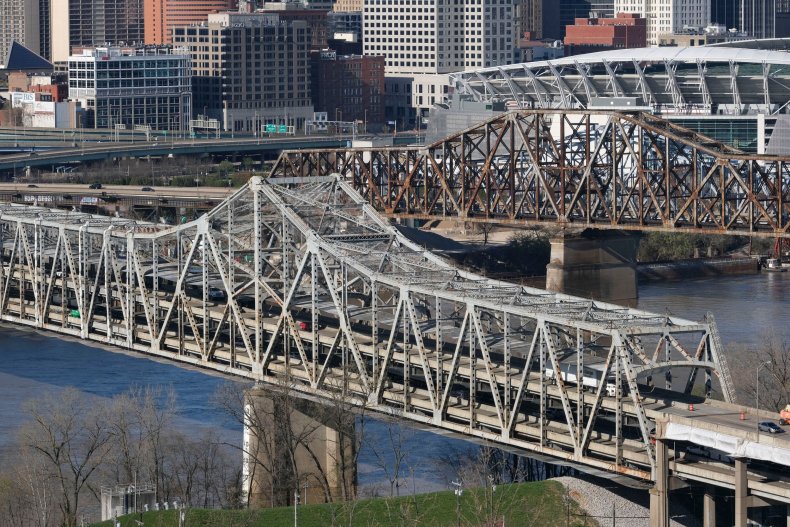 In the American Midwest as well as other, older industrial regions among our allies in Europe, it is working class whites from still-struggling manufacturing communities, along with rural "left-behind" places who keep responding to the angry calls of "Trumpism" and other leaders peddling nationalistic, nativistic, and isolationist solutions.
Voters who remain angry about the deterioration of their communities, anxious about their own economic futures, and uncomfortable with social changes respond to calls to be suspicious of established institutions and to overthrow entrenched "elites," a phenomenon horribly embodied by the recent frightening attack on the U.S. Capitol by Trump's supporters.
And yet, evidence suggests that where struggling Rust Belt communities have secured new economic footing, the lure of populism wanes. Many older industrial communities that had turned an economic corner in states like Michigan and Wisconsin supported Joe Biden, while others still in decline doubled down on Trumpism.
If a President Biden and a new Congress can deliver a long overdue and now urgent infrastructure agenda focused on sustainability, equity, and a clean energy future for the United States, it can reinvigorate the Midwest and support national economic growth. But perhaps most importantly, it can help heal our polarized politics, a goal necessary to preserving our democracy.
John Austin directs the Michigan Economic Center, and is a Nonresident Senior Fellow with the Chicago Council on Global Affairs and the Brookings Institution.
The views in this article are the writer's own.