Biden's Lead Over Trump Drops by 3 Points in National Polling Average
Joe Biden continues to lead President Donald Trump in national polls, albeit by slightly narrower margins than he did earlier this summer. Less than three months ahead of November's election, polling averages show the presumptive Democratic nominee's advantage dropped roughly 3 points between late June and early August.
The latest figure, released by news site and data aggregator Real Clear Politics (RCP), placed Biden's lead over Trump at 6.4 points as of Thursday. The number averaged national election survey results collected between July 21 and August 5.
One month earlier, RCP's national averages pointed to a 9-point Biden lead, as Trump's approval ratings dropped amid resurgences in coronavirus cases, soaring unemployment and the federal government's response to the Black Lives Matter protests occurring across the country.
The polling aggregator's averages placed Biden more than 8 points ahead of Trump in national surveys during the second week of June. By the end of the month, his lead had increased to roughly 9.3 points.
The latest dip in Biden's voter support followed a sharp increase during the last week of July, when he polled highest among registered voters who participated in three large-scale surveys cited by RCP alongside its August 5 average.
A Harvard CAPS/Harris poll, which collected responses from nationwide voters between July 21 and 23, indicated the former vice president held a 10-point lead over the president. It was the most significant Biden advantage represented among survey results that contributed to RCP's most recent national average.
Another survey, conducted by CNBC and Change Research several days later, yielded similar results. It placed Biden 9 points ahead of Trump, based on responses from about 1,000 likely voters who were surveyed between July 24 and 26. The poll's margin of error was plus or minus 3 percent, according to Change Research.
Polls released closer to the end of July and throughout the first week of August suggested Biden's lead fell by a few points among voters. Surveys administered by The Hill/HarrisX and Rasmussen Reports between July 29 and August 5 showed Biden 3 points ahead of Trump in their respective national polls. An Emerson College survey, conducted during the final days of July, placed the Democratic challenger 4 points ahead of the president.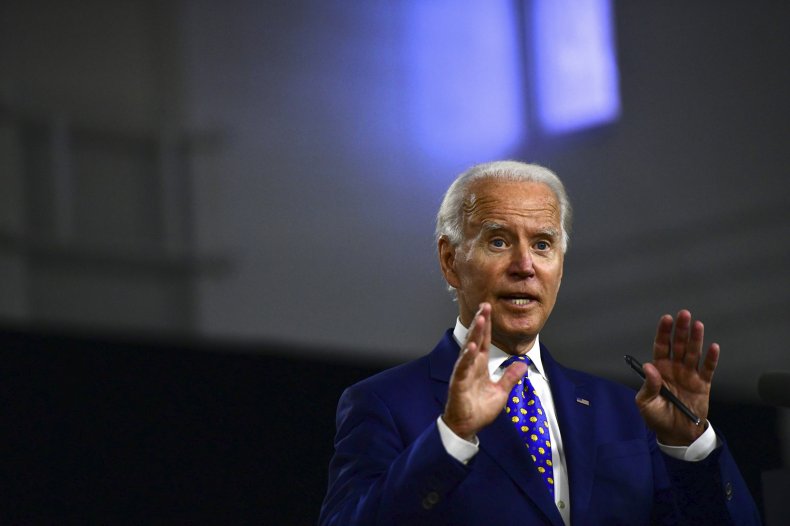 Results of an Economist/YouGov survey conducted between August 2 and 4 again showed Biden's lead approaching double digits. The survey collected responses from more than 1,200 registered voters nationwide. Close to half of its respondents, 49 percent, supported the presumptive Democratic candidate, while 40 percent supported the president. The 9-point Biden lead was reminiscent of national poll results released the week before.
Overall, voters' support for Biden has increased nationally since he first became the Democratic Party's presumptive candidate in early April, according to national averages. The averages show similar support for Trump in August compared with April, with steep declines seen during the coronavirus outbreak's initial peak and mid-June recurrence.