Biden Mask Mandate Crumbles as Amtrak, Airlines Obey Trump-Appointed Judge
Airlines say masks are now optional for passengers after a federal judge struck down one of the Biden administration's most-visible remaining COVID-19 requirements, as Amtrak followed suit by ending the mask mandate for its rail riders.
Reacting to a Florida federal judge's ruling on Monday, airlines said they would leave it up to passengers whether to mask up. However, they cautioned that some international flights and U.S. airports may keep the requirement that has become a feature of U.S. air travel for the last two years.
While the administration of President Joe Biden could still appeal the ruling by Judge Kathryn Kimball Mizelle, appointed by former President Donald Trump, airlines have indicated that the mandate is not being enforced by the Transportation Security Administration. Statements from airlines acknowledged the lifting of the mandate would be a relief for many pandemic-fatigued travelers.
"Masks are no longer required on domestic flights, select international flights (dependent upon the arrival country's requirements) or at U.S. airports," United Airlines said in a tweet. "More comfortable keeping yours on? Go right ahead ... the choice is yours (you look dino-mite either way)!"
Alaska Airlines said in a statement that it would remain focused on passenger safety and it was happy "most of these challenges are in our rear-view mirror."
"While we are glad this means many of us get to see your smiling faces, we understand some might have mixed feelings," the statement said. "Please remember to be kind to one another and that wearing a mask while traveling is still an option."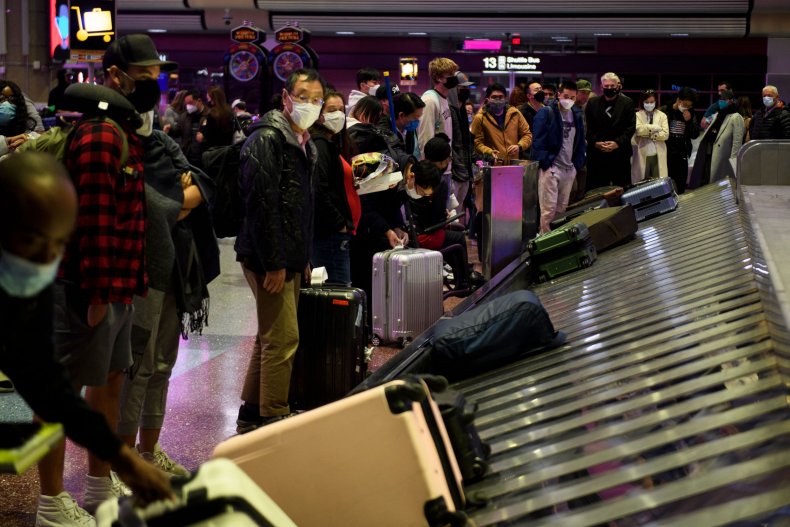 Amtrak said in a statement that "masks are welcome and remain an important preventive measure against COVID-19. Anyone needing or choosing to wear one is encouraged to do so."
However, local jurisdictions can still require masks. The Metropolitan Transportation Authority, which administers New York City's public transit system, and NJ Transit will continue to require passengers to wear masks on their trains and buses, reports WNBC.
White House press secretary Jenn Psaki on Monday called the judge's ruling "disappointing," and said the administration was considering its options.
The Centers for Disease Control and Prevention earlier this month extended the mask mandate for at least two more weeks after it was slated to expire on April 18. The prolonged mandate was supposed to run until May 3 while CDC researchers examined a newly dominant sub-variant of the Omicron strain of COVID-19.
The White House told Newsweek in a statement that, for now, the masking order is not in effect.
"Therefore, TSA will not enforce its Security Directives and Emergency Amendment requiring mask use on public transportation and transportation hubs at this time," reads the statement. "CDC recommends that people continue to wear masks in indoor public transportation settings."
Southwest Airlines said in its statement that it will continue offering passengers "additional layers of protection, including sophisticated cabin air ventilation systems onboard our aircraft which incorporate HEPA air filtration that removes at least 99.97% of airborne particles."
JetBlue also announced that while masks would be optional, it advised passengers and crew traveling internationally to "always have a mask with them in case they continue to be required at their destination."
"We are working to proactively share this update with our customers and crew members, so please be patient as we update our communications," the airline said.
Delta warned passengers that there may be some confusion following the mandate's sudden collapse.
"Given the unexpected nature of this announcement, please be aware that customers, airline employees and federal agency employees—such as TSA—may be receiving this information at different times," Delta said in a statement. "You may experience inconsistent enforcement during the next 24 hours as this news is more broadly communicated—remember to show understanding and patience with others who may not be aware enforcement is no longer required."
The Seattle-Tacoma International Airport on Monday tweeted that the masks were now optional, but still advised passengers to check with their airlines and destinations for information.
Mitali Perkins, an author of children's books, described in a tweet how she was on a flight when the pilot announced the mandate had been dropped.
"Flight attendants just pulled off their masks," she wrote.
The Association of Flight Attendants, the union representing nearly 50,000 attendants for 17 airlines, reacted with a statement noting that the CDC still recommended wearing masks. The union asked airlines for communication on the new policy and how to communicate it to passengers.
"We need to do everything we can to help our airlines be clear with Flight Attendants and passengers as it relates to the mask mandate ending," reads the statement. "And of course, we will ensure Flight Attendants retain personal options to protect themselves during the ongoing pandemic."
The masking requirement has been a source of contention between travelers and flight crews, as federal authorities recorded an uptick of unruly passenger incidents during the pandemic.
A government report issued last month found that TSA investigated more than 3,800 incidents involving passengers not complying with the mask mandate from February 2021 to March 2022.Of those, TSA issued more than 2,700 warning notices and over 900 civil penalties against passengers.
During this time period, TSA has recommended a total of $644,398 in penalties for mask mandate violations with an average penalty of $699.
Airlines have also banned customers for unruly behavior and flouting the mask mandate.
Alaska Airlines said in its statement that it relied on reports from agents and flight attendants to ban noncompliant passengers.
"Based on our reports, we will have some guests whose behavior was particularly egregious who will remain banned, even after the mask policy is rescinded," the airline said.