Biden's Meddling in El Salvador Compounds Open Border Security Disaster | Opinion
MS-13 (Mara Salvatrucha), an El Salvadoran gang that originated in 1970s Los Angeles, has become known as "the world's most notorious gang." Virtually indestructible, it has taken advantage of the Biden administration's open border policies to advance business and consolidate power. The organization has become so lethal that the Department of Justice charged its highest-ranking leaders in the U.S. with terrorism shortly before Joe Biden took office.
The new administration undid the policies of its predecessor with gusto. MS-13 members, among numerous other criminals, allegedly entered the country illegally during the ensuing chaos. The backfire was so swift that Biden reverted to the very "Remain in Mexico" policies he previously condemned. Despite having to retract some of his original rhetoric on illegal entry into the U.S., Biden has done little to dampen the aftershocks of the crisis he helped create. In fact, as crime continues to escalate, he may have even shuttered the MS-13 task force—his administration has not responded to inquiries on the subject from Senator Chuck Grassley (R-Iowa) and others.
The Biden administration believes the source of the border crisis is economic privation leading to mass migration. Its preferred solution is to attract private investment from U.S. companies to help with the development of Northern Triangle countries in Central America (El Salvador, Honduras and Guatemala). Whatever the logic of Biden's supply-side approach, the execution has failed. Vice President Kamala Harris issued a call to action for investments in May 2021, but didn't coordinate with these countries' governments.
In December 2021, months after the initiative was launched, El Salvador's President Nayib Bukele called Harris out on Twitter for never picking up the phone to connect with him. The situation in Guatemala and Honduras was much the same. There's a reason Harris never reached out to coordinate with El Salvador, however. The Biden administration was actively trying to undermine the Bukele government at the time the vice president made her call to action (the same month, in fact), but publicly had to pretend to be working towards a solution.
On the surface, Nayib Bukele would appear to be an ideal match for U.S. security and economic interests in Latin America. As mayor of San Salvador, prior to his election as president, he created a sister city relationship with Taiwan's Taipei, a strong signal to deter undesirable Chinese Communist Party influence. In his current role, President Bukele kicked out Venezuelan diplomats and recognized Juan Guaidó, the opposition leader of the country, as Venezuela's legitimate president.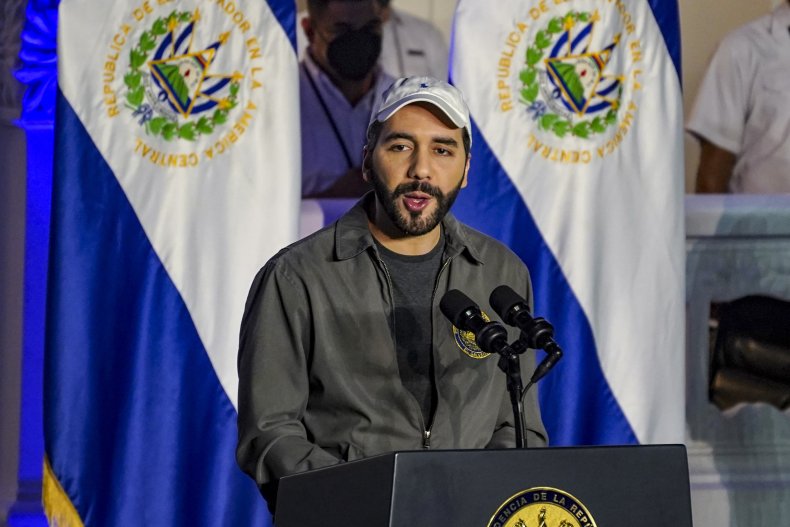 Under Bukele, El Salvador also adopted a law based on the U.S. Foreign Agents Registration Act, which would make it more difficult for unwelcome foreign actors to exert soft power influence campaigns. It is becoming increasingly important for Latin American countries to counter such campaigns from China, Russia and Iran. Throughout Latin America, these three anti-American regimes are spreading propaganda, building cultural centers for ideological recruitment and otherwise embedding their presence with local populations.
The Bukele administration, which has dramatically reduced crime and enjoys electoral popularity, could be a welcome ally to the U.S., particularly as a return to leftist populism throughout the continent facilitates foreign meddling by America's adversaries. Biden's engagement, after years of U.S. neglect and unchecked CCP engagement, could have prevented continued entrenchment and perhaps reversed the recent breakdown of Taiwan-El Salvador relations.
Yet in May 2021, the Biden administration accused five of Bukele's ministers of corruption and vowed to divert humanitarian aid from the government to civil society organizations, which are overwhelmingly linked to the leftist opposition, and in some cases, may also be linked to foreign regimes. Accordingly, in December 2021, Biden's signature foreign policy initiative, the Summit for Democracy, conspicuously excluded El Salvador and the Northern Triangle. Just last month, a Citizen Lab report accused Bukele of spying on journalists—giving Biden an additional excuse to increase the pressure on the Salvadoran president.
Why would Biden risk civic unrest and scandal in El Salvador and attempt to undo or preempt Bukele's successes? As Biden's open border policies show, money can be made from corrupt practices, such as destabilization of developing countries, "humanitarian" assistance when the crime rate is high, weapons sales and so forth. There is not much vision, wisdom or courage in bullying small countries or punishing and piling on allies who advance policies that benefit the U.S.
Biden's push to bring El Salvador to ruin would facilitate illegal migration, growth in crime, enable human rights abuses and terrorism and encourage China, Iran and Russia to further entrench themselves next door to the United States. But maybe that's the point.
Irina Tsukerman is the CEO of Scarab Rising Inc., a media and security consultancy, the Editor-in-Chief of The Washington Outsider, a New York- based human rights lawyer, and geopolitical analyst.
The views expressed in this article are the writer's own.