President Joe Biden's call on Congress Wednesday to suspend the federal gas tax has drawn fierce criticism from environmental and climate advocates, exposing a growing rift between the White House and progressives, who are deeply frustrated with Biden's failure to enact sweeping climate reform.
Critics on the left argue that the proposed gas tax holiday would boost the fossil fuel industry, undercutting Biden's message as a candidate and as president that the U.S. economy should transition to renewable energy.
"This does not square up with his climate goals," said John Paul Mejia, the chief spokesperson for Sunrise Movement, a progressive climate advocacy organization.
Collin Rees, the U.S. program manager for Oil Change International, told Newsweek that calling for a gas tax, which requires approval from Congress, is especially risky, because there is little evidence it'll significantly lower the price at the pump.
"It's bad policy and bad politics, frankly," he said. "I don't think it'll work as intended."
Biden has few options at his disposal to lower inflation or bring down energy prices. His decision to endorse the gas tax holiday comes amid growing calls by some Democrats in Congress for the president to do more to show that he's trying to address voters' economic concerns ahead of the midterm elections this fall.
But most economists agree a temporary suspension of the gas tax won't make a big difference.
The tax, which hasn't been raised since 1993 and has never been suspended, is currently 18.4 cents per gallon for gasoline and 24 cents per gallon for diesel fuel. Revenue from the gas tax, which was imposed in the 1930s, goes to the federal Highway Trust Fund, which helps pay for roads, highway and other infrastructure investments.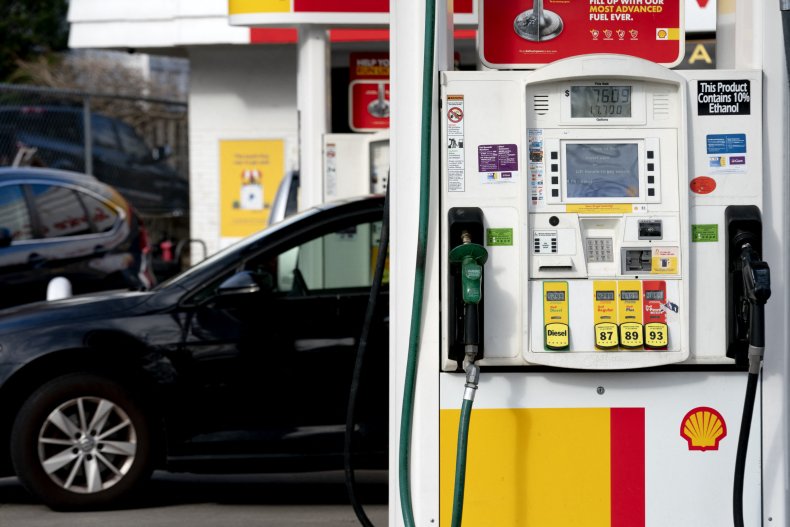 A widely read study released in March by the Penn Wharton Budget Model found that individual consumers would save between $16 and $47 if the gas tax was suspended for 10 months. Biden's plan to suspend the tax for three months through the end of September would likely result in even lower savings, said Zheli He, an economist at the Penn Wharton Budget Model and one of the study's co-authors.
"Even if 100 percent of the savings are passed along to consumers," she told Newsweek, "18.4 cents out of $5 dollars per gallon is still a pretty small percentage."
A gas tax suspension would contain no mechanism to force oil and gas refiners to lower gas prices. It also wouldn't lower demand for gas, a factor that's helping drive high prices at the pump, said Natasha Kaneva, the head of global oil and commodities research at J.P. Morgan.
"At this point, there is not much that could be done" to drastically lower gas prices in the near term, she told Newsweek.
Biden acknowledged as much in his speech Wednesday calling on Congress to act, saying that a three-month gas tax suspension would offer "a little breathing room" from gas prices that have risen sharply in recent months, driven in part by a disruption in the global oil market caused by Russia's invasion of Ukraine.
The current national average for a gallon of regular gasoline is $4.95, according to the American Automobile Association, while the average price of a gallon of diesel is $5.81.
"I fully understand that the gas tax holiday alone won't fix the problem, but it will provide families with some immediate relief," Biden said
The president also called on states and local governments to suspend their own gas taxes, and urged U.S. refineries to ramp back up to full capacity after slowing production at the start of the pandemic. Taken together, Biden said the moves would lower the price of gas by "at least" $1 per gallon.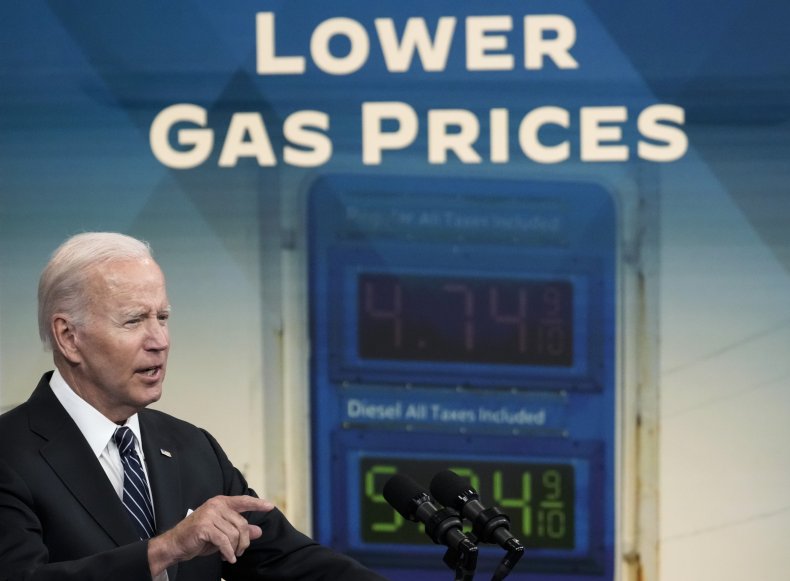 Biden briefly mentioned clean energy at the end of the speech, saying the United States should accelerate the production of solar, wind and other renewables to reduce the country's reliance on fossil fuels in moments of international crisis. He also promoted a proposal, popular among many Democrats in Congress, to establish a windfall profit tax on oil and gas companies.
But the focus of the speech was on fossil fuels. Environmental and climate activists said that Biden's call to ramp up refinery and domestic oil and gas production in response to rising energy prices sends the message that short-term economic and political concerns outweigh policies aimed at promoting the renewable energy industry.
Biden's response to rising energy prices has compounded the disappointment among activists after Democrats failed last year to pass Build Back Better, a sweeping social spending package that included many of the president's main climate proposals. The infrastructure law that passed last year had some energy-related measures, but none that Biden could tout as a major shift in U.S. climate policy.
"We've largely not seen a reorientation to climate that we saw on the campaign trail," Rees said.
That could change if Congress passes climate legislation ahead of the midterms. Democrats are currently in talks on a scaled-down version of Build Back Better that would include some climate measures. But it's unclear if that effort would have the votes to pass the evenly-divided Senate.
For that matter, the chances of the gas tax holiday getting approved are also murky at best.
Republicans shot down the plan Wednesday, arguing that a gas tax holiday was an inadequate response, while blaming Biden for stymying domestic energy production. Senate Minority Leader Mitch McConnell said in a statement the gas tax proposal was "another ineffective stunt to mask the effects of Democrats' war on affordable American energy."
The proposal was also panned by oil and gas industry leaders, who have had an adversarial relationship with Biden since he took office.
"Anything to help the American consumer is good right now," Mike Moncla, the president of the Louisiana Oil and Gas Association, told Newsweek. He added that Biden's gas tax plan was "an afterthought" as the president tries to contain the political fallout from high prices at the pump.
Democrats also appear wary of embracing the move. In a sign of opposition from the left, Representative Ro Khanna of California, a leading progressive Democrat, dismissed the idea on Twitter ahead of Biden's speech.
"The thing that will truly bring energy price stability in the long term is diversification of our energy sources," Khanna said. "We need historic, massive investments in renewable energy for the long run."
The Sunrise Movement's Mejia said that floating proposals like the gas tax holiday is a recipe for disaster for Democrats in November, especially among younger progressive voters who elected Biden to act on climate change.
"If Democrats want to win in 2022," he said, "they have to run on a strong climate agenda and have something to show for it."