Biden's Proposed Investment in Care Work is Historic and Necessary | Opinion
When President Joe Biden unveiled his jobs and infrastructure plan, he affirmed that infrastructure isn't only about roads and bridges. By committing at least $400 billion to care work, he sent a strong message that care is the essential infrastructure that makes all other work possible. From allowing parents to join the workforce full-time to supporting the dignity of aging adults and the independence of people with disabilities, care jobs are the jobs that power the rest of our economy.
President Biden's precedent-setting commitment to care work is a testament to decades of organizing by the women of color who perform the bulk of this country's care work. His jobs and infrastructure plan will create over 1 million care jobs that pay a living wage, provide basic benefits and include the right to join a union. After decades of fighting for respect, protections and fair pay, this workforce—86 percent women and primarily Black, Latinx, Asian and Indigenous women and immigrants—is finally being seen.
The U.S.' long-standing failure to recognize care work as essential is a legacy of slavery. When the worker rights and protections of the New Deal were passed in the 1930s, home care and domestic workers were excluded from legislation as a concession to segregationist, southern lawmakers. Care work was women's work, went the thinking at the time—specifically Black women's work.
The Biden administration's once-in-a-generation investment in care will serve as a good jobs program and offer the foundation for family caregivers to return to work after a devastating year of impossible choices between jobs, family and safety. It will improve the quality of care and life across the board for our loved ones. Congress must join President Biden and champion this proposal in the next recovery package.
As leader of the nation's largest union of home care workers and leader of the nation's leading alliance of domestic workers, we've met countless care workers who perform the essential duties that quietly allow our economy to run smoothly outside the home—yet they are unable to cover the basics, like rent and groceries, for their own families.
Among them is Priscilla Smith, 42, a North Carolina caregiver who juggled home care clients for over 10 years to try to make ends meet. She was passionate about her work, driven by the knowledge that she was helping others live safely and independently at home rather than in a facility. After a year of COVID crises in nursing homes, we know all too well what this means for many families. All the passion and skill in the world did not earn her a living wage.
"We're not paid what we're worth," Smith said.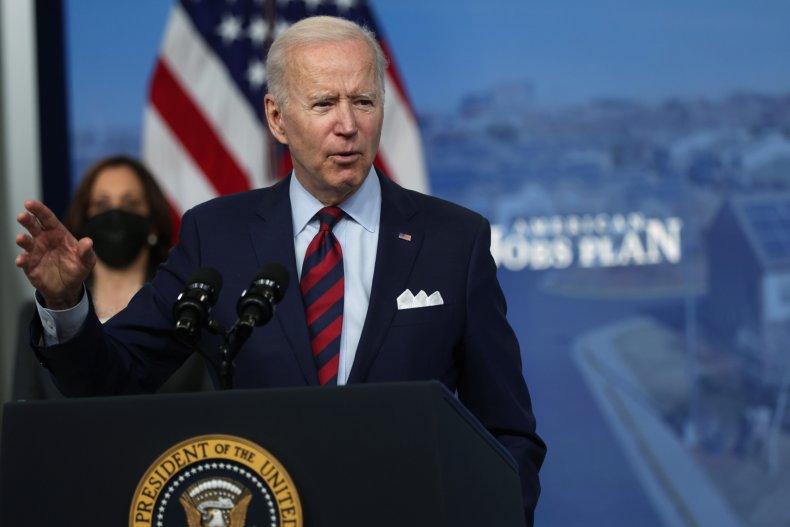 Smith's story is part of that same legacy of undervaluing and underpaying workers who care for our nation's parents, grandparents and people with disabilities—who eventually care for all of us. Last year, Smith was forced to leave care work because she couldn't afford to pay others to provide care for her own daughter while living on a $10/hour paycheck. That is a choice no person in the U.S. should have to make.
Every day 10,000 people turn 65. We'll need to fill 4.7 million home care jobs by 2028. As the demand for care outpaces the number of paid care workers, we cannot afford to lose any skilled care workers we already have; on the contrary, we need to bring more workers into the profession.
Home care work is isolated and disaggregated, a big reason why care workers have been uniting for a stronger voice, with the choice to join a union and bargain for higher wages, benefits and training. A robust investment in the care infrastructure and good union jobs doesn't just mean that care workers can live a comfortable life; it means more older adults and people with disabilities can live at home and in their communities with dignity. It will also provide Americans, particularly women—who experienced the lion's share of COVID-induced job loss or left the workforce due to caregiving needs, the opportunity to go back to work.
A bold investment in our care infrastructure that centers on Black women and other women of color has been a long time coming; the pandemic helped the entire country see what care workers and struggling family caregivers have known all along. Thankfully, the Biden-Harris administration is acting on this unique opportunity to address it.
With the jobs and infrastructure plan, Congress has the opportunity to join the White House, pioneering care workers and their supporters around the country and invest in care. They shouldn't pass it up.
April Verrett serves as president of the Service Employees International Union (SEIU), Local 2015—the nation's largest long-term care union representing 400,000 home care and nursing home workers throughout California.
Ai-jen Poo is the director and co-founder of the National Domestic Workers Alliance and the director of Caring Across Generations, a campaign to change the way we value caregiving in America.
The views expressed in this article are the writers' own.