Biden's Russia Response Is Giving Him a Boost. Can He Make It Last?
Before Russia's invasion of Ukraine, Joe Biden was in trouble. Rising inflation, a disastrous withdrawal from Afghanistan, and an ongoing pandemic with mandates and restrictions that were dividing Americans had all sapped his popularity. At the start of this year, his approval rating had plunged below forty percent, and with his main domestic priority – the so-called "Build Back Better" social spending plan – stalled in Congress, it was not at all clear what might revive his political fortunes.
Meanwhile, Russian President Vladimir Putin was amassing nearly 200,000 troops around neighboring Ukraine, and on February 24 he invaded, starting the first war in Europe since the 1990s. Five days later, Biden gave his first State of the Union address, in which he reiterated his intention to apply an array of punishing economic sanctions on Moscow, as well as his pledge not to send U.S. troops to Ukraine. The speech seemed to reflect the general public sentiment: outrage, but not so much outrage that it required the dispatch of American troops to yet another faraway conflict.
Biden has "capably and successfully rallied the West in opposition to Putin's war," said Senator Chris Coons, a Democrat from Delaware and a close ally of the president. Coons' sentiment echoed the widespread praise Biden has received from Democrats for his handling of the war thus far. They now wait to see if it benefits him – and, by extension, them – politically.
First indicators suggest it does. Biden got an immediate boost off his response to Russia and his State of the Union. An NPR/PBS NewsHour/Marist poll conducted March 1-2 showed an approval rating of 47 percent, up eight points from just a month earlier. "It was an unusually large move," Marist pollster Lee Miringoff said. "By large majorities Americans approved of both his tone and his actions in response to the outbreak of war in Ukraine." Overall, the most recent Real Clear Politics polling average showed Biden's approval rating up three points in the last month.
The political question for the White House: Can it last? Could Biden as a war-time president revive his political fortunes and, possibly, those of the Democratic party, which seemed to be in dreadful trouble heading into the 2022 midterm elections?
A tweet from White House Communications Director Kate Bedingfiled captured the opportunity – and the risk – the moment presented: she called surging gasoline prices "Putin's price hike," a phrase Biden himself has used. For the White House it was a considered, if audacious, decision: take the most politically fraught issue for Biden and the Democrats – the highest inflation rate in 40 years – and hang it directly around the neck of the world's biggest villain.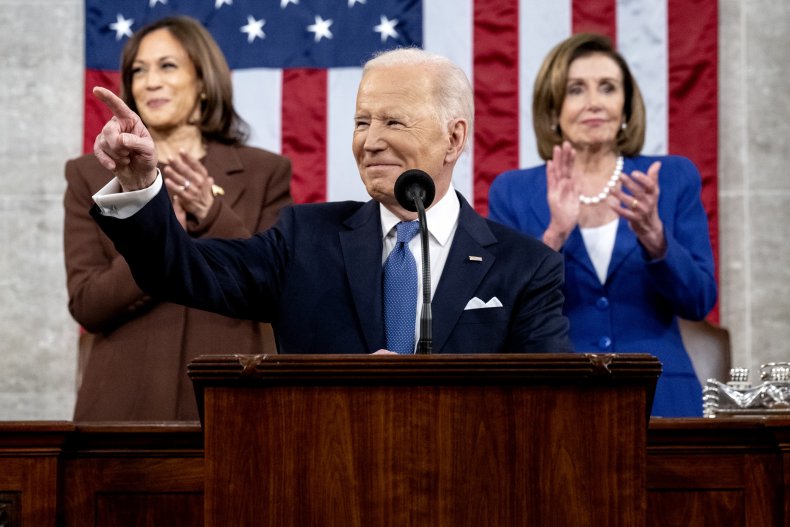 Polling since the outbreak of the war shows a majority of Americans are willing to pay a bit more at the pump in order to ban Russian oil exports to the United States, which Biden announced on March 8. What makes the pivot to "Putin's price hike" audacious is the reality that gasoline prices were already rising – close to $4.00 a gallon on average nationwide – well before Russia invaded Ukraine. So too were prices across the board, as illustrated in the most recent inflation report, which showed overall prices rising nearly eight percent year on year.
With the midterm elections still months away, Republicans said the move to pin Biden's own domestic failings on Putin smacked of desperation. "The game is still in the first quarter and they're already throwing Hail Marys," said Paris Dennard, a spokesperson at the Republican National Committee.
Inflation will now get worse because of the conflict, most economists believe, with not only the flow of oil disrupted but also wheat – Russia and Ukraine combined account for 30 percent of the world's supply – and an array of metals used in manufacturing now under sanction. This will prompt interest rate increases from the Federal Reserve Board, the first of which will come at its meeting next week. It will likely be the first of several rate hikes in the months to come. "If inflation stays higher because of high energy prices, the Fed will have to be more aggressive in raising rates," said Gus Faucher, chief economist at PNC Financial Services Group in Pittsburgh.
The political risk for Biden is that rising interest rates could weaken economic growth, and thus job growth, at a time of high inflation. So too might the knock on effects of the economic war Biden has launched against Moscow in response to the invasion. For example, Morgan Stanley estimates that the rise in nickel prices since sanctions against Russia were announced will increase input costs to electric vehicle manufacturers by $1000 per unit.
The economic landscape is thus more treacherous than it was before the war broke out, and is an obvious concern for the White House. According to the recent NPR/PBS NewsHour/Marist poll, Biden was still under water on his handling of the economy, with 45 percent approval, but that marked an eight percent rise month over month. Biden was likely benefitting from continued strong employment growth. In February employers added 678,000 jobs, well above the 440,000 Wall Street economists had been expecting. Biden, in a speech to the Democratic National Committee on March 10, said the party's economic policies are "addressing the biggest concerns in American people's lives and [we have] a message that resonates."
"Now all we have to do is sell it with confidence, clarity and conviction and repetition," Biden said, and Democrats will do better than expected in the midterms.
Treasury Secretary Janet Yellen said on March 10 that she expects job growth to continue despite the forthcoming headwinds created by Fed rate hikes and the uncertainty the war in Ukraine creates in financial markets. (The U.S. stock market, for example, is in the midst of a sharp, post-invasion sell off.) If Yellen is right, and the economy continues to grow as the Fed grapples with the "Putin price hike," Biden's polling bump on the economy might be sustainable.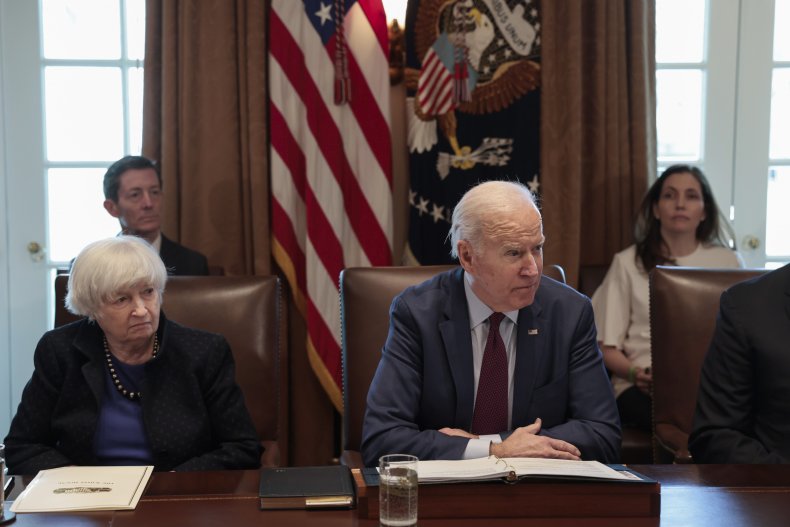 The problem, as Biden recently acknowledged in comments to reporters, is that he "can't do much" in the short run to arrest high energy prices. But he is hoping to convince OPEC producers to boost their production – something the United Arab Emirates said is likely – and is negotiating with Venezuela to end sanctions that have blocked oil imports from Caracas.
Democrats are also celebrating what appears to be a winding down of the Covid pandemic as case numbers plunge heading into the spring and mask mandates are being lifted around the country. The return to normality in nearly all aspects of American life is partly the result, they believe, of the sustained public campaign, led by the White House, to get the vast majority of Americans vaccinated.
The public, the Marist poll revealed, is rewarding Biden for it. His approval rating for his handling of the virus rose eight points, month over month, and now stands at a healthy 55 percent. As long as yet another, more serious variant of the virus doesn't emerge before November 8, pollsters believe that approval rating will likely increase further as midterms draw nearer, taking away a weapon Republicans were going to use to bash their opponents in the fall.
The war in Ukraine, and the fall out from it, is poised to play a significant part in how Biden is perceived politically going forward, at least in the coming months. He said during the campaign that he was better equipped to deal with Putin than President Donald Trump was, and now he is getting the chance to demonstrate if that's true.
So far, as pollster Miringoff put it, Americans like what they see. But there are obvious geopolitical risks going forward. Polling suggests that a majority of Americans approve of Biden's stated position – repeated again this week by Vice President Kamala Harris and Secretary of State Antony Blinken in visits to Europe – that Washington will abide by its fundamental obligation to NATO: that an on attack on member nation is an attack on all. That means, should Putin decide at some point to attack one of the three Baltic nations that were formerly part of the Soviet Union, that the U.S. would be at war with Russia.
The fact of the Russian army's relatively poor performance to date makes it appear unlikely Moscow would widen the war. And the White House has been at pains not to do anything that significantly ratchets up the risk of a confrontation, as its refusal to allow Poland to send MiG-29 fighter jets to Ukraine earlier this week demonstrated. "The risk of escalation has to be uppermost in the mind of the president, and that's as it should be. Russia is a nuclear power," said retired Lt. General Ben Hodges, former commanding officer of all U.S. Army forces in Europe. Thus a NATO versus Russia all out war is not a front burner political issue. Not yet, anyway.
Some Democrats, while outwardly supportive of Biden's performance so far, privately wonder whether the administration should be seen doing more to try to get the two warring nations to a negotiated settlement. They note that there seemed to be relatively little White House follow up, at least publicly, to Ukrainian President Volodymyr Zelensky's statement earlier this week that he had "cooled down" about his desire to join NATO. Ukraine's interest in joining NATO was, ostensibly, Putin's foremost reason for the invasion.
"Does the CIA have a back channel to Moscow open, are we doing everything we can to see if we can have a role in getting to the end of this? I don't know what the answers are to that, and that's a little frustrating," a Democratic staffer on the House Foreign Relations Committee who was not authorized to speak on the record told Newsweek.
But far from paying a price for his handling of the war, Biden's steady hand so far is paying some dividends politically. The White House hopes that continues, but they're also acutely aware that while they may have some influence, there are things they cannot control; the main one being, just what will Putin do next?