Ten years ago, I graduated from Regis University in Denver, Colorado. Attending a small, private university was an expensive decision made possible through a scholarship from Regis, support from my parents, tens of thousands in student loans and the decision to graduate in three years.
As with others, paying back student loans has been challenging for me. Faced with financial difficulties amidst the pandemic, millions of us have benefited from the moratorium on student loan interest and postponed loan payments.
While former president Trump's executive order has helped many get through the coronavirus crisis, it's actually proof of one important thing: the role of incentives in our decision making. It also underscores why President Biden's student loan forgiveness ideas would be so bad—and why we desperately need a better approach.
To be clear, America's student loan burden has hit crisis levels. Student loan debt held by 43 million Americans now totals $1.7 trillion—a staggering 493 percent spike since 2004, when it was $345 billion. According to former U.S. education secretary Betsy DeVos, federal student loans make up one-third of the government's total balance sheet.
The typical borrower graduates with about $40,000 of debt. As a result, home ownership and small business startup rates have taken hits. Student loan defaults have risen. Something must be done.
Many think student debt has soared because tuition is steep, but it's actually the reverse; tuition is steep because grants and loans are abundant. As a 2015 report by the Federal Reserve Bank of New York concluded, "Higher tuition costs raise loan demand, but loan supply...[relaxes] students' funding constraints," generating a "pass-through effect on tuition." For every dollar a college or university receives in subsidized federal loans, the report concluded, tuition increases 65 cents. The outcome is similar for unsubsidized loans (30 cents) and Pell Grants (55 cents).
Just as a moratorium on interest disincentivizes payments on a loan, the proliferation of loans and grants incentivizes more spending on college—and higher ed institutions in turn have incentive to jack up tuition.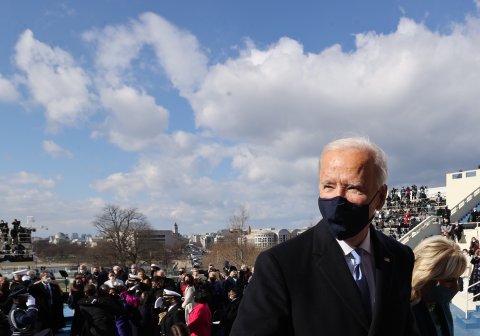 By 2007, student loan debt clocked in at $500 billion. Presidents Bush and Obama signed bills into law which effectively nationalized and vastly expanded student loan programs. Predictably, loan balances have more than tripled since then.
Additionally, student loans used to be more difficult to get because they could be discharged in bankruptcy and bore high interest rates. Beginning in 1978 and culminating in 2005—ironically thanks to then-senator Biden—Congress made it virtually impossible to discharge student loans in bankruptcy. This greatly reduced risks to lenders and thus incentivized both more loan demand and more loan disbursement.
Biden is now exploring three options: One is for Congress to provide $10,000 in student loan cancellation for every borrower "because COVID." Another would enhance income-driven repayment plans, cap monthly payments at 5 percent of discretionary income (down from 10-20 percent currently), automatically forgive debt after 20 years and make the canceled debt tax-free—in addition to forgiveness off the top. The third would wipe clean all tuition-related student loans for public colleges and universities only for those earning $125,000 or less annually.
There are many reasons to oppose all three proposals, but the most crucial is that Biden's ideas will make things worse, not better. Once again, it comes down to incentives. If current borrowers have their debt canceled, it will lead incoming students to expect that theirs will also be forgiven. There will be every reason to take out more loans and for colleges to keep raising tuition without end.
Instead, there are two superior alternatives to pursue. First, Congress should ease bankruptcy laws to make repaying student loans more feasible. Sen. Elizabeth Warren (D-MA) has proposed such legislation, and while her latest version is too broad regarding bankruptcy generally, she's got the right idea. Bankruptcy offers a way out for deeply indebted borrowers, but it also entails consequences that encourage thoughtful decision-making. Borrowers should also be required to pay back a portion of the loans for at least five years before being eligible.
Congress should make it quicker and easier for borrowers to pay back student loans. For example, the Employer Participation in Repayment Act has gained wide bipartisan support in Congress and would empower employers to assist workers tax-free.
Of course, the above doesn't address costs for future students. For them, colleges and universities should have skin in the game and share some risk for the losses on future loans that are defaulted or discharged. Warren has cosponsored a risk-sharing proposal along these lines, but Congress can do more. It should overhaul the student loan and college accreditation systems and reorganize Pell Grants into a Pell Voucher.
Biden led us into this student loan inferno, yet his new concoction of debt forgiveness is more like gasoline than suppressant. Only a sensible solution will tame the flames.
Jimmy Sengenberger is host of Jimmy at the Crossroads, a webshow and podcast in partnership with The Washington Examiner, and The Jimmy Sengenberger Show on Denver's News/Talk 710 KNUS. His Twitter is @SengCenter.
The views expressed in this article are the writer's own.