Biden's Surrender of the Border has Become Democrats' Biggest Liability | Opinion
For all his eagerness to repeal the Trump administration's immigration policies, President Joe Biden shows no interest in replacing them with other ideas. His approach to the border crisis is to avert his eyes from it altogether. This jarring lack of leadership is a top issue heading into the midterms—well beyond Texas and the border states.
The statistics speak for themselves. President Joe Biden ended the Trump administration's "Remain in Mexico" policy, and America experienced a 379 percent increase in illegal migrant encounters during his first year in office. The number of encounters has surged even higher this year. Reports of disputes and meltdowns in the White House over the crisis reveal a president who has lost his grip on his own party and staff.
Americans of all political stripes are paying attention, and what they see are record levels of illicit border crossings, overflowing detention centers, and migrants being released into the interior of the country or bused to liberal cities by the thousands. Suddenly, this isn't a faraway problem affecting a few states. It belongs to all of us. No wonder only a paltry 34 percent of Americans approve of President Biden's handling of immigration.
Of course, Democratic leaders aren't letting pesky public opinion get in the way of their efforts to further limit enforcement at the border. Their latest strategy is to halt Title 42 of the Public Health Services Act, which delegates to the Centers for Disease Control and Prevention the authority to restrict entry into the U.S. during a public-health emergency.
You might think the Biden administration, which fired American workers for declining to get vaccinated, would agree with the rationale for preventing the entry of unvaccinated illegal immigrants. Not quite. It filed a motion earlier this year to halt Title 42, which a judge overruled. Now the administration is appealing the decision until it finds a like-minded judge.
The rollback of Title 42 would be catastrophic, sending a message across Central and South America that our southern border is wide open. It would further intensify the illegal drug trade that is costing lives across America. In 2021, CBP's Laredo field office seized 588 pounds of fentanyl—an 11-fold increase over 2020. Is President Biden unaware that fentanyl overdose is the leading cause of death for Americans between the ages of 18 and 45?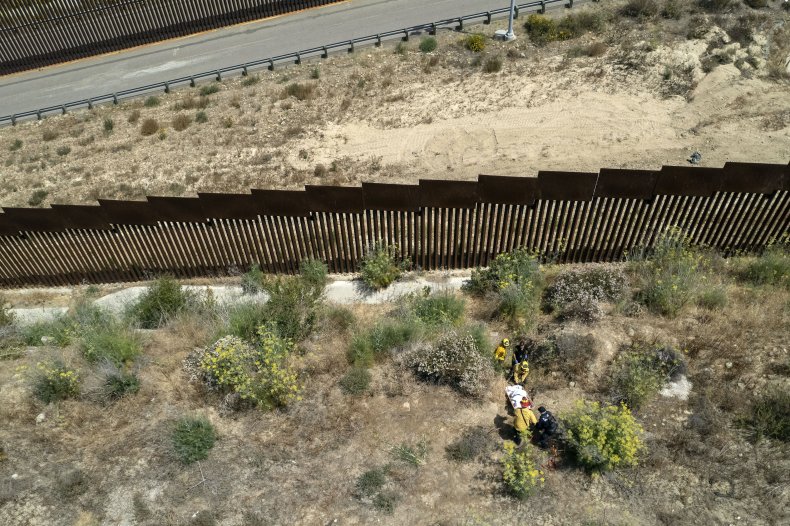 In addition to drug cartels, gangs and terrorists are emboldened to double down on their border assault. President Biden's own FBI director, Christopher Wray, warned that the "staggering" number of people illegally crossing the U.S.-Mexico border poses a "significant security issue" that terrorists can exploit.
Leading Democrats think an open border combined with appeals to amnesty will increase their political power. If they win in November, they will undoubtedly tug on heartstrings to convince their woke faculty-lounge base that blanket amnesty is a humanitarian necessity and that everyone who illegally enters our country is a legitimate asylum seeker, while peddling the myth that Hispanics love open borders. They're wrong on all counts, but Washington Democrats don't let facts get in the way.
How else could you explain the Biden administration's decision to end Title 42, the last best tool for stopping illegal crossings? Even Chris Magnus, Biden's customs and border protection commissioner, is warning that, "as a result of the CDC's termination of its Title 42 public health order, we will likely face an increase in encounters above the current high levels."
Hispanic Americans understand better than anyone the consequences of the Left's reckless border policies. When gangs and cartels cross the border, they don't congregate in Manhattan's theater district—they terrorize Hispanic neighborhoods and put our families and communities at risk. It's no wonder Hispanics are leaving the Democratic Party in droves.
Americans across the political spectrum are losing patience, and Republicans are answering their concerns with a plan to curb illegal immigration if they win the House of Representatives. That plan includes increasing funding for CPB officers and technology, undoing Biden-era immigration policies, and ramping up oversight of administration officials who are standing in the way of border enforcement.
Ironically—and fortunately—the Democrats' ploy to boost their political base may be what ultimately limits their power. Polling indicates that voters across Texas and the country, including a growing number of Hispanics, understand that a country without strong borders cannot be a sovereign nation, and that President Biden is enabling lawlessness and chaos at our southern border. In November, voters will have their chance to decide what happens next.
Monica De La Cruz is the Republican nominee to represent Texas' 15th Congressional District. Sarah Chamberlain is President and CEO of the Republican Main Street Partnership.
The views expressed in this article are the writers' own.