Biden's Taiwan Policy: Overruled by China—and the White House | Opinion
"You didn't want to get involved in the Ukraine conflict militarily for obvious reasons," a reporter, addressing President Joe Biden, stated in a press conference in Tokyo on Monday. "Are you willing to get involved militarily to defend Taiwan, if it comes to that?"
"Yes," said Biden.
"That's the commitment we made," the president explained after the reporter expressed skepticism. "We agree with the 'one-China' policy; we've signed on to it and all the attendant agreements made from there. But the idea that—that it can be taken by force—just taken by force—is just not appropriate. It will dislocate the entire region and be another action similar to what happened in Ukraine. And so, it's a burden that's even stronger."
A White House official, speaking anonymously to The Washington Post, then said there was no change in American policy, maintaining that the president had merely repeated a pledge, in the Taiwan Relations Act of 1979, to give Taiwan the military means to defend itself.
Not so fast. Biden's words represent a clear break from America's decades-old "strategic ambiguity"—the policy of telling neither Beijing nor Taipei what the U.S. would do in the event of imminent conflict.
This is not the first time Biden, in response to a question, clearly said he would come to the rescue of the island republic. Last August, he told ABC News's George Stephanopoulos that the U.S. would defend NATO partners, Japan, South Korea and Taiwan. In October, Biden delivered the same message to CNN's Anderson Cooper during a CNN town hall. "Yes, we have a commitment to do that," the president said to Cooper, responding to a question about defending Taiwan.
In both August and October, administration officials contradicted the president. In October, the pushback was especially evident. Jen Psaki, then White House press secretary; Ned Price, State Department spokesperson; and Defense Secretary Lloyd Austin all contradicted Biden's unambiguous words.
The consistency of Biden's statements shows that he has not, as so many contend, been making "gaffes." The specificity of his Tokyo comments clearly indicate he meant what he said.
Whatever one thinks of the policy of defending Taiwan, the contradiction of Biden's clear words raises the constitutional issue of who makes American foreign policy: the president or his subordinates.
Yet there is also more at stake. The immediate walk-backs show the American foreign policy establishment is resistant to Biden's position, and even suggest contempt for the president within his own administration.
That resistance and contempt exhibit a dangerous disarray in Washington. At a moment when it is especially important for America to speak with one voice, aggressive Chinese leaders may believe the U.S. is incapable of opposing their moves.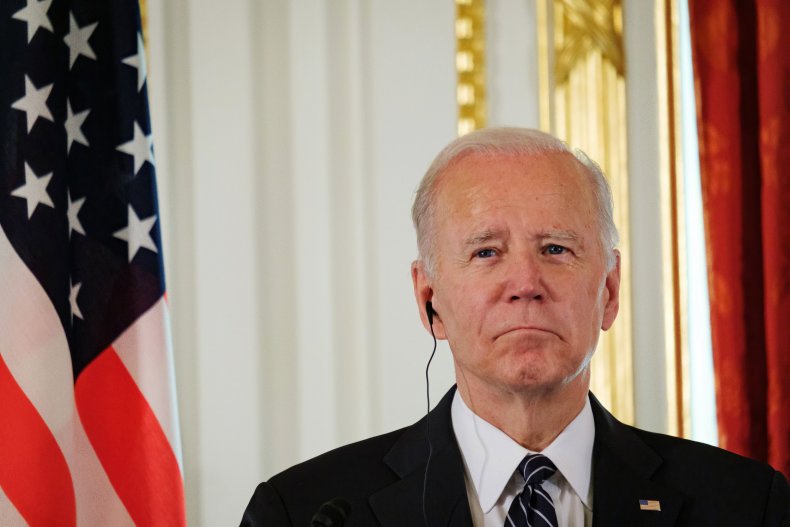 They clearly disrespect the American leader. "He is just too old and likes to bluff, doesn't know what he is talking about," tweeted China Daily's Chen Weihua immediately after Biden's CNN town hall. Chen's dismissive comment confirms, among other things, that America's deterrence of China is eroding fast.
In fact, since March of last year, Beijing has been widely propagating the line that the U.S. can no longer stop China. It is not unreasonable for Chinese officials to think that way, given some of the Biden administration's actions.
The State Department, for instance, looks particularly feckless. This month, State revised its "Fact Sheet" on Taiwan by, among other things, removing what is called the "no support for Taiwan independence" clause. The Chinese Foreign Ministry slammed that, as well as other changes. "This kind of political manipulation on the Taiwan question is an attempt to change the status quo in the Taiwan Strait and will start a fire that burns itself," said spokesperson Zhao Lijian.
Price, the State Department spokesperson, effectively backtracked, saying there had been no change in American policy and then stating this: "We do not support Taiwan independence." It appeared, therefore, that Beijing was dictating American policy on Taiwan.
This is the context for Biden's words on Taiwan. His three answers, this year and last, constitute a warning to aggressive Chinese leaders. The clarifications, on the other hand, tell Beijing both that the United States is not committed to defending Taiwan and that some American officials would override the president and thereby block a defense of the island.
The Biden administration, in any event, appears confused. China's regime is not. Beijing warned Biden before he departed for his Asia trip.
"If the U.S. side persists in playing the 'Taiwan card' and goes further down the wrong path, it will surely put the situation in serious jeopardy," said China's top diplomat, Yang Jiechi, in a May 18 phone conversation with National Security Advisor Jake Sullivan, according to a Chinese Foreign Ministry readout. "We urge the U.S. side to get a clear understanding of the situation, strictly honor its commitments and abide by the one-China principle."
The Chinese have no difficulty communicating their position. The Biden administration, unfortunately, does.
Gordon G. Chang is the author of The Coming Collapse of China. Follow him on Twitter: @GordonGChang.
The views expressed in this article are the writer's own.