Biden's Ukraine Policy Is Yet Another Failure | Opinion
President Joe Biden made a surprise visit to Ukraine on Monday—Presidents' Day—to reaffirm his support for that embattled nation and its president, Volodymyr Zelensky. Entering secretly via neighboring Poland, where he has held further meetings, for several hours on Monday his visit blocked vehicular and pedestrian traffic in central Kyiv. Air raid sirens blared dramatically as Biden and Zelensky strolled past historic sites. They embraced at a wreath-laying ceremony before a photo mural of Ukrainian soldiers who have been killed in action. Biden capped his visit by pledging another $460 million in military aid to Ukraine—just the latest tranche of U.S. taxpayer beneficence since the Russian invasion began in February 2022.
Coming just four days before the first anniversary of Russia's invasion, Biden in effect reversed what Zelensky heard during his seemingly unproductive visit to Washington in late December, when he was told that Western support for Ukraine is wearing thin and that he needs to negotiate meaningfully to avoid catastrophe as a renewed Russian offensive looms. Certain categories of weaponry, including U.S. F-16 fighter jets, have been denied to Zelensky, while deliveries of heavy tanks from NATO countries—once off the table—have proved slow and reluctant. But now, Biden has signaled in the Ukrainian capital that the U.S. will continue to offer what the president called its "unwavering support" for an apparently indefinite period. To highlight the point, Biden wore a striped tie featuring Ukraine's national colors.
There is still no endgame, but that seems to be of no importance despite continuing hints that Russia may resort to nuclear weapons. An emerging consensus also worryingly suggests that Russian President Vladimir Putin views his personal and political fortunes as inextricably fused with the war's outcome, and may be inclined to employ extreme measures to win.
Whatever reluctance had crept into the Biden administration late last year has been banished in a new burst of enthusiasm, however. Last week, the Munich Security Conference solidified Western commitment to Ukraine. On Saturday, Vice President Kamala Harris declared that Russia is guilty of war crimes. Leaders of both major parties have affirmed their support for Kyiv, even if the Biden administration took the precaution of informing Moscow of the president's travel plans in the interest of what National Security Advisor Jake Sullivan called "deconfliction." Sullivan refused to discuss Russia's private response, but Moscow has publicly described Biden's visit to Kyiv as a "provocation."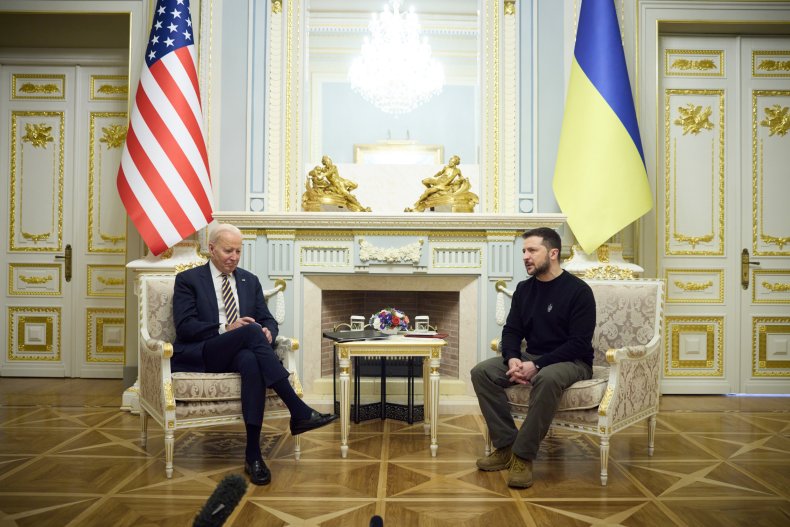 Western elites may have a bottomless well of enthusiasm for the Ukrainian cause, but like most of Biden's policies, this one is fading in popularity. According to a poll taken last week by the Associated Press-NORC Center for Public Affairs Research, for the first time since Russia's invasion only a minority of Americans now favor sending military aid to Ukraine—48%, compared to 60% in May 2022. Many point to a worsening U.S. economy, the prospect of a deeper recession, persistent inflation, staggering new national debt figures, and federal budget woes that could soon affect entitlement spending to argue that American domestic needs trump Ukraine's military effort thousands of miles away in places of dubious importance to U.S. security interests. With amplifying tales of Ukrainian corruption, moreover, a plurality of Americans—38%—now oppose direct financial aid to the Ukrainian government. Only 37% are in favor of it, while 23% take a neutral position.
These are not great numbers for Biden, whose approval rating hovers around 40% and tanks to 31% for his handling of economic issues. His visit to Kyiv has astonished administration critics who cannot ignore the inconvenient fact that he has never visited the U.S. border, over which millions of illegal immigrants have poured during his presidency. "Breathtaking that President Biden can show up in Ukraine to ensure their border is secure, but can't do the same for America," said Rep. Scott Perry (R-PA), a retired general who chairs the U.S. House Freedom Caucus. Others have drawn attention to the bad optics of Biden's failure to visit East Palestine, Ohio, whose residents face ecological disaster after a train derailment widely blamed on hapless Transportation Secretary Pete Buttigieg. "That was the biggest slap in the face that tells you right now, he doesn't care about us," said East Palestine's mayor Trent Conaway, who added that he is "furious" Biden "was in the Ukraine giving millions of dollars away to people over there, not to us."
A recent Harvard-CAPS/Harris poll now shows Biden losing the 2024 election by five points to former President Donald J. Trump in a hypothetical rematch—the first result to show Trump leading outside a statistical margin of error. Perhaps unsurprisingly, some 58% of Democrats say they would prefer a different candidate to run. It should comfort Biden to know that very few Americans vote on the basis of foreign policy concerns, but the general trend suggests he governs in a Swamp echo chamber that reinforces ideas increasingly rejected by the electorate.
Paul du Quenoy is president of the Palm Beach Freedom Institute.
The views expressed in this article are the writer's own.