Biden's Use of Oil Reserves Likely Too Little, Too Late for Thanksgiving Gas Prices
President Joe Biden on Tuesday ordered the release of oil from emergency reserves in an effort to quell rising gas prices ahead of the holiday season. However, experts say Americans may not notice much of a difference at the pumps when they're on the road for Thanksgiving celebrations.
"It's unlikely to have an immediate impact by Thanksgiving," Devin Gladden, a spokesperson for the American Automobile Association (AAA), told Newsweek. "Although we will see some incremental decreases, we're not expecting this to have a long-term impact. But it certainly will have an impact."
China, India, Japan, South Korea and the United Kingdom have also all committed to opening up their oil reserves in an effort to help fight global oil prices. Gladden said how the market will be affected will depend, in part, on how much and when those countries join the effort.
"It's not a sustained increase in production, and so the impact will likely be short-lived," Gladden explained.
Patrick De Haan, head of petroleum analysis at the fuel price-tracking site GasBuddy, told Newsweek it will be hard to predict exactly when prices will decrease.
"I will say the price of oil has been declining ahead of this release," De Haan said. It had been widely expected that the President would make this release, so oil prices in the last week have seen about an $8 loss a barrel, maybe about $7."
He noted that there's a "possibility" that motorists could see somewhat of a decline over the next few days, "but it's hard to know."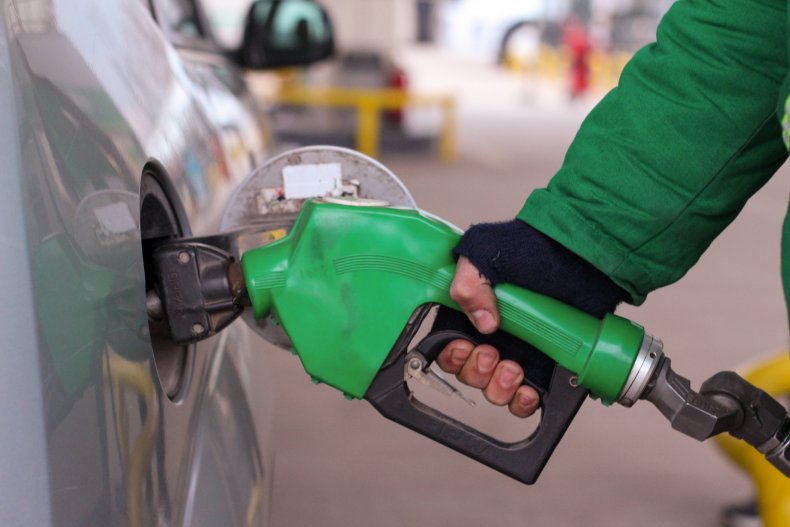 "Stations, knowing that millions of Americans are hitting the road, may be a little bit reluctant to pass the decrease along until after the holidays, simply because they can make a little bit more money," De Haan said. "Conceivably, if stations did pass along the price fluctuation or the drop in price, we would see a nice decline going into Thanksgiving, but my suspicion is that they probably will hold on to the additional margin until the holiday is over."
Biden touched on these same concerns when he announced the release of the barrels in a Tuesday speech.
"The price of gasoline in the wholesale market has fallen by about 10 percent over the last few weeks, but the price of the pump hasn't budged a penny," the president said. "In other words, gas supply companies are paying less and making a lot more. They do not seem to be passing that on to the consumers at the pump."
"Instead, companies are pocketing the difference as profit. That's unacceptable," Biden said. "That's why I've asked the Federal Trade Commission to consider whether potentially illegal and anti-competitive behavior in the oil and gas industry is causing higher prices for consumers, so we can assure the American people are paying a fair price for the gasoline."
Any substantial action from the FTC could potentially take weeks. However, Gladden felt as though some short-term relief may be had for consumers before then.
"I think for the rest of this week we'll see some minor fluctuations because that's already what the market had baked in," he said. "Then Monday, when everything gets back to the post-holiday normal, we could certainly see prices decline."
"But the amount? I don't think people should expect to pay prices that are comparable to what they paid last holiday season," Gladden continued.
De Haan said that if prices do go down, then "there's absolutely a hand that the president has played in that for now." Nonetheless, he said Biden could be "sacrificing a potential longer-term solution for a shorter one."
"I think he's genuine in saying "I want to bring prices down,'" De Haan said, adding that plan of going into the reserves "is a Band-Aid on a problem that probably won't go away anytime soon."
The president indicated on Tuesday that fluctuations in gas prices will continue to be a struggle and asked Americans for their patience.
"While our combined actions will not solve the problem of high gas prices overnight, it will make a difference. It will take time, but before long, you should see the price of gas drop where you fill up your tank," Biden said.