Biden's War on Affordable Energy | Opinion
President Joe Biden's spokeswoman defends rising gasoline costs as the cost Americans must pay for standing up for our values. It is a neat trick to cite Russian sanctions for price increases that predate the sanctions. Democrats blame Russian strongman Vladimir Putin for Hillary Clinton's loss in 2016 and record-breaking inflation rates, but Hillary was a flawed candidate and Biden has long been waging war on affordable energy.
Biden's first actions as president included re-entering the Paris Climate Accord, canceling the Keystone XL Pipeline, halting a leasing program in the Arctic National Wildlife Refuge (ANWR), issuing a 60-day halt on new oil and gas leases and drilling permits on federal lands and waters (which account for nearly 25% of U.S. production), directing federal agencies to eliminate fossil fuel "subsidies," imposing tougher regulations on oil and gas methane emissions (which were first promulgated under President Barack Obama and had been eased under President Donald Trump), and hiring SEC regulators to prepare climate and ESG disclosure mandates.
The Keystone pipeline's cancelation denies America cheaper and environmentally safer access to Canadian oil for Gulf Coast refineries. Biden's other policies will do even more damage, make America weaker and more dependent on foreign countries, and drive up energy prices. Even New Mexico's Democratic governor criticized Biden's suspension of oil and gas leases, asked for an exemption to protect her economy and education funding, and argued that shifting production elsewhere would increase carbon emissions.
Biden's Interior Department has proposed policies to increase the cost of domestically produced energy. Secretary Debra Haaland has recommended that we hike the federal royalty rate for oil and gas drilling on federal lands, consider raising the bond payments companies must set aside for future cleanups, and focus leasing in areas close to existing oil and gas infrastructure. House Democrats would like to go even further and ban drilling in ANWR and along the Atlantic and Pacific coasts.
Biden extended his 60-day moratorium on new oil and gas leases indefinitely, until the administration could complete a comprehensive review on "climate change impacts." Republican attorneys general successfully sued the administration to resume oil and gas lease sales, generating $192 million in bids for drilling rights in the Gulf of Mexico. Though companies have stockpiled leases and drilling permits, anticipating a hostile Biden administration, such moves offer only temporary respite. Biden's moves to limit drilling activity and increase the costs of that activity will especially harm the economies of states like New Mexico, Wyoming, North Dakota and Colorado.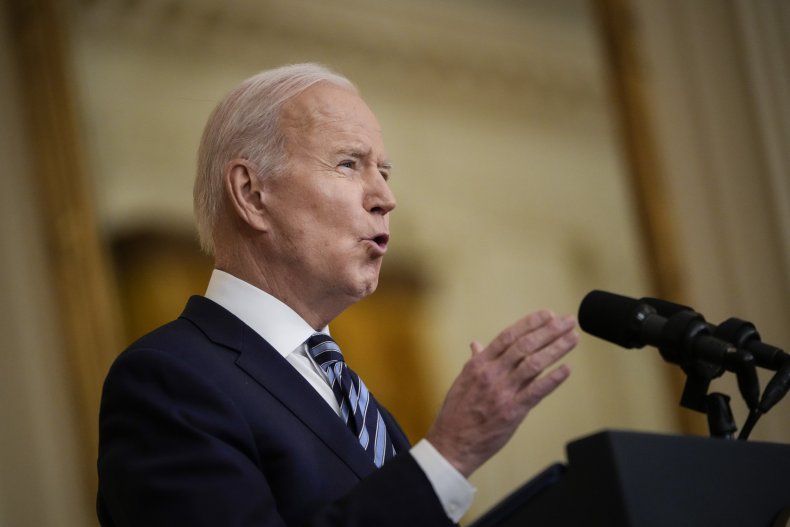 Biden increased the "social cost of carbon," a measure first used by Obama, from $7 to $51 per ton of carbon dioxide emissions. Unlike Trump, Biden wants American industry to offset costs imposed outside of the country. The administration cites modeled impacts of rising sea levels, droughts and other consequences of climate change to justify more expensive regulations on the oil and gas industry. Republican attorneys general sued, arguing Biden does not have the authority to unilaterally raise the estimate. A federal judge agreed the higher cost would "artificially increase the cost estimates of lease sales" and harm energy-producing states. Biden responded by again halting new oil and gas leases on federal lands and waters.
Biden's progressive financial regulators are poised to do even more damage to America's economy by discouraging energy investment and politicizing capital allocation. They have promised to scrutinize loans to oil and gas companies, imposing tests on how investments could be threatened by climate change, rather than allowing the banks to assess their risks themselves. Biden has nominated Sarah Raskin, who has called fossil fuels "a terrible investment" and wants to use the regulatory system to move away from "high-emission" investments, to the position of vice chair for supervision at the Federal Reserve System. SEC chairman Gary Gensler will require public companies to make more climate disclosures, signaling to investors to be wary. Secretary Yellen and other officials have warned climate change could endanger both banks and the broader financial system. Democrats have previously wanted to use regulatory agencies to go beyond ensuring financial stability to attack industries like payday lenders and gun sellers. Letting financial regulators expand their mandate to include picking winners and losers will make it harder and more expensive for oil and gas companies to obtain financing.
During the 2020 Democratic presidential primary, Biden portrayed himself as a moderate, but he subsequently moved to the left of even Obama to catch up with his party. Whereas Senators Bernie Sanders and Elizabeth Warren promised to end all fracking, Biden confusingly promised to end new fracking—which his staff clarified meant stopping new oil and gas permitting on federal lands and waters. In his final general election debate with Trump, Biden shifted again and promised to "transition [away] from the oil industry."
Democrats reject an all-of-the-above market-driven energy strategy and want to use subsidies and taxes to favor certain types of renewable energy. Liberal activists reject zero-emissions nuclear power, even as Massachusetts, New York and Pennsylvania all saw their carbon emissions increase after they closed nuclear plants. Some activists welcome the higher costs caused by this radical energy transition as causing decreased consumption. America has worked across multiple administrations to achieve energy independence and to build a reliable and affordable energy system, aided by technological breakthroughs like fracking, deepwater production, increasing efficiency and the falling costs of solar and wind power. Democrats seem determined to seize defeat from the jaws of victory, resulting in higher prices and brownouts.
Biden is asking Qatar to help replace Russian natural gas supplies to Europe, but he was already asking OPEC to produce more oil last summer in response to increasing prices. He is asking other nations to do what he is not willing to allow American energy companies and workers themselves to do. Biden needs to reverse course. American oil and gas producers should be the ones helping to lower prices by increasing production and exports to Europe.
@BobbyJindal was governor of Louisiana, 2008-16, and a candidate for the 2016 Republican presidential nomination. Jindal serves on the board of a company that supplies offshore energy companies.
The views expressed in this article are the writer's own.