Biden's Weapon Sale to Saudi Arabia Sends the Wrong Message on Human Rights | Opinion
When Joe Biden became president, his administration made a solemn pledge to defend human rights. Those who dare violate human rights, we were told, would be punished accordingly. President Biden was (and, one assumes, still is) "committed to a foreign policy that unites our democratic values with our diplomatic leadership." With a renewed focus "on the defense of democracy and the protection of human rights," Joe Biden would usher in a new dawn for American foreign policy.
Words, as we all know, are cheap. The Biden administration signed off on a deal earlier this month to sell weapons to Saudi Arabia, a country where homosexuality is criminalized, where the number of executions is on the rise, where women face rampant discrimination and where, according to the U.S. Department of State, religious freedom is nonexistent.
Selling $650 million worth of arms to the Kingdom of Saudi Arabia seems to contradict Biden's campaign promises about changing the foreign policy status quo. Two years ago, Donald Trump's administration sold $8 billion worth of weapons to the monarchy. Now Biden's deal, according to a Defense Security Cooperation Agency statement, will include missiles as well as "containers; weapon support and support equipment; spare and repair parts; U.S. Government and contractor engineering, technical and logistical support services; and other related elements of logistical and program support."
How will all this weaponry be used? To further destroy the country of Yemen, one imagines. Right now, fighting between the Saudi-led coalition and Iranian-backed Houthi rebels continues to affect millions of civilians and drive displacement in the region. Since 2015, when Saudi forces first entered the country, 100,000 people have lost their lives. Some 24 million (the vast majority of the population) are in desperate need of assistance. UNICEF warns that Yemen has become a living hell, especially for the most vulnerable. At least 10,000 children have been killed or maimed, and thousands of others have been left with little option but to become child soldiers. According to the United Nations and other international organizations, this is the "world's worst humanitarian crisis." Now the Biden administration is supporting it.
The Pentagon claims that the deal "will support U.S. foreign policy and national security of the United States by helping to improve the security of a friendly country that continues to be an important force for political and economic progress in the Middle East." But this "friendly" country is no friend of democracy, and it's certainly no friend of human rights. Also, from the looks of it, it's no friend of the United States.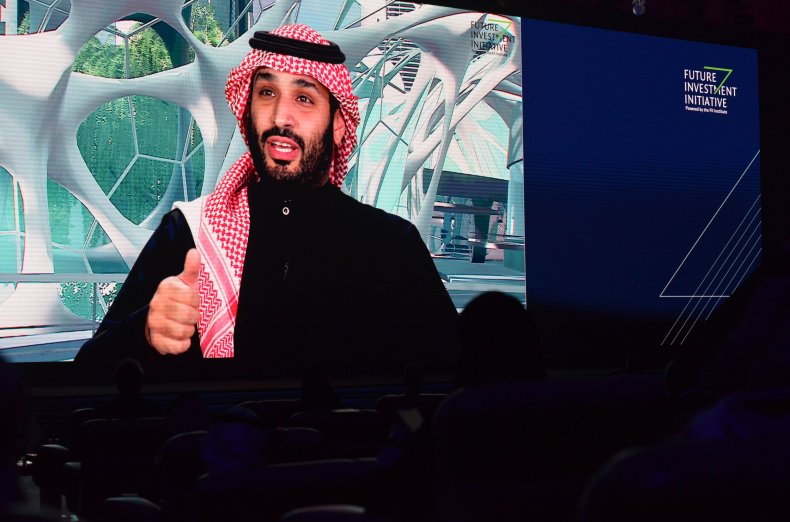 As Ryan Grim and Ken Klippenstein, writing in The Intercept, recently reported, Mohammed bin Salman, colloquially known as MBS, is intentionally "driving up energy prices and fueling global inflation." Saudi Arabia accounts for 16.2 percent of the world's total oil reserves. Through its majority-ownership of Saudi Aramco—one of the wealthiest companies in the world—and leadership of OPEC, the kingdom's monarchy has the power to tightly control the world's oil supply. Last year, it maximized production levels; now, it's choosing to do the opposite.
Since becoming president, Biden has yet to meet with the crown prince, and has yet to acknowledge MBS as the ruler of Saudi Arabia. This is why, according to Grim and Klippenstein, Saudi Arabia is refusing to "open the spigot." Gas prices are now at a seven-year high.
At a town hall last month hosted by CNN, the president was asked about the increase in gas prices. "There's a lot of Middle Eastern folks who want to talk to me," he replied. "I'm not sure I'm going to talk to them." Although Saudi Arabia's leader wasn't mentioned by name, Biden was clearly referencing MBS.
Biden's refusal to meet with a man who ordered the brutal assassination of Jamal Khashoggi, a U.S.-based journalist, is indeed laudable. However, by selling weapons to the very country that is economically punishing the U.S. (and the rest of the world), Biden is sending the opposite message.
When running for office, Joe Biden promised to show more respect for human rights than his predecessor had; he promised to respect democratic values and promote "diplomatic leadership." However, he has done nothing of the sort. He knows it, and the people of America know it.
John Mac Ghlionn is a researcher and essayist. Find him on Twitter, @ghlionn.
The views expressed in this article are the writer's own.