A Germany City is Offering $1.1 Million to Prove it Doesn't Exist
A city in Germany is offering $1.1 million to the first person who can provide "incontrovertible evidence" that it is not a real place.
Officials in Bielefeld, about 100 miles from Hanover, have put up a million Euro bounty to address a long-running joke that the burg, which has no no major landmarks or geographical features, actually doesn't exist.
It all started back in 1993 when college student Achim Held was on the Usenet group de.talk.bizarre, writing about meeting someone from Bielefeld.
A surprised Held reportedly told the man, "Das gibt's doch gar nicht," which colloquially translates to "there's nothing there," but literally means "that doesn't exist."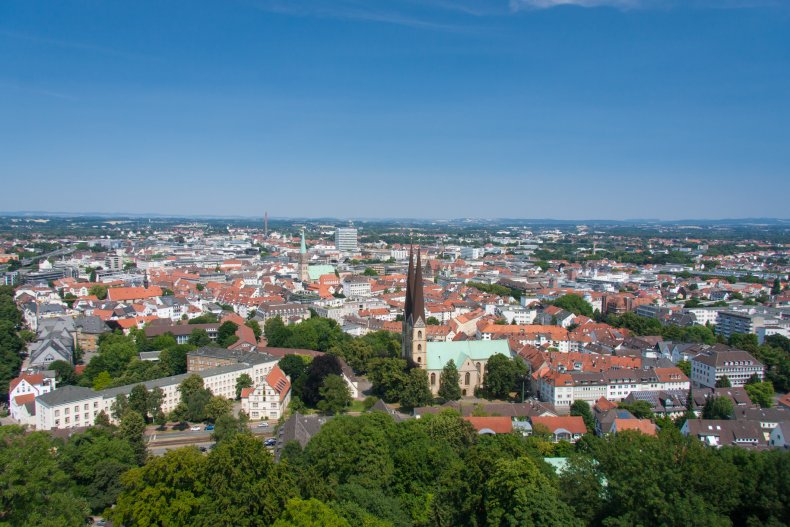 The post became an early meme, spawning numerous jokes revolving around Bielefeld's fictional status. By 1999, it was a topic of national conversation and town fathers put out a press release on April Fool's Day confirming that the town did, in fact, exist.
In a 2012 speech, Chancellor Angela Merkel even brought up a meeting she'd recently attended in Bielefeld, adding "...if it even exists."
Different theories have cropped up to explain the "Bielefeld conspiracy": The most popular holds that a shadowy organization known as SIE ("they" in German) maintained the the illusion of a city for nefarious purposes. Others say its a hoax perpetrated by Israel's Mossad, the CIA and aliens operating out of Bielefeld University.
Jokesters ask "initiates" three questions to establish Bielefeld's nature:
Do you know anybody from Bielefeld?
Have you ever been to Bielefeld?
Do you know anybody who has ever been to Bielefeld?
People answering "yes" to any of the questions are accused of being in on the "conspiracy."
In reality Bielefeld is Germany's 18th largest city, with a population of more than 340,000 people. At the city's 800th birthday in 2014, Bielefeld mayor Pit Clausen celebrated the long-running gag.
"'Bielefeld doesn't exist' is a great opener for a conversation," he said, according to CityMetric. "It gives me the opportunity to talk about how beautiful, how wonderful our city is; about what's going on here and naturally beat the drum for our city so people can here, and if this opener didn't exist we'd have to come up with one ourselves."