Kaley Cuoco Has a 'Simple Request' for the 'Big Bang Theory' Series Finale
Season 12 of The Big Bang Theory will be its last and Kaley Cuoco has one request for the series finale—and it's an understandable one.
"I would like the elevator to get fixed," she said on The Late Late Show with James Corden Wednesday. "Simple request, right?"
The elevator in the building in which several of the Big Bang Theory characters live has been broken since the series premiere. A flashback in a Season 3 episode revealed what happened. Leonard (Johnny Galecki) tested a formula for rocket fuel, but he didn't adjust correctly for a model version. Before it could explode in their apartment, Sheldon (Jim Parsons) put the container in the elevator and closed the door. The elevator was never fixed.
"You're the reason I have to walk up and down three flights of stairs every day?" Penny (Cuoco) asked Leonard when he told her.
"The stairs have gotten more and more exhausting as our seasons have gone on," Cuoco told Corden. "Seasons 1 and 2, we're running up there. Now it's Season 12, we're all a little bit older, it's a little more difficult getting up those steps, so I'd like that elevator to work."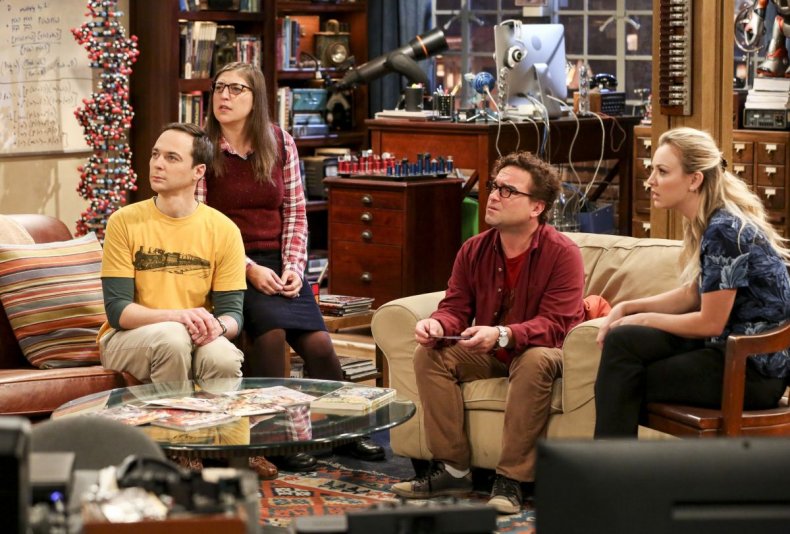 The actor also spoke about the decision to end the series with Season 12. "It was definitely tough. There was not a dry eye in the room. A lot of hysterical sobs," she said. "It wouldn't have mattered when it ended, we all would've been completely devastated. It's been a long run and we've been very grateful. It's time to move on to other things, which is so heartbreaking, but it would have been heartbreaking no matter when."
Cuoco's comments echoed her statement when Warner Bros. and CBS announced the final season in August. "This ride has been a dream come true and is life-changing as it gets," she wrote on Instagram. "No matter when it was going to end, my heart would have always been broken in two. Drowning in tears, we promise to bring you the best season yet. … We are going out with a bang."
"We are forever grateful to our fans for their support of The Big Bang Theory during the past twelve seasons," Warner Bros., CBS and Chuck Lorre Productions said in a joint statement at the time. "We, along with the cast, writers and crew, are extremely appreciative of the show's success and aim to deliver a final season and series finale, that will bring The Big Bang Theory to an epic creative close."
The Big Bang Theory Season 12 premieres Monday, September 24, at 8 p.m. ET on CBS. It moves to its regular time slot, Thursdays at 8 p.m. on September 27.